Synonyms
Zoogoneticus sp.    Lambert, 1990
Etymology
Zoogoneticus gets its name from the combination of the Greek word "zoon," meaning small animal, and the Latin word "genesis," meaning origin. This is likely due to the viviparous nature of the species.
Tequila is named after the Volcán de Tequila, a nearby volcano located at the type locality.
Classification
Order: Cyprinodontiformes
Family: Goodeidae
Distribution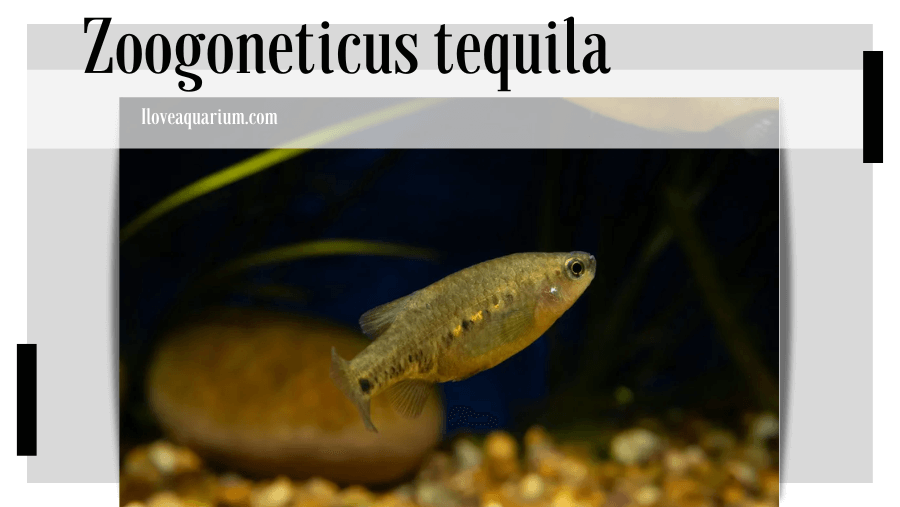 The Tequila Splitfin is endemic to the Mexican federal state of Jalisco and was originally only known from the Río Teuchitlán in the Río Ameca headwaters. It was believed to be Extinct in the Wild at the time of its description, with the type locality being its only known habitat. However, in 1999, a single male individual was spotted at the El Rincón spring.
To help increase the population of this endangered species, recent reintroduction programs have been implemented and funded by European zoos, with the University of Morelia taking the lead.
Historically, Skiffia francesae and Allotoca maculata were found living together with the Tequila Splitfin. Unfortunately, the introduction of invasive species such as Oreochromis spp., Xiphophorus hellerii, Cyrpinus carpio, and Pseudoxiphophorus bimaculatus has largely replaced these native species.
Habitat
Z. tequila can be naturally found in clear, clean freshwater springs, ponds and shallow lagoons. Typically, such bodies of water contain sandy/gravel substrates, rocks and plentiful emergent plant growth such as rushes and reeds.
Maximum Standard Length
Like most other livebearing fish species, the females of this species are noticeably larger than males in both length and body size. In fact, gravid females can be two to three times wider than mature males.
Aquarium Size
To provide enough space for females and subdominant males to avoid breeding males, it is recommended to use an aquarium with base dimensions of 90 x 30 x 30 cm. Despite the small size of this fish, ample space should be provided to ensure their well-being.
It is also recommended to select a filter with a water flow that is four to five times the volume of your aquarium. For a volume of 81 liters, we suggest using this filter. Alternatively, you can check out other highly recommended aquarium filters in your area here.
Maintenance
The decoration of the aquarium doesn't matter much to these fish, although fine leaved plants may be at risk of damage. It is safe to use plastic plants and larger, thick-stemmed plants as they provide ample cover for subdominant fish and fry.
For even better hiding places, the addition of moss or artificial spawning mops is recommended.
Water Conditions
Temperature: 17 °C – 27 °C
pH: 6.8 – 7.6
Hardness: 143 ppm – 357 ppm
Zoogoneticus tequila is typically found in shallow water, which has resulted in the species developing a high tolerance to fluctuating temperatures. However, it is advisable to maintain a moderate temperature range for their optimal health. Many keepers recommend providing the fish with a winter break period where food and temperature are reduced, which slows down their metabolism and reduces the stress of breeding.
To maintain a suitable environment, it is recommended to keep the pH just above neutral with moderate hardness, although slightly acidic water is also tolerated.
Diet
The conical shape of their teeth and short gut suggest that this species is primarily carnivorous, which is uncommon for livebearing fish. In the wild, they primarily feed on insect larvae and small aquatic invertebrates, but they are also known to consume the fry of other species, as well as their own.
In an aquarium environment, these fish will consume all types of prepared, live, and frozen foods. However, for general maintenance, it is recommended to provide them with high-quality flakes or pellets.
Behaviour and Compatibility
These fish are known to be quite aggressive and may nip at other tankmates, so it is important to carefully select suitable companions. Small to medium-sized Central American cichlids or larger livebearing fish that thrive in similar water conditions may be compatible tankmates.
However, it is best to avoid significantly smaller or long-finned fish as they may become targets of aggression and harassment.
Sexual Dimorphism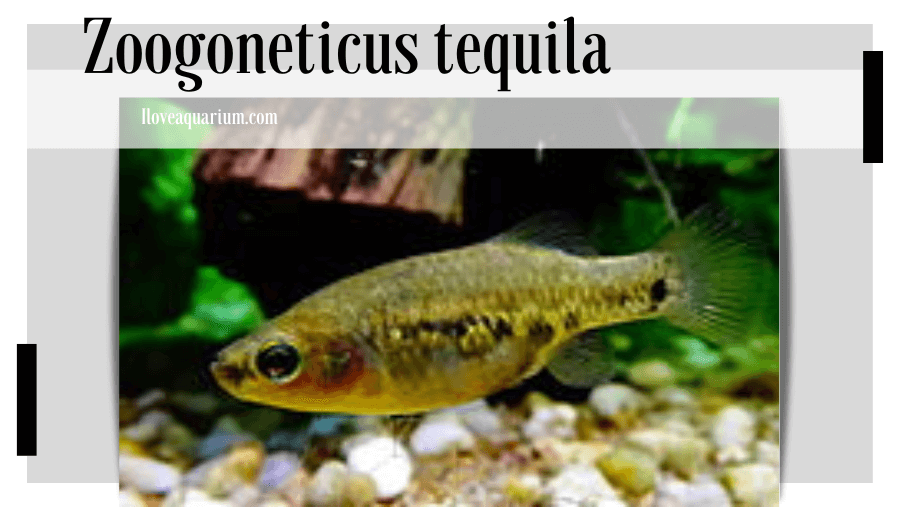 The sexual dimorphism in this species is significant. Males have a gonopodium, which is a modified anal fin used for internal fertilization, and is also the reason behind their common name "splitfin." In addition, mature males display a golden halo around their caudal fin, are smaller in size, and have a darker overall coloration.
On the other hand, females lack a gonopodium and have a consistent olivaceous coloration across their body. They are often much larger than males, especially when carrying fry.
Reproduction
Similar to other livebearing fish, this species carries out internal fertilization. Spawning typically occurs at temperatures above 21 degrees Celsius, and the gestation period may take up to 50 days.
When females are ready to give birth, they become visibly wider and may even have a square underside profile when they are just hours or days away from birthing. These females should be removed from the main tank and placed in a fry trap or release tank to prevent infanticide by other fish in the aquarium. Once the fry are visible, the female should be removed as soon as possible.
In a well-planted tank or one with plenty of cover, the fry may occasionally appear as fully grown juveniles. The size of the brood may vary, with some females producing as few as 5 fry while others may have as many as 30, depending on the age and size of the female.
Notes
In 1955, Miller and Greenbank collected a single male Tequila Splitfin fish, which was initially identified as Zoogoneticus quitzeoensis, a species with which it was found sympatrically. It was later discovered that this fish was a new species, and finally, 43 years after its first capture, it was described by Webb and Miller.
In 2001, a wild population of this species was rediscovered in a small spring pool measuring 3 x 4 meters in diameter. This population consisted of only a few adult fish and tens of juveniles. In 2007, N.W. Bailey et al. found that the allelic richness of this population was higher than any aquatic stock, despite its small size. Unfortunately, in 2013, the loss of this population was reported, and there is little hope that this species still persists in the wild.
To address this issue, the Goodeid Working Group, Chester Zoo, and other organizations collaborated with the University of Morelia to launch a reintroduction project for this species (as well as the critically endangered cyprinid Notropis amecae) in 2015. The project involved engaging local residents, using recreation ponds for the acclimation of captive-bred fish, reintroducing the fish, and monitoring and providing scientific guidance over a two-year period. This four-year project was the first reintroduction project ever conducted with a Goodeid species. You can read more about the details of the project in 2016 here.
References
WEBB, S. A. & MILLER, R. R., 1998 – Occasional Papers of the Museum of Zoology University of Michigan Ann Arbor : Pages 1-23
Zoogoneticus tequila, a new goodeid fish (Cyprinodontiformes) from the Ameca drainage of Mexico, and a rediagnosis of the genus
Capuli, Estelita Emily – Fish Base
https://www.fishbase.se/summary/Zoogoneticus-tequila.html
The Goodeid Working Group – http://www.goodeidworkinggroup.com/zoogoneticus-tequila
Zoogoneticus tequila