Synonyms
Gastropelecus stellatus Kner, 1858
Etymology
Thoracocharax: derived from the Greek θώραξ (thṓraks), meaning 'breastplate, cuirass', and the generic name Charax, type genus of the Order Characiformes, itself derived from the Ancient Greek χάραξ (chárax), meaning 'a palisade of pointed sticks', in reference to the densely packed sharp teeth.
stellatus: Latin for starry or set with stars, a reference to the "platinum" shiny appearance.
Classification
Order: Characiformes
Family: Gasteropelecidae
Distribution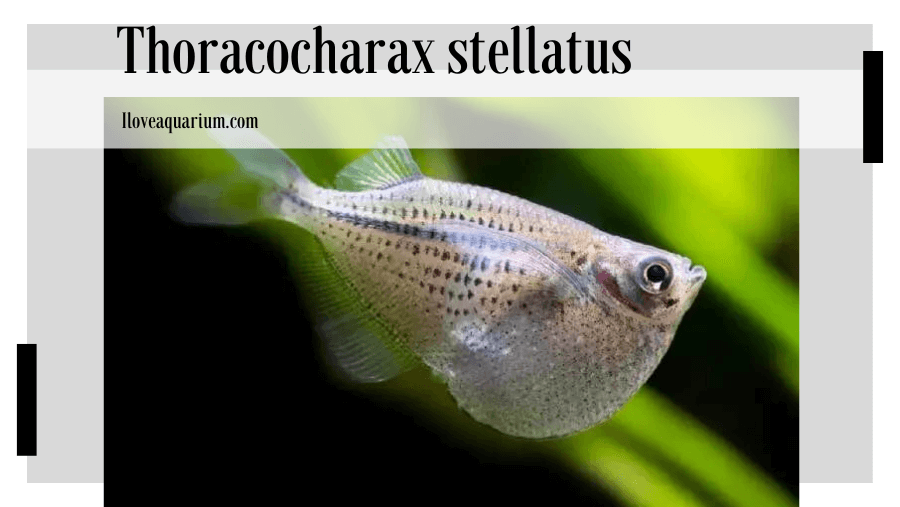 The hatchetfish species that is most commonly found in the neotropical region has a wide distribution throughout South America. It has been documented in various countries such as Venezuela, Colombia, Ecuador, Brazil, Peru, Bolivia, Paraguay, and Argentina, indicating its presence in numerous major river systems, including the Orinoco, Amazon, and Paraná, as well as many of their tributaries.
The type locality of this species is in the Rio Cuiaba in Brazil, which is part of the upper Rio Paraguai basin located in the state of Mato Grosso.
Habitat
This particular species has been observed in various aquatic environments, including both black and clear water streams, tributaries, backwaters, oxbows, and inundated floodplains. It is most commonly found in areas with a high concentration of surface vegetation.
Maximum Standard Length
60 – 70 mm.
Aquarium Size
An aquarium with surface dimensions of 120 ∗ 45 cm or equivalent should be the smallest considered.
Maintenance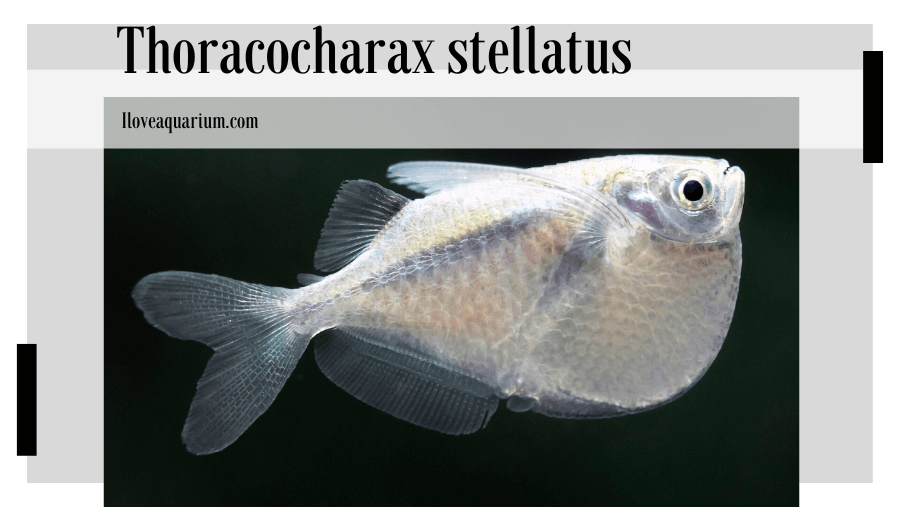 In order to create a comfortable environment for this particular species, it is recommended to provide a good amount of floating plants that cover a significant portion of the water surface. This will help to make the fish less easily startled. Although it prefers some current to swim against occasionally, it is also important to provide some quiet areas within the tank.
In terms of décor, while it is not particularly critical, this species tends to thrive in both heavily planted setups and Amazon biotope-style tanks with a sand substrate, driftwood branches, and leaf litter. It is important to ensure that the tank cover is very tightly fitting, as this species is capable of jumping several meters in a single leap.
Unlike its relatives in the genera Carnegiella, this species from the Thoracocharax genus tends to spend time in the upper third of the water column and may remain motionless or actively interact within its own species group.
Water Conditions
Temperature: 20 – 28 °C
pH: 5.0 – 7.5
Hardness: 18 – 215 ppm
Diet
This particular species of fish prefers to remain close to the shore and primarily feeds on insects. A study conducted by Netto-Ferreira et al in 2007 determined that 99.6% of its diet consists of insects, with the majority (87.6%) being terrestrial insects.
Initially, this species may be hesitant to take dried foods, but it typically learns to accept them over time. However, it is important to note that a large portion of its diet should consist of frozen and live foods, such as bloodworms and daphnia. Gut-loaded Drosophila fruit flies are an excellent food source if available. This species primarily feeds from the surface but is also capable of descending to consume sinking foods.
Behaviour and Compatibility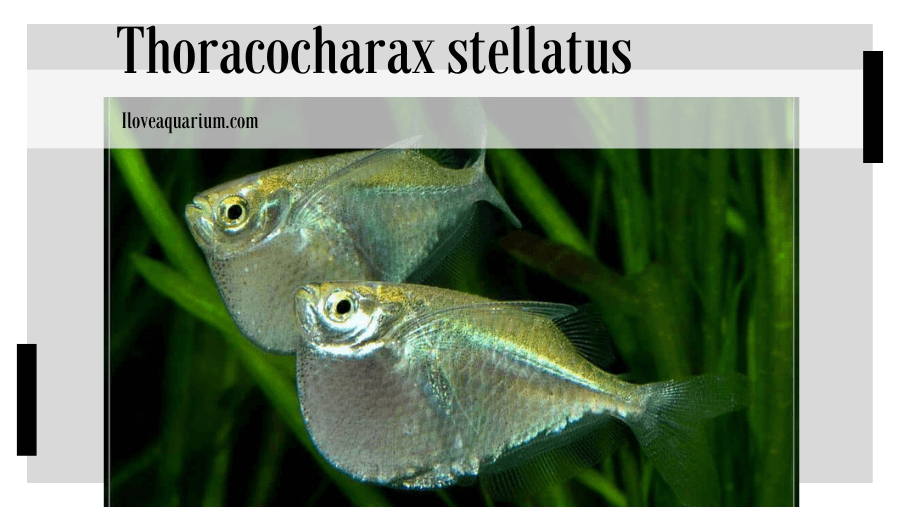 This species of fish is known for its peaceful demeanor, but it can be quite nervous and may not thrive in competition with more boisterous fish for food. Therefore, it is recommended to choose tankmates that inhabit different parts of the tank, such as tetras, bottom-feeding cichlids like Geophagus or Satanoperca species, and catfish such as Corydoras and Loricariids.
When adding this species to a tank, it is important to purchase at least half a dozen individuals, as they prefer the security of being with conspecifics and may not settle in without them.
Sexual Dimorphism
Females are noticeably rounder-bodied than males when full of eggs.
Reproduction
Unrecorded.
Notes
The species T. stellatus is very similar in appearance to its only congener, T. securis, but can be distinguished by the presence of a prominent dark spot in the dorsal fin. It is sometimes referred to as the 'platinum hatchetfish'.
The genus Thoracocharax was originally established by Fowler in 1906 as a subgenus of Gasteropelecus, but was later elevated to generic status by Weitzman in 1960 to include the subject species and T. securis.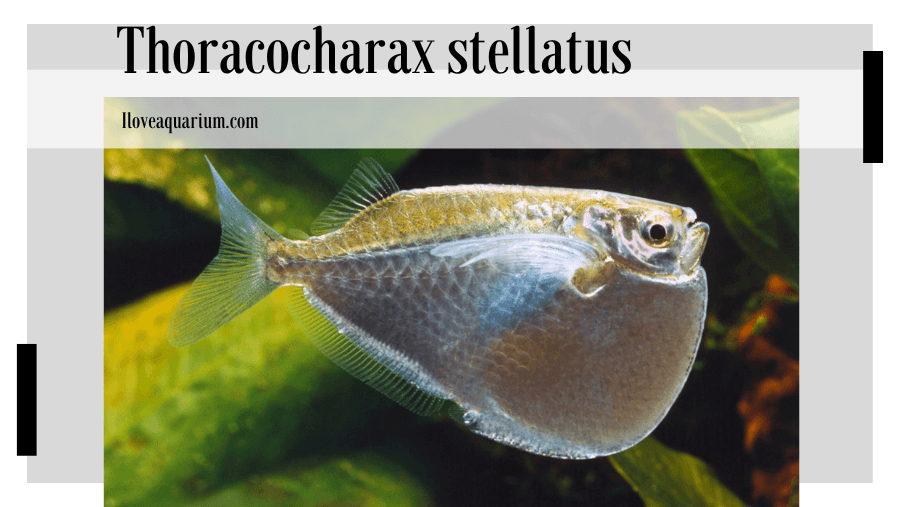 The Gasteropelecidae family is recognized as the "freshwater hatchetfishes" due to their heavily-keeled body shape which is reminiscent of a hatchet head, resulting from an enlarged, heavily-muscled pectoral girdle. The family is characterized by various morphological features, including a frontal bone that is longitudinally corrugated with a strong longitudinal ridge, the fusion of the posttemporal and supracleithrum into a single bone, minute pelvic fins and associated bones, an enlarged and strongly convex muscular pectoral girdle region consisting of expanded coracoids fused to a single fan-shaped and corrugated median bone, and the presence of an adipose fin in larger species, which is absent in smaller species.
Although gasteropelecids are believed to be capable of propelled flight above the water surface by beating their pectoral fins, high-speed video photography has disproven this notion. Instead, it has been determined that the pectoral fins are used to leave the water, but not while the fish is in the air. This is more accurately described as a powerful jump and is actually a modified threat response used only in extreme circumstances. Additionally, the species can only jump once or twice before requiring rest due to the large amount of energy required to work the massive pectoral girdle muscles. When fatigued, their threat response is comparable to that of other small species, in which they dive towards the substrate.
The family Gasteropelecidae contains three genera, with Thoracocharax being the most primitive and containing two species: T. securis and T. stellatus. The larger hatchetfish species, which are all silver in coloration, are found in the Gasteropelecus genus, which contains three species: G. sternicla, G. levis, and G. maculatus. The fourth genus, Carnegiella, contains four smaller and more specialized hatchetfish species that lack an adipose fin.
The Thoracocharax genus is the most widespread of the hatchetfishes, and T. stellatus presents considerable morphological polymorphism among populations, which may lead to subspecies or distinct species within the complex. Phylogenetic analysis has shown that this species is in a monophyletic lineage, but there are four well-supported clades found among the samples, suggesting that it may represent a species complex rather than a single species.
Characiformes is a diverse order of freshwater fishes comprising nearly 2000 valid species distributed among 19 families. The taxonomical and morphological diversity of the order has historically hindered the ability of researchers to resolve their genetic relationships. However, modern molecular phylogenetic techniques have allowed some headway, and recent research has revealed some interesting hypotheses, such as Gasteropelecidae forming a monophyletic clade nested within the family Characidae.
The results of the former suggest that Gasteropelecidae forms a monophyletic clade nested within the family Characidae, while the latter expanded on this and concluded that within the family Carnegiella is the sister group of Gasteropelecus with Thoracocharax sister to that clade, and that Gasteropelecidae appears most closely-related to the authors' expanded Bryconidae which contains the genera Brycon, HenochilusandSalminus. Others such as Oliveira et al. (2011) have concluded that the family Erythrinidae is also closely-related to this grouping with Hepsetidae and Alestidae more distant.
References
Kner, R., 1858 – Sitzungsberichte der Kaiserlichen Akademie der Wissenschaften. Mathematisch-Naturwissenschaftliche Classe v. 32 (no. 22): 163-168
Zur Familie der Characinen
Abe, Kelly T., Tatiane C. Mariguela, Gleisy S. Avelino, Ricardo M.C. Castro, and Claudio Oliveira, 2013 – Molecular Phylogenetics and Evolution 69: 1209-1214
Multilocus molecular phylogeny of Gasteropelecidae (Ostariophysi: Characiformes) reveals the existence of an unsuspected diversity
Javonillo, R., L. R. Malabarba, S. H. Weitzman and J. R. Burns, 2010 – Molecular Phylogenetics and Evolution 54(2): 498-511
Relationships among major lineages of characid fishes (Teleostei: Ostariophysi: Characiformes), based on molecular sequence data
Netto-Ferreira, Andre L., Miriam P. Albrecht, JorgeL. Nessimian and Erica P. Caramaschi , 2007 – Neotropical Ichthyology 5(1): 69-74
Feeding Habits of Thoracocharax stellatus (Characiformes: Gasteropelecidae) in the upper Rio Tocantins, Brazil
Oliveira, O., G. S Avelino, K. T. Abe, T. C Mariguela, R.C Benine, G. Ortí, R. P. Vari and R. M. Corrêa e Castro, 2011 – BMC Evolutionary Biology 11: 275-300
Phylogenetic relationships within the speciose family Characidae (Teleostei: Ostariophysi: Characiformes) based on multilocus analysis and extensive ingroup sampling
Silva, Edson Lourenco da, Rafael Splendore de Borba, Liano Centofante, Carlos Suetoshi Miyazawa, and Patricia Pasquali Parise-Maltempi, 2012 – Comparative Cytogenetics 6(3): 323-333
Cytogenetic analysis in Thoracocharax stellatus (Kner, 1858) (Characiformes, Gasteropelecidae) from Paraguay River Basin, Mato Grosso, Brazil
Weitzman, S. H., 1960 – Stanford Ichthyological Bulletin 7(4): 217-239
Further notes on the relationships and classification of the South American characid fishes of the subfamily Gasteropelecinae.
Weitzman, Stanley H. and Lisa Palmer , 1996 – Tropical Fish Hobbyist, September 1996: 195-206
Do Freshwater Hatchetfishes Really Fly
Wiest, F.C., 1995 – Journal of Zoology 236 (4): 571-592
The specialized locomotory apparatus of the freshwater hatchetfish family Gasteropelecidae