Synonyms
Puntius reval Meegaskumbura, Silva, Maduwage & Pethiyagoda, 2008
Etymology
Pethia: the generic vernacular name for small cyprinids in the Sinhala language.
reval: from the conjunction of the Sinhala root for red (re) and noun for fins (val, varal), alluding to the distinctive color of the fins of this species.
Classification
Order: Cypriniformes
Family: Cyprinidae
Distribution
This species is only found in the western region of Sri Lanka and is known to inhabit the Kelani and Maha Oya river systems, as well as smaller waterways situated between them, such as the Attanagalu and Kalu rivers.
In the southern part of its range, there is a possibility of a natural hybridization occurring between the species and another, namely P. cumingii and P. reval. However, in the Mahaweli River, which is located in the northeastern part of the island and drains into the Bay of Bengal, it appears that the species population has been introduced artificially.
The type locality, which is the place where the species was first discovered and described, is situated in the Kelani River basin, specifically in Labugama near Hanwella. The coordinates of this location are 6°51'N, 80°10'E, and its elevation is approximately 90 meters.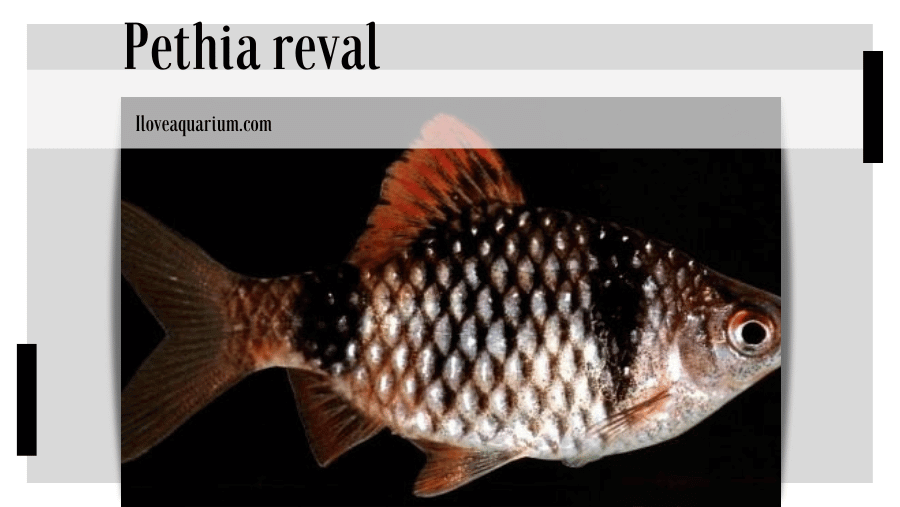 Habitat
The description of this species does not provide any specific information, but it is assumed that it primarily inhabits smaller tributary waterways rather than the larger main river channels.
Maximum Standard Length
According to official records, the largest specimen that has been measured had a length of 33.6 mm.
Aquarium Size
To meet the necessary requirements, the base dimensions of the object must be at least 75 cm by 30 cm or their equivalent.
Maintenance
When it comes to the décor of the tank for this species, the choice is not crucial, although better coloration is observed in tanks with dense plant growth and a dark substrate. It is also recommended to add some floating plants and driftwood roots or branches to help diffuse the light entering the tank and create a more natural environment.
While filtration does not require excessive strength, some degree of water movement is appreciated by the species. Additionally, it thrives in a hill stream-type set-up.
Water Conditions
Temperature: 18 – 26 °C
pH: 6.0 – 7.5
Hardness: 36 – 215 ppm
Diet
In their natural habitat, it is believed that these fish primarily feed on a variety of sources including diatoms, algae, organic detritus, small insects, worms, crustaceans, and zooplankton.
When kept in an aquarium setting, feeding this species is relatively easy. However, to maintain its health and vibrant coloration, it is recommended to offer regular meals of small live or frozen foods like bloodworms, Daphnia, and Artemia, as well as high-quality dried flakes and granules. It is also recommended that some of these foods include additional plant or algal content.
Behaviour and Compatibility
This species is known for being generally peaceful, which makes it an ideal addition to a well-researched community aquarium. As it does not have specific water chemistry requirements, it can be housed with many popular fish species in the hobby, including small cyprinids, tetras, livebearers, rainbowfishes, anabantoids, catfishes, and loaches.
Being a schooling species by nature, it is recommended to purchase at least 6-10 individuals. Keeping this species in such numbers will not only reduce its skittishness but will also result in a more natural-looking display. Additionally, male fish will develop better coloration in the presence of conspecific rivals.
Sexual Dimorphism
In this species, adult males are easily distinguished from females due to their smaller and slimmer size, as well as their more intense coloration, particularly when they are in spawning condition.
Reproduction
Unrecorded.
Notes
Prior to its description, this species was considered a color form of the related species Pethia cumingii. However, it can be differentiated from P. cumingii based on several features, including maximum standard length (33.6 mm vs. 41.2 mm), smaller eye diameter (9.8-10.5% SL vs. 10.8-12.1% SL), 11+13 (vs. 11+15) vertebrae, cleithrum with a single spine (vs. smooth), proximal arm of fifth ceratobranchial with an oval foramen of diameter less than (vs. greater than) basal diameter of teeth, and red (vs. yellow) finnage.
Previously, P. reval was grouped with several closely-related species, including P. ater, P. bandula, P. conchonius, P. cumingii, P. didi, P. erythromycter, P. gelius, P. khugae, P. macrogramma, P. manipurensis, P. meingangbii, P. nankyweensis, P. nigripinnis, P. nigrofasciatus, P. padamya, P. phutunio, P. punctatus, P. shalynius, P. stoliczkanus, P. thelys, P. tiantian, and P. ticto. However, all of these species were moved to the new genus Pethia by Pethiyagoda et al. in 2012, along with P. melanomaculata, P. pookodensis, P. muvattupuzhaensis, P. ornatus, and P. yuensis.
Puntius narayani was not moved to the new genus and its generic placement is currently uncertain, as it possesses nine branched dorsal-fin rays and six branched anal-fin rays, which is unique to this species.
The Pethia genus is characterized by the absence of rostral barbels and minute or absent maxillary barbels, possession of a stiff, serrated last unbranched dorsal-fin ray, presence of a black blotch on the caudal peduncle, and frequently, black blotches, spots or bars on the side of the body, and infraorbital 3 deep and partially overlapping the preoperculum.
In P. cumingii, the flank markings consist of two black, vertically-orientated blotches, one posterior to the operculum and the other on the caudal peduncle, and this patterning is shared with other congeners such as P. bandula, P. didi, P. meingangbii, P. padamya, P. phutunio, and P. tiantian. P. reval can be distinguished from these species based on its red fin coloration and a combination of other features, including the absence of barbels, serrated last unbranched dorsal ray, incomplete lateral line perforating 4-9 scales, and dorsal, anal, and pelvic fins that are red (pale yellow in the Kalu River population).
For several years, the Puntius genus was considered a polyphyletic catch-all containing over 100 species of small to mid-sized cyprinids until Pethiyagoda et al. published a partial review in 2012 covering South Asian members. Subsequently, several sub-Himalayan Puntius species were reclassified and new genera, including Dawkinsia, Dravidia, and Pethia, were erected to accommodate some of them. The remainder either remained in Puntius or were moved to the existing Systomus assemblage. However, the definition of the latter was altered, meaning some Southeast Asian species formerly placed there are no longer members.
It was later discovered that the name Dravidia was preoccupied by a genus of flesh fly, leading to the creation of the replacement name Haludaria by Pethiyagoda in 2013. Unfortunately, no species from Indochina, China, or Indonesia were included in the study, meaning a significant number of former Puntius species are currently classified as incertae sedis, or of uncertain taxonomic placement, including several South Asian species.
For the time being, it is recommended to refer to these species as "Puntius" using quotation marks to denote the questionable usage of the genus name. This convention is currently used on SF (Seriously Fish), a popular online resource for aquarium fish.
References
Meegaskumbura, M., A. Silva, K. Maduwage, and R. Pethiyagoda, 2008 – Ichthyological Exploration of Freshwaters 19(2): 141-152
Puntius reval, a new barb from Sri Lanka (Teleostei: Cyprinidae).
Pethiyagoda, R., 2013 – Zootaxa 3646(2): 199
Haludaria, a replacement generic name for Dravidia (Teleostei: Cyprinidae).
Pethiyagoda, R., M. Meegaskumbura, and K. Maduwage, 2012 – Ichthyological Exploration of Freshwaters 23(1): 69-95
A synopsis of the South Asian fishes referred to Puntius (Pisces: Cyprinidae).