Etymology
The name Neoheterandria is derived from three Ancient Greek words: "νεο-" (neo-), which means "new" or "young", "ἕτερος" (heteros), which means "other", "another", or "different", and "ἀνδρός" (andros), which means "male". These words were chosen to reflect the unique characteristics of the species, such as its elongated body shape and predatory behavior, as well as the sexual dimorphism present in males with their modified anal fin.
The second part of the species name, "elegans", comes from the Latin language and means "fine", "elegant", or "handsome". This name was selected to describe the striking and colorful appearance of the species, which has made it a popular choice among aquarium hobbyists.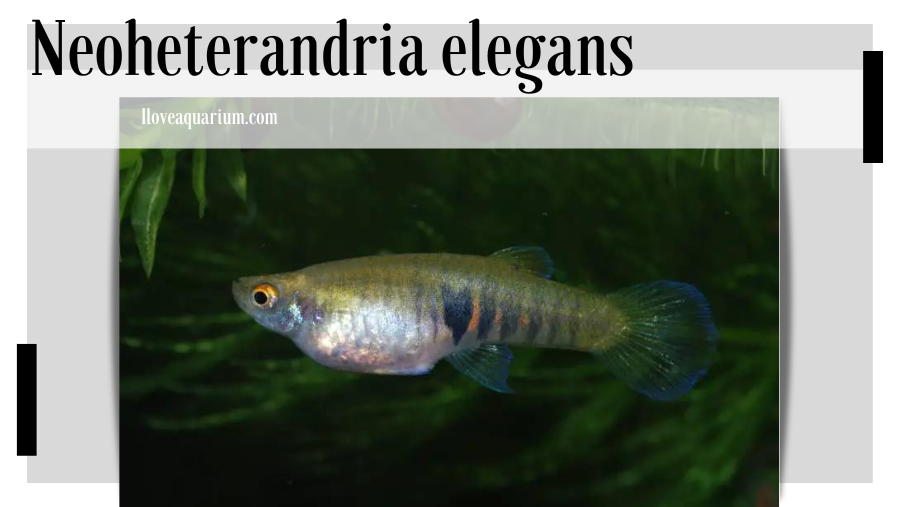 Classification
Order: Cyprinodontiformes
Family: Poeciliidae
Distribution
This species is native to the Río Atrato drainage in the Choco and Antioquia departments of northwestern Colombia. However, the exact range of its distribution is not entirely clear. The type locality of the species is the 'Río Truandó, a tributary of Lower Río Atrato, Colombia', and it is possible that it may only occur within this particular river system.
Maximum Standard Length
20 – 25 mm.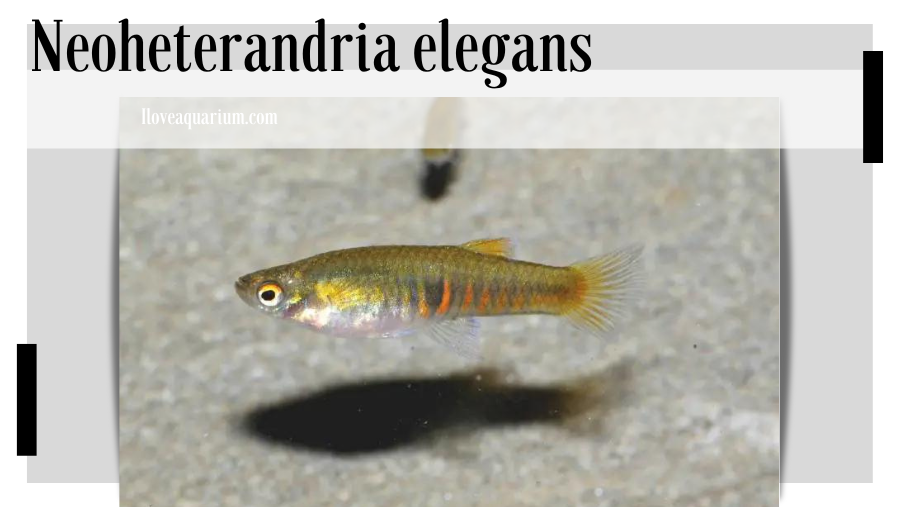 Aquarium Size
A pair can be maintained in an aquarium with base dimensions of 30 ∗ 20 cm but larger quarters are necessary for a group.
Maintenance
It is recommended to create a gently filtered and heavily planted environment for this species. Exceptionally clean water is essential, so weekly water changes of approximately 50% are necessary.
Water Conditions
Temperature: 24 – 30 °C, although values towards the upper extreme of this range should not be maintained for extended periods of time.
pH: 7.0 – 8.0
Hardness: 90 – 447 ppm; unlike many poeciliids this species will tolerate softer water.
Diet
This species is an omnivore and not very picky about its diet. It will readily consume most types of food that are offered, but it has a particular fondness for small live or frozen varieties such as Artemia or Daphnia, as it is a micro predator. Crushed dry foods are also accepted.
If the aquarium has an ample amount of fine-leaved plants, it should provide enough micro-organisms to sustain the young.
Behaviour and Compatibility
Due to its small size, this species is not suitable for general community aquariums. It is more timid compared to the somewhat similar Heterandria formosa and is best kept alone or in a small colony.
Females can display aggressive behavior, which can lead to casualties. However, this can be minimized by maintaining a heavily planted setup, as mentioned above.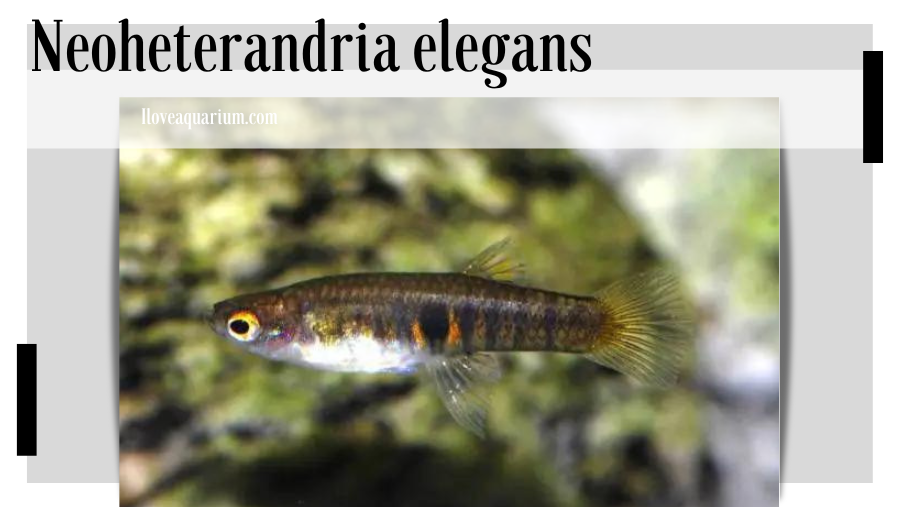 Sexual Dimorphism
Males are significantly smaller than females and possess a prominent gonopodium.
Reproduction
One of the primary concerns with breeding this species is that the fry are only 2-3 mm in length and are unable to consume microworms, freshly hatched Artemia, or similar foods during the first few days of their lives. Instead, they require infusoria-type foods initially, but they grow quickly and can start reproducing as early as 3 months of age.
The gestation period for this species is around 30 days, and their method of fry production is slightly different from most other livebearers. It involves a process known as "superfoetation," which refers to the formation or development of a second fetus when one is already present in the uterus. As a result, fry at different stages of development can be present in the uterus of the fish at any given time. Furthermore, the egg yolks of this species are not very nutritious, and the developing fry obtain much of their nourishment through organs that function in a manner similar to the placenta of mammals. As a result of this process, fry are dropped continuously rather than in defined broods. A few fry may appear every day or two for about a week. If the adults are well-fed, they usually will not harm the fry.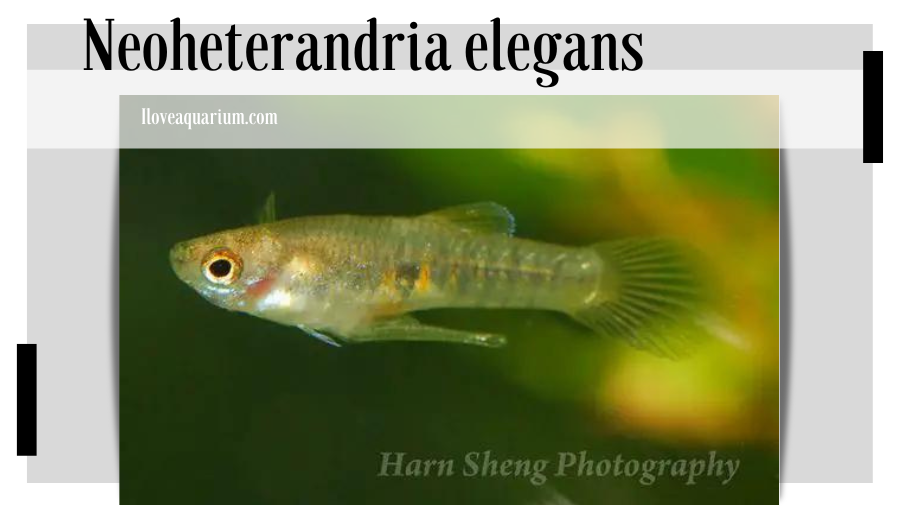 Notes
This species is both rare in the wild and in the aquarium hobby, but it can occasionally be obtained from specialized retailers or breeders. Despite its beauty, it is a shy species that is not commonly seen.
The genus Neoheterandria has been placed in the nominal tribe Heterandriini within the Poeciliidae family, as first proposed by Hubbs (1924). This group has undergone several changes over time, but it typically includes Priapichthys, Neoheterandria, Heterandria, Poeciliopsis, and Phallichthys.
However, modern phylogenetic studies do not tend to support the monophyly of this assemblage. Recent research suggests that Neoheterandria is more closely related to the genera Scolichthys and Xenophallus (Morales-Cazan & Albert, 2012), or forms a distinct geographic sub-clade with Poeciliopsis (Hrbek et al., 2007).
Thanks to Karsten Plesner.
References
Henn, A. W., 1916 – Annals of the Carnegie Museum 10(1-2): 93-142
On various South American poeciliid fishes.
Hrbek, T., J. Seckinger, and A. Meyer, 2007 – Molecular Phylogenetics and Evolution 43: 986-998
A phylogenetic and biogeographic perspective on the evolution of poeciliid fishes.
Morales-Cazan, A. and J. S. Albert, 2012 – Neotropical Ichthyology 10(1): 19-44
Monophyly of Heterandriini (Teleostei: Poeciliidae) revisited: a critical review of the data.
Wischnath, L., 1993 – T.F.H. Publications, Inc., United States of America: 1-336
Atlas of livebearers of the world.