Synonyms
Archicheir minutus Eigenmann, 1909;
Poeciliobrycon harrisoni Eigenmann, 1909
Etymology
The genus Nannostomus is derived from two different languages, Latin and Greek. The first part of the name, "nannus," is a Latin word that means "small." The second part of the name, "stoma," is a Greek word that means "mouth." The name was chosen because the member species of the genus have small mouthparts, which are a distinctive characteristic of the group.
The specific epithet "harrisoni" is given in honor of J. B. Harrison, who was a government geologist in Georgetown, British Guiana. Harrison provided assistance to the Indiana University and the Carnegie Museum during their expedition to British Guiana, where the species was discovered. The species was named after Harrison as a token of gratitude for his contribution to the expedition and his support in the discovery of this particular species.
Classification
Order: Characiformes
Family: Lebiasinidae
Distribution
The type locality of the species is recorded as the "Canal at Christianburg, Guyana". It has been identified that this species is exclusively found within the Demerara River basin, situated in the eastern region of Guyana. This includes the basin's main river, along with some of its tributaries like the Haiama River, Kuruabaru River, Haiakwa Creek, and Haianari Creek. The fact that this species is only present in this specific geographic region indicates that it is endemic to the area and cannot be found elsewhere in the world.
Understanding the type locality and geographical range of a species is crucial for scientific studies and conservation initiatives. It helps scientists and conservationists to locate and conserve the species' natural habitat, as well as analyze the species' biology and its ecological relationships with other organisms in the area.
Habitat
This species can be found living in slow-moving tributaries, small rivers, and swampy zones. They tend to prefer areas with dense aquatic vegetation or submerged woody structures and leaf litter. These types of environments provide the species with the necessary conditions for feeding, breeding, and shelter.
Additionally, this species is frequently found in areas with flooded forests and floodplain lakes. These environments often experience periodic flooding, which creates ideal habitats for this species. The species is able to adapt to these types of environments and can survive in areas that are periodically flooded.
Understanding the habitat preferences of a species is essential for conservation efforts, as it helps to identify the types of environments that need to be protected in order to ensure the survival of the species. Furthermore, knowing the species' ecological preferences can provide insight into the potential impacts of environmental disturbances on their population.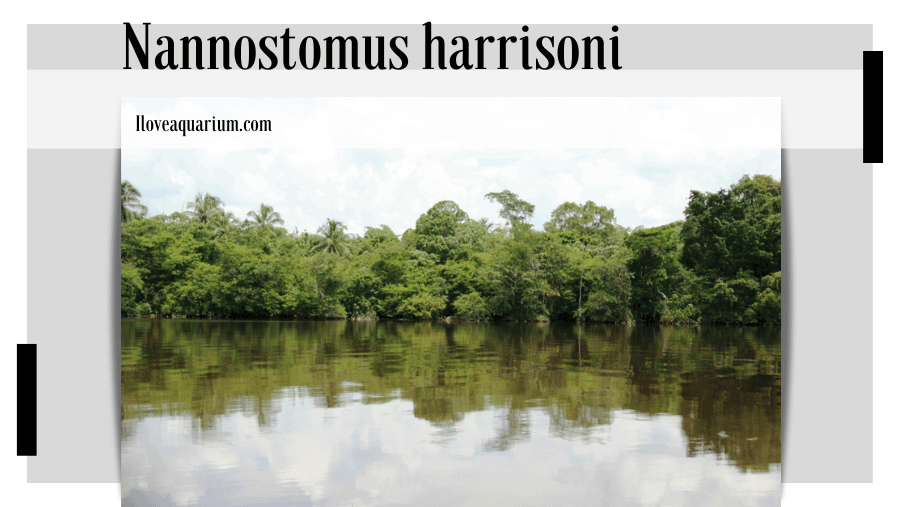 Maximum Standard Length
40 – 45 mm.
Aquarium Size
Base dimensions of at least 60 ∗ 30 cm or equivalent are required.
Maintenance
For optimal care, it is recommended to house this species in a heavily-planted aquarium setup. It is preferable to use a dark-colored substrate, and incorporate patches of floating vegetation. The fish tend to congregate around these areas, angling their bodies towards the surface.
Adding driftwood branches and dried leaf litter can also enhance the environment for the fish. The decaying leaves will promote the establishment of microbe colonies, which can serve as a secondary food source for fry. Furthermore, the tannins and other chemicals released by the decomposing leaves are believed to have beneficial effects.
When it comes to filtration, it is important to use gentle filtration. An air-powered sponge-style filtration unit is generally sufficient for most cases. Although, a degree of water flow is still acceptable in the aquarium setup.
Providing the right conditions for this species is crucial for its survival and wellbeing in a captive environment. Following these recommendations can help to create an environment that is similar to their natural habitat and improve the chances of successful breeding and the overall health of the species.
Water Conditions
Temperature: 22 – 28 °C
pH: 5.0 – 7.0
Hardness: 18 – 179 ppm
Diet
In its natural habitat, this fish is a micropredator that primarily feeds on small invertebrates and zooplankton.
In a captive aquarium environment, it is recommended to provide a varied diet that includes both dried and live/frozen food options. The species can accept dried foods that are of an appropriate size, but it is important to also offer daily meals of small live and frozen foods such as Artemia nauplii, Moina, grindal worm, and similar options.
Providing a diverse diet is essential for the species' overall health and well-being in a captive environment. It helps to ensure that the species receives all the necessary nutrients and helps to stimulate natural feeding behaviors.
Behaviour and Compatibility
The species is known for its peaceful temperament, but it is not recommended as an ideal community fish due to its small size and timid nature.
If kept in a community, it is best to house it with similarly-sized, peaceful characids and smaller catfish such as callichthyid or loricariid species.
This species can also serve as an ideal dither fish for Apistogramma spp. and other dwarf cichlids. It tends to occupy the middle-to-upper regions of the tank and does not actively prey on fry.
As a gregarious animal, it is recommended to purchase as many individuals as possible, ideally 10 or more. When kept in larger groups, any aggression is spread between the individuals, and the fish exhibit more natural behavior, as they become bolder.
Unlike some of its relatives, rival males of this species rarely engage in sparring or cause harm to each other in any way.
Sexual Dimorphism
When mature, male individuals of this species exhibit red pigmentation in their pelvic, anal, and caudal fins, whereas females have hyaline pelvic and anal fins and less intense pigmentation in their caudal fins.
In addition to coloration differences, males are generally slimmer than females, particularly when the latter are gravid.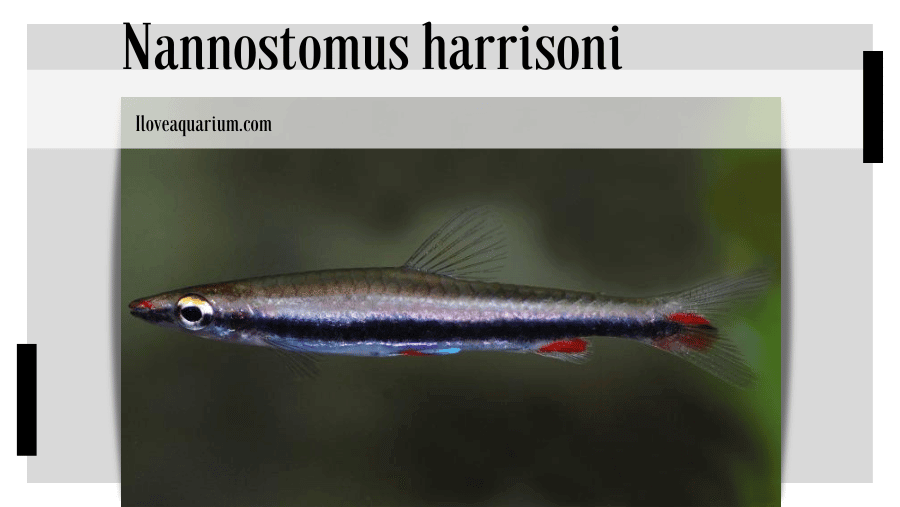 Reproduction
To increase the yield of fry in an aquarium, a slightly more controlled approach is necessary. Although it is possible for small numbers of fry to appear without intervention in a mature, densely-planted aquarium, it is recommended to set up one or more smaller containers filled with aged water. These containers should be filled with fine wool mops, Taxiphyllum, or other fine-leaved aquatic plants, leaving much of the available space to encourage breeding.
While lighting and filtration are not necessary, a small air-powered sponge filter can be installed if desired. Once the adult fish are well-conditioned, a single pair or a group comprising one or two males and several females can be introduced to each container. However, it is worth noting that the more individuals involved, the greater the risk of egg predation, and males may distract each other from females if there is more than one in the tank.
After 2-3 days, the adult fish can be removed, and the first fry should be visible a day or two later. It is essential to remove adult fish at this point to prevent them from eating the newly hatched fry. The initial food for the fry should be Paramecium or a proprietary dry food of sufficiently small (5-50 micron) grade, introducing Artemia nauplii, microworm, etc. once the fry are large enough to accept them. This diet is necessary for the survival and growth of the fry.
Maintaining a suitable water temperature and pH level is essential for the fry's survival. The water temperature should be around 78-82°F, and the pH level should be between 6.5 and 7.5. It is recommended to perform regular water changes to maintain water quality and avoid overfeeding the fry.
Overall, the key to successfully breeding fish in an aquarium is to create a suitable environment for them to breed, provide them with the appropriate diet, and maintain proper water parameters. By following these guidelines, it is possible to increase the yield of fry in an aquarium.
It is important to note that this approach was developed with the assistance of the late expert fish-breeder Alan P. Vaissiere.
Notes
It is not commonly found in the aquarium trade and is often caught incidentally with shipments of N. eques. To distinguish it from other species, Weitzman and Cobb (1975) identified a combination of characteristics: two lateral stripes, with the midbody stripe being well-developed and the upper stripe being poorly developed; nocturnal oblique bands present; an adipose fin always present; the snout fits in the eye 0.9-1 times, meaning that they are almost the same width; 38-39 vertebrae, the most in the genus; the anal fin of the male is not elongated and does not reach the base of the caudal fin; and 19 caudal fin rays.
It should be noted that the fish may appear different in color during the day compared to at night, as like many other Nannostomus species, it assumes a cryptic, vertically-barred color pattern at night. This diurnal rhythm has been observed even in blind specimens, suggesting it is an automatic response that the fish cannot control.
The family Lebiasinidae belongs to the order Characiformes and is sometimes divided into the nominal subfamilies Lebiasininae and Pyrrhulininae. However, there has not been a recent major review of the grouping. All lebiasinid genera possess a relatively long, elongate body shape with 17-33 scales in the lateral series and laterosensory canal system absent or reduced to 7 scales or less. Some species have an adipose fin while others do not, and the anal fin has a relatively short base of 13 scales or less. In most members, males have an enlarged or otherwise well-developed anal fin used in courtship and spawning. The frontal/parietal fontanelle is always absent, the cheek is well-covered by the orbital and opercular bones, the supraoccipital crest is absent, and the scales of the dorsal body begin over the parietal bones.
The order Characiformes is among the most diverse orders of freshwater fishes, with close to 2000 valid species distributed among 19 families. However, this tremendous taxonomical and morphological diversity has historically made it difficult for researchers to resolve the genetic relationships between species, with many genera remaining incertae sedis. Modern molecular phylogenetic techniques have allowed some headway, though. For example, a research paper by Calcagnotto et al. published in 2005 suggested that Lebiasinidae forms a trans-atlantic, monophyletic clade alongside the families Ctenoluciidae and Hepsetidae, with this clade further forming a sister group to Alestidae. Others, such as Oliveira et al. (2011), have concluded that the family Erythrinidae is also closely related to this grouping, with Hepsetidae and Alestidae being more distant.
References
Eigenmann, C. H., 1909 – Annals of the Carnegie Museum 6(1): 4-54
Reports on the expedition to British Guiana of the Indiana University and the Carnegie Museum, 1908. Report no. 1. Some new genera and species of fishes from British Guiana.
Calcagnotto, D., S. A. Schaefer, and R. DeSalle, 2005 – Molecular Phylogenetics and Evolution 36(1): 135-153
Relationships among characiform fishes inferred from analysis of nuclear and mitochondrial gene sequences.
Oliveira, C. A., G. S. Avellino, K. T. Abe, T. C. Mariguela, R. C. Benine, G. Orti, R. P. Vari, and R. M. Corrêa e Castro, 2011 – BMC Evolutionary Biology 11(1): 275-300
Phylogenetic relationships within the speciose family Characidae (Teleostei: Ostariophysi: Characiformes) based on multilocus analysis and extensive ingroup sampling.
Weitzman, S. H., 1966 – Proceedings of the United States National Museum v. 119 (no. 3538): 1-56
Review of South American characid fishes of subtribe Nannostomina.
Weitzman, S. H. and J. S. Cobb, 1975 – Smithsonian Contributions to Zoology 186: i-iii + 1-36
A revision of the South American fishes of the genus Nannostomus Günther (family Lebiasinidae).