Synonyms
Hemigrammus compressus Meek, 1904
Etymology
Hyphessobrycon comes from the Greek word "hyphesson," meaning 'of lesser stature', used as a prefix, and Brycon as the generic name. Meanwhile, compressus is derived from the Latin term "compressus," which means 'compressed' and is used to refer to this species' compressed body shape.
Classification
Order: Characiformes
Family: Characidae
Distribution
Known from southern Mexico, Guatemala, and Belize.
Type locality is 'Río Papaloapam basin at El Hule, Oaxaca, Mexico'.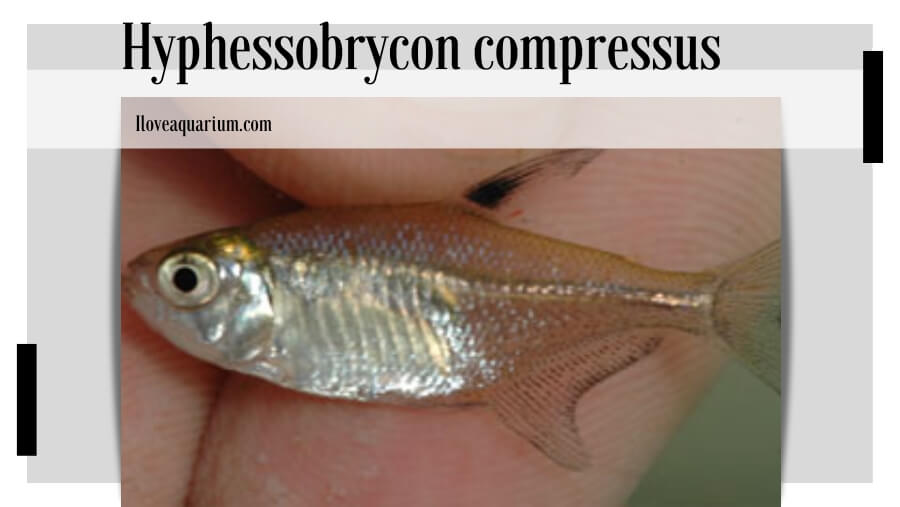 Habitat
It has been gathered from small rivers, streams, temporary freshwater swamps, and large permanent lakes.

Sympatric species include Astyanax aeneus and Poecilia sphenops.
Maximum Standard Length
40 – 45 mm.
Water Conditions
Temperature: 20 – 26 °C
pH: 6.5 – 8.0
Diet
Probably an opportunistic omnivore by nature.
Sexual Dimorphism
Nuptial adult males apparently develop a much darker colour pattern than females.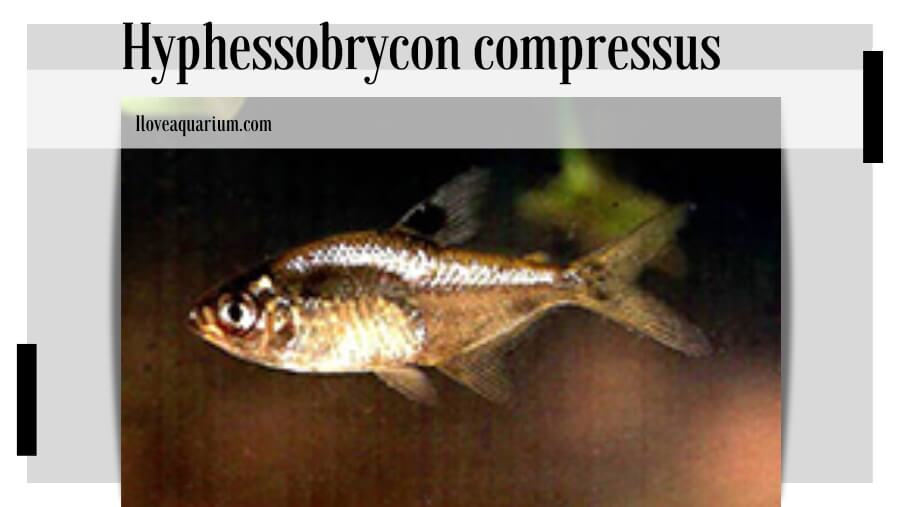 Notes
H. compressus, the type species of the genus Hyphessobrycon, is not a well-known fish in the ornamental trade. The genus Hyphessobrycon was originally established as a subgenus of Hemigrammus by Durbin in Eigenmann (1908). The main characteristic that distinguishes Hyphessobrycon from Hemigrammus is the absence of scales on the caudal fin.
The taxonomy of the genus has been revised several times since its establishment. Eigenmann (1918, 1921) revised the grouping, while Géry (1977) created artificial groups based on color pattern. These definitions are still used today, such as the H. agulha group and the H. heterohabdus group. However, these groupings are not considered to represent monophyletic assemblages, and their concepts are continuously redefined.
Weitzman & Palmer (1997) hypothesized the existence of a monophyletic assemblage within the genus based on color pattern and male fin morphology, which they called the "rosy tetra clade." One of the characters supporting its monophyly is the presence of a prominent dark marking on the dorsal fin. Some authors consider this assemblage, plus other morphologically similar species, to represent Hyphessobrycon sensu stricto. The remaining species are included in a much-expanded H. heterohabdus group.
However, other researchers have proposed conflicting, typically more restricted, views of both the genus and/or its constituent species groups. As currently recognized, Hyphessobrycon is a polyphyletic lineage containing several genera. The process of splitting it up has already begun, and Malabarba et al. (2012) revalidated the genus Ectrepopterus Fowler, previously considered a synonym of Hyphessobrycon.
Malabarba et al. (2012) analyzed the relationships of Ectrepopterus and Hyphessobrycon within the Characidae in the context of Mirande's (2010) previous work. They also included the type species, H. compressus, for the first time in such a study. The results showed that H. compressus is more closely related to "rosy tetra" representatives such as H. eques, H. pulchripinnis, and H. socolofi than other members of the genus, including H. anisitsi, H. bifasciatus, H. elachys, H. herbertaxelrodi, and H. luetkeni.
References
Meek, S. E., 1904 – Field Columbian Museum, Zoological Series v. 5: i-lxiii + 1-252
The fresh-water fishes of Mexico north of the isthmus of Tehuantepec.
Calcagnotto, D., S. A. Schaefer, and R. DeSalle, 2005 – Molecular Phylogenetics and Evolution 36(1): 135-153
Relationships among characiform fishes inferred from analysis of nuclear and mitochondrial gene sequences.
Endruweit, M., 2013 – Aquariophil
World Wide Web electronic publication, www.aquariophil.org, accessed on 2013.09.09
Géry, J., 1977 – T. F. H. Publications, Inc.: 1-672
Characoids of the world.
Malabarba, L. R., V. A. Bertaco, F. R. Carvalho & T. O. Litz., 2012 – Zootaxa 3204: 47-60
Revalidation of the genus Ectrepopterus Fowler (Teleostei: Characiformes), with the redescription of its type species, E. uruguayensis.
Mirande, J. M., 2010 – Neotropical Ichthyology 8(3): 385-568
Phylogeny of the family Characidae (Teleostei: Characiformes): from characters to taxonomy.
Oliveira, C. A., G. S. Avellino, K. T. Abe, T. C. Mariguela, R. C. Benine, G. Orti, R. P. Vari, and R. M. Corrêa e Castro, 2011 – BMC Evolutionary Biology 11(1): 275-300
Phylogenetic relationships within the speciose family Characidae (Teleostei: Ostariophysi: Characiformes) based on multilocus analysis and extensive ingroup sampling.
Reis, R. E., S. O. Kullander and C. J. Ferraris, Jr. (eds), 2003 – EDIPUCRS, Porto Alegre: i-xi + 1-729
Check list of the freshwater fishes of South and Central America. CLOFFSCA.
Weitzman, S. H. and L. Palmer, 1997 – Ichthyological Exploration of Freshwaters 7(3): 209-242
A new species of Hyphessobrycon (Teleostei: Characidae) from the Neblina region of Venezuela and Brazil, with comments on the putative `rosy tetra clade'.
Zarske, A., 2014 – Vertebrate Zoology 64(2): 139-167
Zur Systematik einiger Blutsalmler oder "Rosy Tetras" (Teleostei: Ostariophysi: Characidae).