Etymology
Hyphessobrycon: from the Ancient Greek υπελάσσων (hyphesson), meaning 'of lesser stature', and used as a prefix in this case, plus the generic name Brycon.
brumado: named after the rio Brumado, type locality of this species.
Classification
Order: Characiformes
Family: Characidae
Distribution
This species is currently only known to inhabit the rio Brumado, which is a tributary located within the coastal drainage system of the rio de Contas in Bahia state, eastern Brazil. The precise type locality of this fish is described as 'Rio Brumado, at Ponte do Coronel, rio de Contas drainage, 13°29'37.0″S, 41°52'0.6″W, Rio de Contas Municipality, Bahia, Brazil'. This specific location provides important information for scientists and researchers interested in studying the species, as it enables them to better understand the habitat preferences and range of the species. It is important to continue monitoring the distribution of this species in order to assess its conservation status and protect its unique habitat.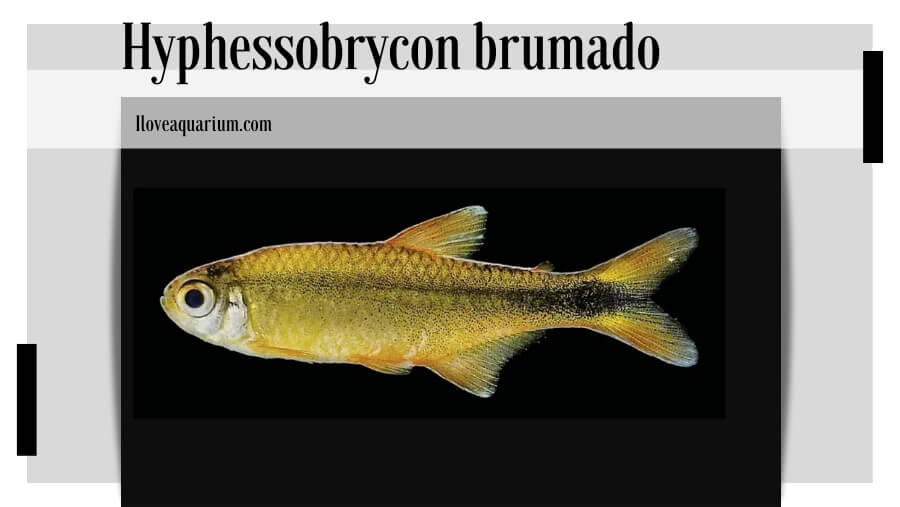 Habitat
The black-stripe tetra is typically found in moderately-flowing streams with altitudes ranging from 971-1048 meters above sea level. These streams have substrates made up of both rock and sand, and are typically bordered by riparian vegetation consisting of grass, shrubs, and trees. This species prefers these types of habitats as they provide suitable conditions for feeding, breeding, and protection from predators. The riparian vegetation, for example, can provide cover and shelter for the fish, while the rocks and sand provide hiding places and spawning sites. The moderate water flow is also important as it ensures a continuous supply of oxygen and nutrients, which are essential for the survival of the black-stripe tetra.
Sympatric fish species included Astyanax aff. lacustris, Gymnotus aff. carapo, Hypostomus sp., Parotocinclus jimi, Poecilia reticulata, Rhamdia aff. quelen, and Trichomycterus sp.
Maximum Standard Length
The largest officially-recorded specimen measured 31.6 mm.
Diet
The stomach contents of wild animals consisted of filamentous algae, fragments of vascular plants, both adult and larval stages of Diptera (Chironomidae and Simuliidae), Trichoptera larvae, Formicidae adults, Aranae, and unidentified arthropod fragments.
Sexual Dimorphism
Some female black-stripe tetras may exhibit a less broad lateral stripe compared to males, and may have a more pronounced rounded caudal blotch. On the other hand, some male black-stripe tetras may have a higher degree of dark pigmentation on the caudal fin than females. These differences in coloration between males and females can sometimes make it easier to determine the sex of the fish. However, it's important to note that the extent and intensity of these color differences can vary between individual fish, and may not always be a reliable indicator of sex. Other factors, such as body shape and behavior, should also be taken into consideration when attempting to sex black-stripe tetras.
Notes
This particular species, which is commonly known as the black-stripe tetra, bears a strong resemblance to the silver-tipped tetra, Hasemania nana, but it is quite easy to distinguish between the two. While the silver-tipped tetra lacks an adipose-fin, the black-stripe tetra possesses one. Moreover, in contrast to other species of Hyphessobrycon that inhabit the northeastern Brazilian drainages, the black-stripe tetra can be identified by its distinct features, such as a wide black lateral stripe on its body that extends onto the median caudal-fin rays. Other species in the same genus typically lack this stripe, and their median caudal-fin rays are transparent or hyaline. Furthermore, unlike some species that exhibit a humeral spot, this species does not have one. Lastly, males of some species have a well-defined caudal spot, which is not present in the black-stripe tetra.
References
Zanata, A. M. and P. Camelier, 2010 – Neotropical Ichthyology 8(4): 771-777
Hyphessobrycon brumado: a new characid fish (Ostariophysi: Characiformes) from the upper rio de Contas drainage, Chapada Diamantina, Bahia, Brazil.