Etymology
Hyphessobrycon: from the Ancient Greek υπελάσσων (hyphesson), meaning 'of lesser stature', and used as a prefix in this case, plus the generic name Brycon.
borealis: from the Latin boreas, meaning 'the north wind', in reference to this species' distribution in northern South America.
Classification
Order: Characiformes
Family: Characidae
Distribution
This species has been observed in various river systems across French Guiana, including Oyapock/Oiapoque, Approuague, Kaw, Kourou, Sinnamary, Mana, and Maroni.
The type locality of this species is at Crique St. Anne in Mana, French Guiana.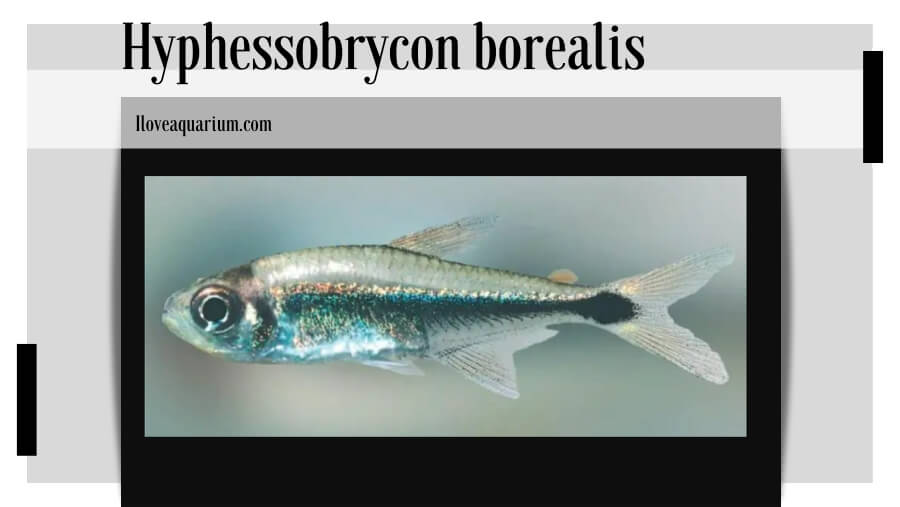 Habitat
This particular species has a tendency to inhabit marginal zones that are characterized by shallow water and relatively little current. These areas are typically the preferred habitat of this species, and they can often be found in large schools in these regions. This species appears to be well-adapted to living in these types of environments, where they can effectively feed, reproduce, and avoid predators. The ability to form large schools is likely an important survival strategy for this species, as it can help to deter predators, and may also make it easier for individuals to find food and mates. Overall, the species appears to have a well-developed set of adaptations that allow it to thrive in the specific ecological conditions found in marginal zones with shallow water and little current.
Maximum Standard Length
The specimen of the species that holds the record for being the largest officially measured was 27.8 mm in length.

Notes
This particular species can be easily distinguished from other species in the same genus due to its distinct features. It has the largest premaxillary teeth with up to five cusps, a relatively large maxilla that is 2.68-3.60 times in HL, 18-22 branched anal-fin rays, 29-32 lateral scales, and about 10 pored scales in the lateral line. The body depth is 3.09-4.03 times in SL, and the head length is 3.37-4.00 times in SL. Furthermore, it lacks a humeral spot, and the caudal spot is oval, not extending over the whole depth of the caudal peduncle, and only slightly onto the basal parts of the median caudal-fin rays, never reaching the tips.
When it was first described, this species was considered a member of the putative 'H. heterorhabdus-group' of closely-related species within the genus, which was proposed by Géry in 1977. The group initially consisted of around 15 members, characterized by a 'longitudinal pattern' consisting of a thin, usually dark, lateral body stripe. However, this grouping has been modified on a number of occasions.
In recent years, Lima et al. proposed a putatively monophyletic H. heterorhabdus-group, containing only three species: Hyphessobrycon heterorhabdus, H. amapaensis, and H. eschwartzae. All three species possess a well-defined, elongate humeral blotch which is continuous with a dark, well-defined midlateral stripe that becomes blurred towards the caudal peduncle.
Hyphessobrycon was raised by Durbin in Eigenmann in 1908 as a subgenus of Hemigrammus, differing from the latter by the absence of scales on the caudal-fin. The grouping was revised by Eigenmann in 1918 and 1921. Géry in 1977 created artificial groups of species based on color pattern, and these definitions are still widely used today, such as the H. agulha group, the H. heterohabdus group, etc. However, these cannot be considered to represent monophyletic assemblages, and their concepts continue to be redefined.
Weitzman and Palmer hypothesized the existence of a monophyletic assemblage within the genus based on color pattern and male fin morphology that they called the 'rosy tetra clade'. One of the characters supporting its monophyly was the presence of a prominent dark marking on the dorsal-fin. This assemblage, along with other morphologically similar species, is considered to represent Hyphessobrycon sensu stricto by some authors, with the remaining species included in a much-expanded H. heterohabdus group.
Others have proposed conflicting, typically more restricted, views of both the genus and/or its constituent species groups, and significant confusion remains. What is clear is that, as currently recognized, Hyphessobrycon is a polyphyletic lineage containing several genera.
The process of splitting it up has already begun, and Malabarba et al. revalidated the genus Ectrepopterus Fowler, previously considered a synonym of Hyphessobrycon. They also analyzed its relationships within the Characidae in the context of Mirande's previous work, but included the type species, H. compressus, for the first time in such a study. The results demonstrated that H. compressus is more closely related to 'rosy tetra' representatives such as H. eques, H. pulchripinn is, and H. socolofi than other members of the genus including H. anisitsi, H. bifasciatus, H. elachys, H. herbertaxelrodi, and H. luetkeni.
Further studies are needed to clarify the taxonomy of this group of fishes, and it is likely that more changes will be made in the future. As more is learned about the evolutionary relationships among these fish, it may be necessary to split them into multiple genera, each containing a more closely related group of species.
In addition to their taxonomic importance, Hyphessobrycon and related genera are also popular among aquarium hobbyists. Many species are colorful and relatively small, making them suitable for keeping in small tanks. However, it is important to note that some species may be more difficult to care for than others, and novice hobbyists should do their research before acquiring these fish.
In conclusion, Hyphessobrycon is a diverse and complex group of fishes that has undergone significant taxonomic changes in recent years. While much remains to be learned about their evolutionary relationships, it is clear that these fish play an important role in freshwater ecosystems and are of great interest to scientists, hobbyists, and fish enthusiasts alike.
References
Zarske, A., P.-Y. Le Bail and J. Géry, 2006 – Zoologische Abhandlungen, Staatliche Naturhistorische Sammlungen Dresden, Museum für Tierkunde 55: 17-30
New and poorly known characiform fishes from French Guiana. 1. Two new tetras of the genera Hemigrammus and Hyphessobrycon (Teleostei: Characiformes: Characidae).
Géry, J., 1977 – T. F. H. Publications, Inc.: 1-672
Characoids of the world.
Lima, F. C. T., D. P. Coutinho and W. B. Wosiacki, 2014 – Zootaxa 3872(2): 167-179
A new Hyphessobrycon (Ostariophysi: Characiformes: Characidae) from the middle Amazon basin, Brazil.
Malabarba, L. R., V. A. Bertaco, F. R. Carvalho & T. O. Litz., 2012 – Zootaxa 3204: 47-60
Revalidation of the genus Ectrepopterus Fowler (Teleostei: Characiformes), with the redescription of its type species, E. uruguayensis.
Mirande, J. M., 2010 – Neotropical Ichthyology 8(3): 385-568
Phylogeny of the family Characidae (Teleostei: Characiformes): from characters to taxonomy.
Weitzman, S. H. and L. Palmer, 1997 – Ichthyological Exploration of Freshwaters 7(3): 209-242
A new species of Hyphessobrycon (Teleostei: Characidae) from the Neblina region of Venezuela and Brazil, with comments on the putative `rosy tetra clade'.
Zarske, A., 2014 – Vertebrate Zoology 64(2): 139-167
Zur Systematik einiger Blutsalmler oder "Rosy Tetras" (Teleostei: Ostariophysi: Characidae).