Synonyms
Clupea sternicla Linnaeus, 1758; Salmo gasteropelecus Pallas, 1770; Gasteropelecus argenteus Lacepede, 1803; Gasteropelecus coronatus Allen, 1942; Gasteropelecus sternicula marowini Hoedeman, 1952; Gasteropelecus sternicla morae Hoedeman, 1952
Etymology
Gasteropelecus: Greek gaster [= stomach] and pelecus [=hatchet, axe]
sternicla: Latin for breast, referring to the deeply extended thorax.
Classification
Order: Characiformes
Family: Gasteropelecidae
Distribution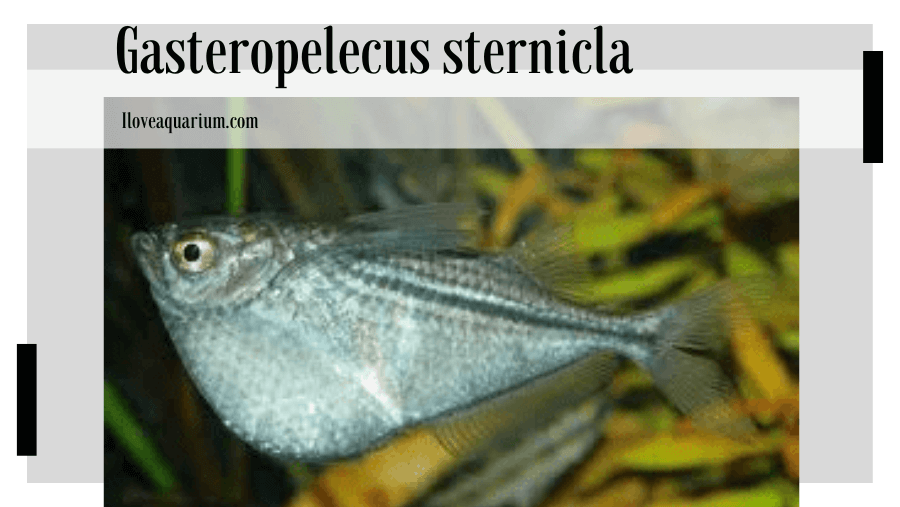 The distribution of this species is somewhat uncertain, as it has only been observed in limited regions. Specifically, it has been documented in the middle Amazon basin located in both Peru and Brazil, as well as in several rivers situated in Venezuela, Guyana, and French Guiana. Additionally, it has been collected in the Río Paraguay basin according to Britski et al. (2007). The only information available about its type locality is that it is located in Suriname.
Habitat
The fish under consideration are typically found in environments characterized by slow-moving forest streams, tributaries, and swamps. Their preferred habitat is typically associated with an abundance of surface vegetation, which may include floating plants and other similar structures. These features are often critical to the survival of the fish, as they provide important sources of food, shelter, and protection from predators. Overall, these fish exhibit a strong preference for areas with relatively calm waters and abundant vegetation.

Maximum Standard Length
35 – 40 mm.
Aquarium Size
An aquarium with a surface area measuring a minimum of 120 ∗ 30 cm or equivalent is required.
Maintenance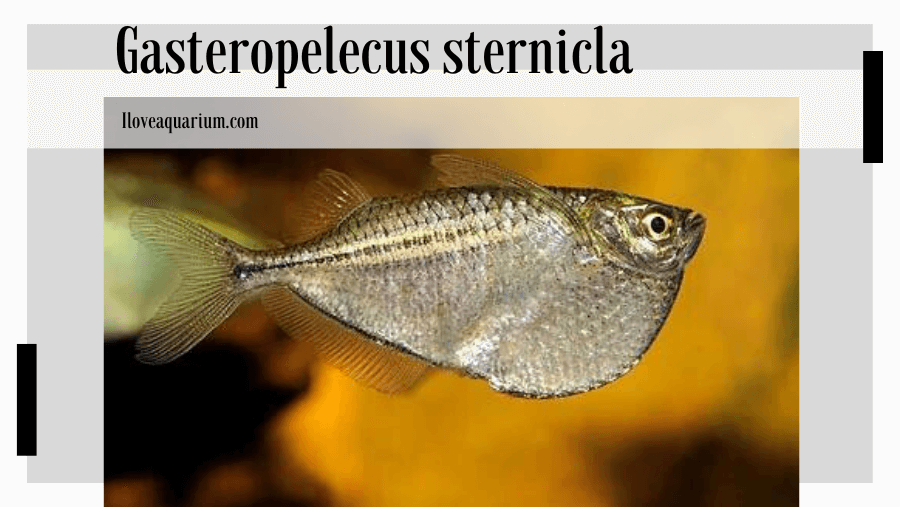 To create an optimal environment for this flighty fish species, it is recommended to cover a significant portion of the water surface with floating plants, as this will help to reduce their skittishness. While other forms of décor are not necessarily critical, they can enhance the aesthetic appeal of the tank. For instance, a heavily planted set-up or an Amazon biotope-style tank can be complemented with driftwood branches, a sand substrate, and some leaf litter. It is crucial to ensure that the tank cover is tightly fitting since this fish is capable of jumping several meters in a single leap.
Unlike species in the Carnegiella genus, this particular hatchetfish has a tendency to descend from the surface more frequently. This behavior may be attributed to their desire to interact with other members of their species, feed, or remain motionless. Therefore, it may be worthwhile to provide a variety of areas in the tank where the fish can swim and rest, such as by incorporating driftwood and other objects that can break up the water column.
Water Conditions
Temperature: 20 – 28 °C
pH: 5.0 – 7.5
Hardness: 18 – 215 ppm
Diet
The natural diet of this species primarily comprises insects that are found on or above the water surface, as well as crustaceans and worms. In a study conducted on Thoracocharax stellatus by Netto-Ferreira et al. (2007), it was found that insects accounted for 99.6% of the fish's diet, with the majority (87.6%) being terrestrial.
Although this species may initially be hesitant to consume dried foods, it can typically be trained to accept them over time. However, it is recommended to include a substantial portion of frozen and live foods in their diet, such as bloodworms and Daphnia. If available, gut-loaded Drosophila fruit flies can also serve as an excellent source of nutrition for these fish. Overall, a varied diet consisting of a range of different food sources is crucial for ensuring the health and wellbeing of this species.
Behaviour and Compatibility
This species is generally very peaceful, but it can be somewhat nervous and shy in nature. It is not well-suited to compete with more energetic species for food, so it is best to avoid pairing them with boisterous tankmates. Instead, it is recommended to select small fish species that occupy different areas of the tank, such as tetras and dwarf cichlids, as well as catfish species like Corydoras and smaller Loricariids.
When purchasing this species, it is crucial to buy at least six individuals, as they require the security and companionship of conspecifics to thrive. This will enable them to settle into their new environment more quickly and easily. Overall, with the right tankmates and appropriate social conditions, this species can be a great addition to a community aquarium.
Sexual Dimorphism
Females are noticeably rounder-bodied than males when full of eggs.
Reproduction
Unknown. Probably breeds in a similar fashion to the marbled hatchetfish, Carnegiella strigata.
Notes
This particular species of freshwater hatchetfish spends the majority of its time either at or just below the water surface, although it may retreat into midwater if it feels threatened or is feeding. Like other hatchetfishes, it has the ability to leap from the water surface and glide for several meters, which it uses both to capture flying insects and to evade potential predators.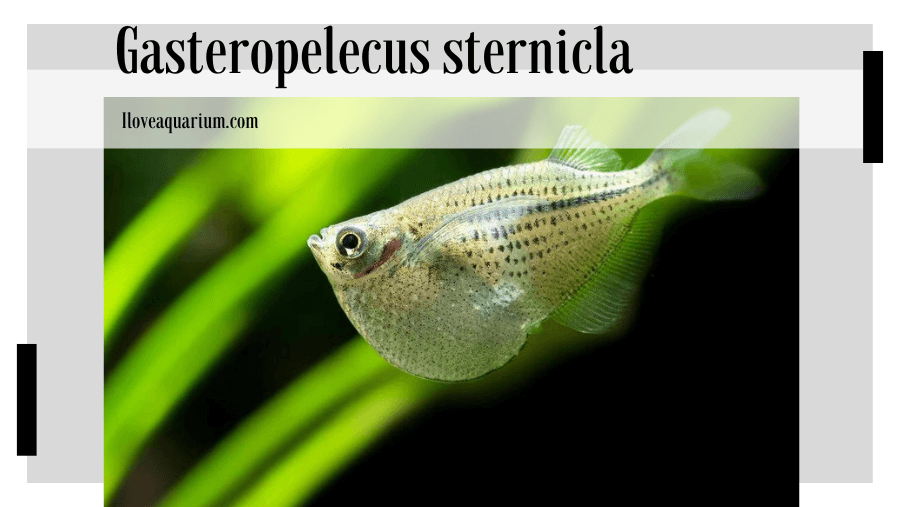 The family Gasteropelecidae is distinguished from other Characiformes by a combination of physical characteristics, such as a longitudinally corrugated frontal bone with a strong ridge, a fused posttemporal and supracleithrum bone, minute pelvic fins and associated bones, an enlarged and strongly convex pectoral girdle region, a ventro-posteriorly extending lateral line that approaches the anal-fin insertion, 0-2 or 3 scales behind the head and one or very few scales on the caudal-fin base, 10-17 dorsal-fin rays, and 22-44 anal-fin rays. The adipose fin is present in larger species in the Gasteropelecus and Thoracocharax genera, but absent in smaller species in the Carnegiella genus.
The Gasteropelecidae family consists of three genera, with Thoracocharax being the most primitive and characterized by its impressive keel, which contains two species (T. securis and T. stellatus). Gasteropelecus contains the largest hatchetfish species, all of which are silver in coloration, including G. sternicla, G. levis, and G. maculatus. Carnegiella is the most specialized of the hatchetfishes, with four described species that lack an adipose fin and are smaller in size.
The heavily-keeled body shape of Gasteropelecids has earned them the nickname of "freshwater hatchetfishes," which evolved due to possessing an enlarged and heavily-muscled pectoral girdle that resembles a hatchet head. While it was previously believed that they could propel themselves through the air using their pectoral fins, high-speed video photography has since disproven this theory. Rather, they employ a powerful jump, which is a modified threat response that requires a significant amount of energy from the pectoral girdle muscles. As a result, they can only jump once or twice before requiring a rest period. When fatigued, their threat response is similar to that of other small species, where they dive towards the substrate.
It is worth noting that anecdotal evidence from field researchers and fish collectors suggests that Gasteropelecids rarely jump, and they tend not to do so in aquariums even when being chased with a net (personal observation). However, leaving the tank cover open during darkness may result in one or more hatchetfish on the floor by morning, indicating that they can and will jump when necessary.
Gasteropelecus sternicla is generally regarded as the hardiest hatchetfish available in the aquarium hobby, although it can still be quite delicate when initially imported. Once acclimated, it proves to be an excellent aquarium resident. It is often mistaken for the silver hatchetfish, G. levis, and may be mislabeled as such when being sold.
The Characiformes order is one of the most diverse groups of freshwater fish, comprising nearly 2,000 valid species across 19 families. The tremendous taxonomic and morphological diversity of this order has historically hindered researchers' ability to resolve their genetic relationships, with many genera remaining unclassified (incertae sedis). While modern molecular phylogenetic techniques have allowed some progress, exhaustive individual studies are often necessary to address these issues.
Recent research by Javonillo et al. (2010) and Oliveira et al. (2011) has shed light on some interesting hypotheses. Javonillo et al. suggest that Gasteropelecidae forms a monophyletic clade nested within the family Characidae, while Oliveira et al. expand on this by concluding that Carnegiella is the sister group of Gasteropelecus, with Thoracocharax as sister to that clade. Additionally, Oliveira et al. suggest that Gasteropelecidae is most closely related to the expanded Bryconidae, which contains the genera Brycon, Henochilus, and Salminus. However, other researchers have proposed different relationships, with Oliveira et al. (2011) suggesting that the family Erythrinidae is also closely related to this grouping, while Hepsetidae and Alestidae are more distant.
References
Linnaeus, C., 1758 – Holmiae. v. 1: i-ii + 1-824
Systema Naturae, Ed. X. (Systema naturae per regna tria naturae, secundum classes, ordines, genera, species, cum characteribus, differentiis, synonymis, locis. Tomus I. Editio decima, reformata.).
Britski, H.A., K.Z. de Sz. de Silimon and B.S. Lopes, 2007 – Brasília, DF: Embrapa Informaçäo Tecnológica: 227p
Peixes do Pantanal: manual de identificaçäo, 2 ed.
Javonillo, R., L. R. Malabarba, S. H. Weitzman and J. R. Burns, 2010 – Molecular Phylogenetics and Evolution 54(2): 498-511
Relationships among major lineages of characid fishes (Teleostei: Ostariophysi: Characiformes), based on molecular sequence data
Netto-Ferreira, Andre L., Miriam P. Albrecht, JorgeL. Nessimian and Erica P. Caramaschi , 2007 – Neotropical Ichthyology 5(1): 69-74
Feeding Habits of Thoracocharax stellatus (Characiformes: Gasteropelecidae) in the upper Rio Tocantins, Brazil
Oliveira, O., G. S Avelino, K. T. Abe, T. C Mariguela, R.C Benine, G. Ortí, R. P. Vari and R. M. Corrêa e Castro, 2011 – BMC Evolutionary Biology 11: 275-300
Phylogenetic relationships within the speciose family Characidae (Teleostei: Ostariophysi: Characiformes) based on multilocus analysis and extensive ingroup sampling
Silva, Edson Lourenco da, Rafael Splendore de Borba, Liano Centofante, Carlos Suetoshi Miyazawa, and Patricia Pasquali Parise-Maltempi, 2012 – Comparative Cytogenetics 6(3): 323-333
Cytogenetic analysis in Thoracocharax stellatus (Kner, 1858) (Characiformes, Gasteropelecidae) from Paraguay River Basin, Mato Grosso, Brazil
Weitzman, Stanley H. and Lisa Palmer, 1996 – Tropical Fish Hobbyist, September 1996: 195-206
Do Freshwater Hatchetfishes Really Fly
Wiest, F.C., 1995 – Journal of Zoology 236 (4): 571-592
The specialized locomotory apparatus of the freshwater hatchetfish family Gasteropelecidae