Synonyms
Pterodiscus levis, Eigenmann, 1909.
Etymology
Gasteropelecus: Greek gaster [= stomach] and pelecus [=hatchet, axe]
levis: Latin for smooth.  According to his notes, Eigenmann placed this species in his new genus Pterodiscus solely on the basis of the lack of maxillary teeth; some sources suggest this is the "smooth" reference.
Classification
Order: Characiformes
Family: Gasteropelecidae
Distribution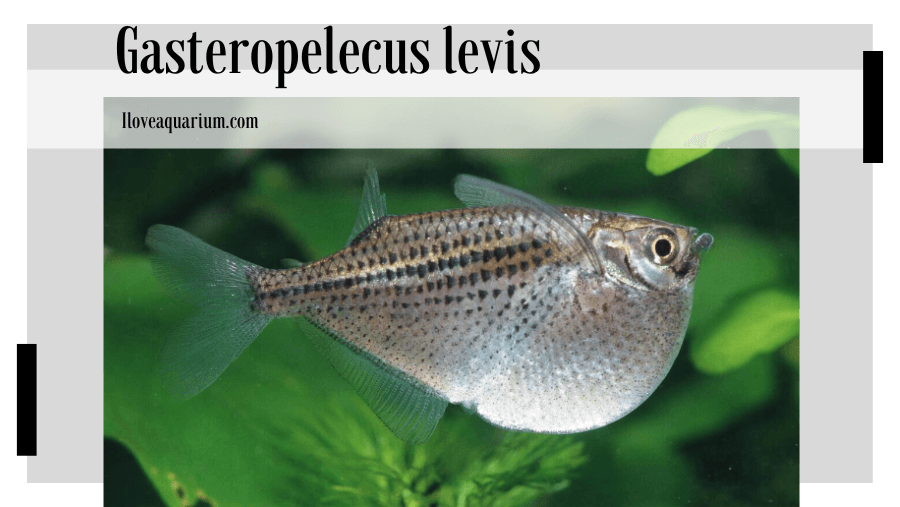 Occurs only in the lower Amazon river basin in the state of Pará, Brazil, including the lower portions of the rios Tocantins and Guamá.
Type locality is 'Belem do Para, Brazil'.
Habitat
Mainly found in open water of larger igarapés, streams and floodplain lakes (Weitzman & Palmer, 2003).
Maximum Standard Length
30 – 35 mm.
Aquarium Size
An aquarium with a surface area measuring a minimum of 80 ∗ 30 cm or equivalent is required.
Maintenance
To create a suitable environment for the skittish species, it's advisable to cover a significant portion of the water surface with floating plants. This measure can help to make them less nervous. Additionally, they prefer a tank with some current against which to swim. While the other decorations aren't essential, they can enhance the tank's appearance. For instance, heavily planted set-ups and Amazon biotope-style tanks with driftwood branches, sand substrate, and leaf litter look great. It's crucial to ensure that the tank cover is tightly fitted since this species is capable of jumping several meters in a single leap.
Water Conditions
Temperature: 20 – 28 °C
pH: 5.0 – 7.5
Hardness: 18 – 215 ppm
Diet
The natural diet of this species comprises insects found on or possibly above the water surface, crustaceans, and worms. In a study conducted on Thoracocharax stellatus (Netto-Ferreira et al., 2007), it was found that 99.6% of its diet was made up of insects, with the majority (87.6%) being terrestrial.
Initially, this species may be hesitant to eat dried foods, but with time it usually learns to accept them. However, it's advisable to provide a substantial portion of its diet in the form of live and frozen foods like bloodworm and Daphnia. If available, gut-loaded Drosophila fruit flies make an excellent food source.
Behaviour and Compatibility
This species is highly peaceful, but it can be shy and easily startled. It doesn't fare well in competition with more boisterous species for food. Suitable tankmates for this species include other small fishes that inhabit different areas of the tank, such as tetras, dwarf cichlids, and catfishes like Corydoras and smaller Loricariids. To ensure a comfortable environment, it's recommended to purchase at least six individuals as they require the security of conspecifics to settle.
Sexual Dimorphism
Females are noticeably rounder-bodied than males when full of eggs.
Reproduction
Unknown. Probably breeds in a similar fashion to the marbled hatchetfish, Carnegiella strigata.
Notes
This species is typically found at or just below the water surface, although it may retreat to midwater when threatened or feeding. Like other freshwater hatchetfish, it's capable of leaping from the water's surface and gliding for several meters, a behavior used to catch flying insects and evade potential predators.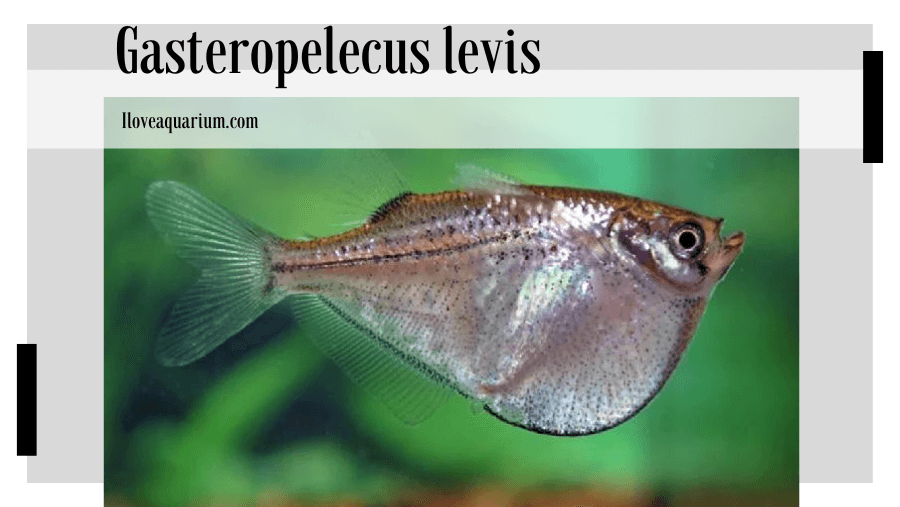 The species was initially described by Eigenmann, who noted that it lacked teeth on the maxillary. Consequently, he erected the genus Pterodiscus for it. Weitzman (1960), however, placed the species in Gasteropelecus and invalidated Pterodiscus. The family Gasteropelecidae is distinguished from other Characiformes by several characteristics, including the presence of an enlarged, strongly convex muscular pectoral girdle region, greatly expanded coracoids fused to a single fan-shaped and corrugated median bone, and minute pelvic fins and associated bones.
The Gasteropelecidae family comprises three genera: Thoracocharax, Gasteropelecus, and Carnegiella. Thoracocharax contains two species, T. securis and T. stellatus, which are the most primitive and distinguished by their impressive keel. Gasteropelecus contains three larger-sized hatchetfish species: G. sternicla, G. levis, and G. maculatus, which are all silver in coloration. Carnegiella contains four smaller and more specialized hatchetfish species, lacking an adipose fin.
Hatchetfish are commonly referred to as "freshwater hatchetfish" due to their heavily-keeled body shape. They are capable of powerful jumps from the water's surface, which is a modified threat response used in extreme circumstances. Hatchetfish require a lot of energy to work their massive pectoral girdle muscles and can jump only once or twice before requiring a rest period. Leaving the tank cover open during darkness may result in hatchetfish on the floor by morning.
Once acclimated, this hatchetfish species can make an excellent aquarium resident, but it can be delicate initially. The Characiformes order is one of the most diverse orders of freshwater fishes, with close to 2000 valid species distributed among 19 families. Researchers have faced difficulty resolving genetic relationships among them, but modern molecular phylogenetic techniques have helped in recent years. Recent research suggests that Gasteropelecidae forms a monophyletic clade nested within the family Characidae, with Carnegiella being the sister group of Gasteropelecus and Thoracocharax sister to that clade. The family Gasteropelecidae appears most closely-related to the expanded Bryconidae, which contains the genera Brycon, Henochilus, and Salminus.
Others such as Oliveira et al. (2011) have concluded that the family Erythrinidae is also closely-related to this grouping with Hepsetidae and Alestidae more distant.
References
Eigenmann, C. H., 1909 – Annals of the Carnegie Museum v. 6 (no. 1): 4-54
Reports on the expedition to British Guiana of the Indiana University and the Carnegie Museum, 1908. Report no. 1. Some new genera and species of fishes from British Guiana.
Javonillo, R., L. R. Malabarba, S. H. Weitzman and J. R. Burns, 2010 – Molecular Phylogenetics and Evolution 54(2): 498-511
Relationships among major lineages of characid fishes (Teleostei: Ostariophysi: Characiformes), based on molecular sequence data
Netto-Ferreira, Andre L., Miriam P. Albrecht, JorgeL. Nessimian and Erica P. Caramaschi, 2007 – Neotropical Ichthyology 5(1): 69-74
Feeding Habits of Thoracocharax stellatus (Characiformes: Gasteropelecidae) in the upper Rio Tocantins, Brazil
Oliveira, O., G. S Avelino, K. T. Abe, T. C Mariguela, R.C Benine, G. Ortí, R. P. Vari and R. M. Corrêa e Castro, 2010 – BMC Evolutionary Biology 11: 275-300
Phylogenetic relationships within the speciose family Characidae (Teleostei: Ostariophysi: Characiformes) based on multilocus analysis and extensive ingroup sampling
Weitzman, Stanley H. and Lisa Palmer, 1996 – Tropical Fish Hobbyist, September 1996: 195-206
Do Freshwater Hatchetfishes Really Fly
Wiest, F.C., 1995 – Journal of Zoology 236 (4): 571-592
The specialized locomotory apparatus of the freshwater hatchetfish family Gasteropelecidae