Etymology
Myers (1924) initially designated the group of fish now known as Fundulopanchax as a subgenus, based on the observation that its members appeared to occupy an evolutionary intermediate position between the genera Fundulus and Panchax, as they were then understood.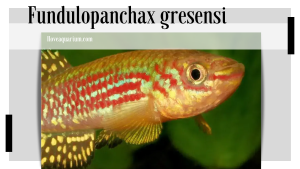 Classification
Order: Cyprinodontiformes
Family: Nothobranchiidae
Distribution
The species in question has only been documented within a relatively small geographic range near the villages of Takwai I and II, Atebong Wire, and Edjuingan in western Cameroon. Its distribution encompasses the Bagwor and Mack river systems, which are both tributaries within the upper Cross River basin of western Cameroon. The type locality is situated in West Cameroon at coordinates 5°34'N and 9°50'E.
To differentiate between various populations of wild fish and prevent hybridization, they are often labelled with a code or details of their locality. In this particular case, the most commonly encountered hobbyist strain is referred to as 'Takwai'.
Habitat
The species was obtained from forested streams with shallow, swampy sections that may experience periods of drought during the dry season. Some areas within its distribution may also face a potential threat of deforestation, although information on this matter is limited.
Maximum Standard Length
40 – 47 mm.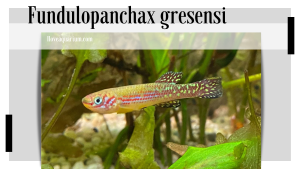 Maintenance
Setting up the aquarium for this species does not have to be overly complex. However, it is important to cover the tank securely, as this species is known to be a strong jumper.
It is recommended to provide ample cover, such as aquatic plants, wool mops, and other suitable items. If filtration is necessary, air-powered sponge units are preferable as they will not cause harm to eggs or fry.
While lighting is not a crucial factor, it can be included if desired. Additionally, growth of filamentous algae should not be discouraged, as this can serve as a food source for the fish.
Water Conditions
Temperature: 22 – 26 °C
pH: 6.0 – 7.5
Hardness: 18 – 268 ppm