Etymology
Epiplatys is a genus name derived from the Greek words "epi" meaning 'above, on top of', and "platys" meaning 'flat, broad', alluding to the flattened dorsal surface of the anterior half of the body in members of this group.
The term "mesogramma" originates from the Greek words "mesos" meaning 'middle', and "gramme" meaning 'line', referring to the central line or stripe present in certain members of this genus.
Classification
The family Nothobranchiidae belongs to the order Cyprinodontiformes.
Distribution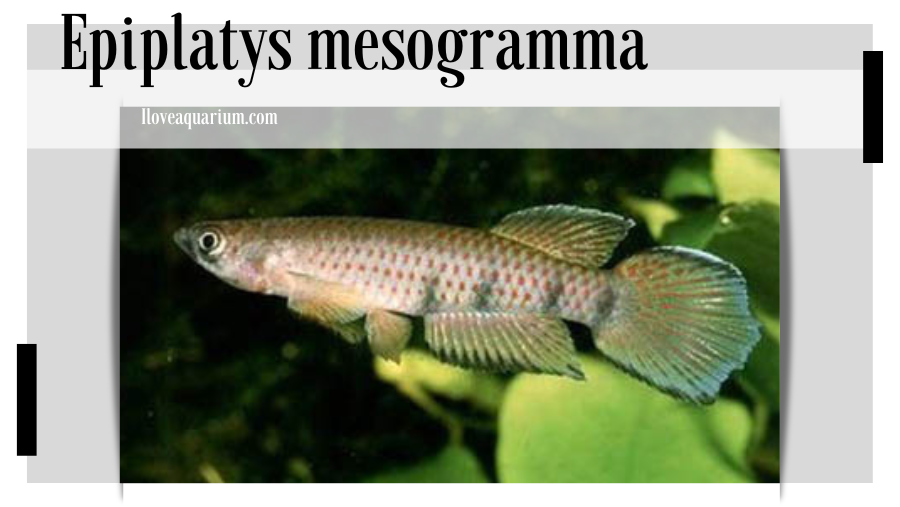 E. mesogramma is native to the Ubangi River drainage in the southwestern region of the Central African Republic. The type locality is a small stream along the Mbaiki-Mongoumba road, located south of Bangui at coordinates 3°55'N, 18°10'E. The Ubangi River is the largest right-bank tributary of the Congo River, draining a vast area. However, E. mesogramma has only been reported from a few locations. To preserve bloodlines and prevent hybridization, aquarists often label the fish with their known population, such as Bangui or KCF 6.
Maintenance
A heavily planted or natural-style aquarium with a sandy substrate and driftwood roots and branches would be an ideal setup for this fish species. To enhance the natural feel of the tank, adding dried leaf litter is recommended. It not only provides cover for the fish but also supports the growth of microbe colonies through decomposition, offering a valuable secondary food source for the fry. Alder cones are also helpful in this regard as they release humic substances beneficial to the fish. Natural peat is not necessary, as it is an unsustainable and environmentally destructive option.
This species thrives under dim lighting, but there are aquatic plant species that can survive under such conditions, such as Microsorum, Taxiphyllum, or Anubias. Additionally, floating vegetation like Ceratopteris is appreciated by the fish.
Diet
In its natural habitat, this species is likely a predator, feeding on both terrestrial and aquatic invertebrates, as well as other zooplankton.
When kept in an aquarium, it will readily consume dried foods of a suitable size. However, to ensure its health, it's important to provide it with small live and frozen foods like Artemia nauplii, Daphnia, Moina, and grindal worm on a daily basis. It's also suitable to offer small insects such as crickets or Drosophila fruit flies, but it's best to feed them fish flakes or vegetable matter to fill their stomachs before offering them to the fish.
Sexual Dimorphism
In this species, males are larger than females and exhibit brighter colors and more extended fins.
Notes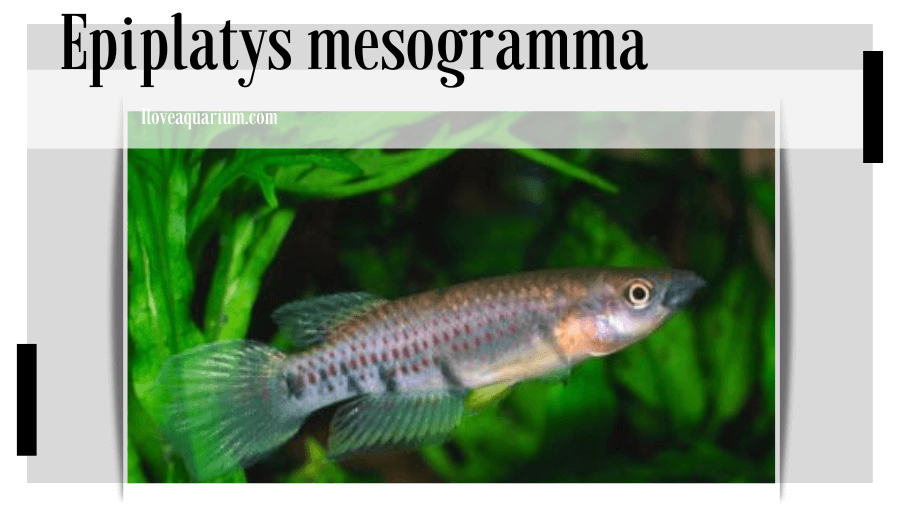 Epiplatys is the most widely-distributed genus of West African aplocheiloid killifish with a range overlapping that of the other genera native to the region which are more restricted and split into eastern and western groups based on their respective patterns of distribution.
For example, Callopanchax is restricted to coastal lowlands of far Western Africa with Scriptaphyosemion and Archiaphyosemion known only from the interior of the Western rainforest, whereas Aphyosemion and Fundulopanchax present more easterly ranges extending south and eastward from Nigeria.
Although previously considered closely-related to the genus Aplocheilus due to shared similarities such as possessing an upturned mouth and dwelling mostly near the water surface Epiplatys is in fact affiliated with the western group above, i.e., its closest relatives are  Callopanchax, Scriptaphyosemion and Archiaphyosemion.
In addition the phylogenetic analysis of Collier et al. (2009) revealed the existence of two distinct clades within Epiplatys itself, one comprising those species restricted to the Western rainforest (the western/savanna clade) and other those inhabiting lowland (coastal) swamps and streams west of the Dahomey Gap.
Most members of the coastal clade have a colour pattern consisting of broad, dark vertical bars which are present in juveniles of those species which lack them as adults, plus many populations possess an asymmetric caudal-fin shape with an extended lower lobe, whereas western clade species tend to lack or only possess thin oblique dark bars on the body and have symmetrically-shaped caudal fins.
References
Collier, G. E., W. J. Murphy and M. Espinoza, 2009 – Molecular Phylogenetics and Evolution 50(1): 190-196
Phylogeography of the genus Epiplatys (Aplocheiloidea: Cyprinodontiformes).
Hertwig, S. T., 2008 – Zoologica Scripta 37(2): 141-174
Phylogeny of the Cyprinodontiformes (Teleostei, Atherinomorpha): the contribution of cranial soft tissue characters.