Miscellaneous Freshwater Fishes
The Halfbeaks
The halfbeaks occur in southeast Asia and are found in both fresh and brackish environments. Most of those available in aquatic outlets have been acclimatized to freshwater conditions (with maybe a level teaspoonful of salt per 4.5 litres/1 gallon), so you should have no problems with them. They are shoaling fishes which live at the water surface, and if you look at the position of the dorsal fin you will see that it is set well back on the body so that it does not break-up the dorsal profile and stick out of the water, betraying the presence of the fish to any predator.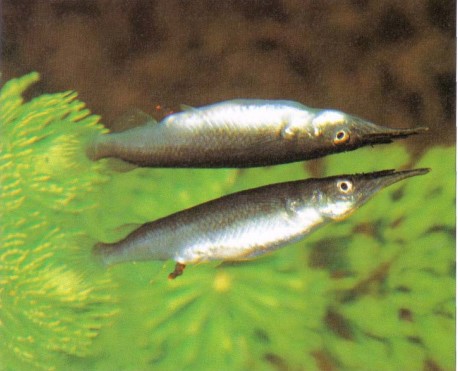 The lower jaw of these fishes is extended and fixed, and as they cruise just beneath the surface this allows them to feed on surfacedwelling insects or any that fall onto it. In captivity these insectivores require live foods: they will take Tubifex (from a feeder), fruit flies, indeed, any small flies will be avidly consumed. The problem for the aquarist is to get enough of the right foods. In summer the garden provides plenty of insects such as aphids – but don't use any that have been sprayed with insecticide; mosquito larvae, pupae, and adults are also relished.
Alternatively you can use a hand net (for example an aquarium net) to sweep long grass and you will be amazed at the number of bugs that you catch. To feed the fishes, first of all ensure that you have a tight-fitting cover glass or all your insects will escape. (This also helps to keep the fishes in the aquarium as they are very good jumpers.) Release the bugs into the space between the water and the cover glass. If using some creepy-crawlies such as small spiders, float a small piece of cork bark on the water and set the bugs adrift on this "raft". As they near the edge, the fishes see them and leap to catch them. Alternatively, use floating plants.
Being surface dwellers, they can be accommodated in a shallow aquarium. The water should be hard with a little salt added if the tap water in your area is soft. If necessary use buffers to maintain the pH at about 7.0.
Three genera are regularly imported via the trade: Dermogenys, Nomorhamphus, and Hemirhamphodon. All three produce live young.
The halfbeaks most often imported nowadays are members of the Nomorhamphus genus. They tend to have much thicker bodies than the other genera and the lower jaw is shorter, barely protruding beyond the upper. Often the lower lip is black-pigmented. Any one of several different species may be offered for sale under the name of Celebes halfbeak; all grow to about 10 cm (4 in) and will eat anything small enough to fit into their mouths, even a small neon tetra, so make sure you keep them only with fishes of a similar size.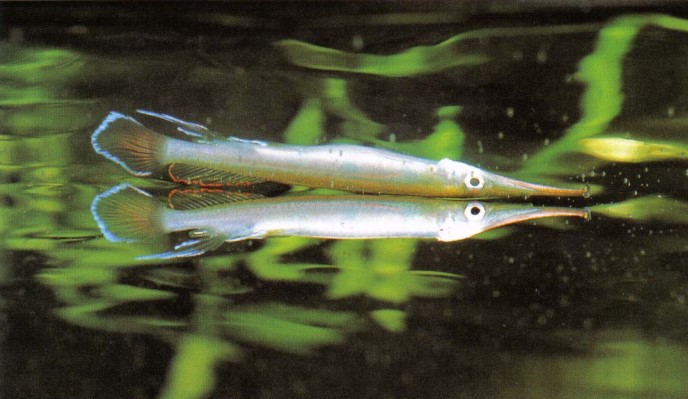 The males of this genus have the front rays of the anal fin shortened to form the copulatory organ. Mating usually takes place just after sunrise when the male will be seen courting the female. About six weeks later up to 20 young will be born. Although these are very large at birth (up to 2 cm (3 A in)), the parents will still eat them if given the chance, so remove them to another aquarium for rearing. They will eat newly hatched brine shrimp as their first food, but grow quickly and soon require the same foods as their parents.
Members of the Dermogenys genus turn up from time to time. These are often called "wrestling halfbeaks", the common name is derived from the males' habit of wrestling with each other to determine which is strongest and establish a pecking order. The most commonly available species is Dermogenys pusillus. They have a much longer beak than the Celebes halfbeak and this is vulnerable to damage during shipment. Such damage is often followed by infection and death, so make sure you purchase only specimens with a complete lower jaw. These are the easiest of the group to breed in captivity, with broods of up to 30 being born every month or so.
The other genus of halfbeaks to regularly appear in retail outlets is Hemirhamphodon. Hemirhamphodon pogonognathus (Thread-jawed halfbeak or long-snout halfbeak) is somewhat different from the other members of this group in having the front part of the anal fin extended instead of shortened. Again this fin is used as a copulatory organ during mating.
This species is by far and away the most difficult of the group to establish in captivity. They have a very long and thin lower jaw which is often broken when the fish is being shipped, and such an injury will almost always lead to death.
They are also more choosy about their diet. All halfbeaks are insectivores but most can be weaned on to floating flake foods. While this will not be enough to keep them in tip-top shape, it will tide them over lean times when live foods are unavailable. The thread-jawed halfbeak, however, is very reluctant to take this alternative regardless of how hungry it is, so do not buy one unless you are confident of maintaining a year round supply of live foods. It will take live foods such as Daphnia and bloodworms from the upper part of the aquarium but, unlike the other halfbeaks, will not follow these foods down to the lower strata.
The fry are produced over a period of several weeks with a couple being born every day. Eventually a brood will number 30 to 40. If well fed the adults should not eat them but it is . wise to remove them for rearing in another aquarium, just to be on the safe side. The fry will eat all small live foods offered provided these are near or on the surface of the water. Newly hatched brine shrimp can be offered, but position a strong light above the aquarium to draw the shrimps to the surface where the halfbeaks will eat them. Any dead shrimps must be siphoned out before they decay.