Miscellaneous Freshwater Fishes
Spiny Eels
At some time or other you may wish to try your hand at keeping spiny eels, members of the family Mastacembelidae. Despite their common name they are not related to the true eels, but just have a similar long thin shape. They are found in brackish and fresh waters in Africa and southeast Asia. These long, sinuous fishes are excellent burrowers and will undermine rocks and plants in the aquarium. They have long, prehensile noses which they use to sift through mud and sand in search of worms and other buried food. As these fishes grow they become more predatory. Captive specimens are not very fond of flake and tablet foods, so be prepared to feed them on frozen foods with the occasional meal of aquatic invertebrates such as Tubifex for small specimens. Larger fishes are particularly fond of earthworms.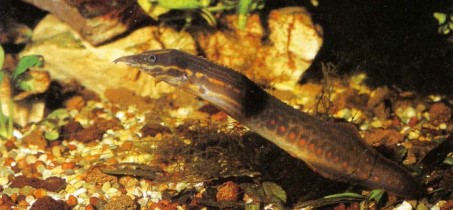 Mastacembdus erythrotaenia (Fire eel) is an aquarium favourite, probably because they look so sweet in dealers' tanks. Young specimens bury themselves beneath wood or rocks with only their heads sticking out. Large numbers are available in the trade and many people buy them without realizing just how big they can grow: 50 cm (20 in) is not unusual in captivity and their potential is 1 metre (36 in). At these sizes they are predatory and will eat small fishes when they come out to feed at night.
Although youngsters are gregarious, as they grow they become intolerant of their own kind but may be kept with other large, mid-water fishes or some of the larger armoured catfishes. Water with a hardness of up to 15 degrees and a pH on the acid side of neutral seems to suit these fishes. Ensure that the substrate is soft and has no sharp pieces of sand or gravel that may cut the fishes as they burrow.
The fire eel is one of the most delicate species of the genus and very particular attention should be paid to maintaining the water quality. They are also excellent jumpers and escape artists, which will wriggle through the smallest of openings, so ensure you cover the tank tightly.
Two other species that are sometimes available are Mastacembdus circumcinctus, a small fish growing to only 16 cm (6XA in) and Mastacembdus armatus (Spiny eel) which grows to 75 cm (30 in). Both require very similar conditions to the fire eel.