Miscellaneous Freshwater Fishes
Glassfishes
As suggested by the common name, the Chandidae (Glassfishes) have transparent bodies which allow you to see the skeleton and many of their internal organs. Two species crop up every now and again in the trade: Chanda ranga (Indian glassfish) and Chanda wolffii. The larger of the two is C. wolffii at 20 cm (8 in) although it is most unusual for them to reach this size in captivity even if they are fed correctly.
Although a great talking point in public aquaria, glassfishes are shrouded in mystery when it comes to keeping them in the aquarium. They are regarded as "difficult" and to a degree this is true. Although they are peaceful enough, they do not benefit from being kept in the teeming metropolis of the average community, preferring the quiet of a species aquarium.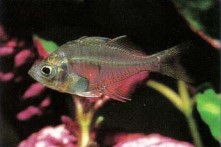 Use a 75 cm (30 in) aquarium with a dark substrate of lava chips or very dark gravel; not peat, as this will acidify the water; glassfishes like medium-hard and slightly alkaline water. Before they are introduced the system needs to be mature with the plants growing well; use those that will tolerate salt in the water as these fishes benefit from 1-2 level teaspoons of aquarium salt per 11 litres (2.5 gallons) of water. Being somewhat timid, when first introduced they may hide, but once they feel secure you will see them more and more often. They are territorial and take a little time to sort out their own space, but once they have established this there are no further problems.
Both species will accept flake foods, but flake alone is not enough for the fishes to survive. The diet needs to include small invertebrates as well as frozen foods. Sometimes it can be difficult to find the right dietary combination to succeed with these creatures. One of us based her feeding regime on live Daphnia and bloodworm every day, with frozen and flake foods used to supplement this, and achieved reasonable success in keeping these fishes.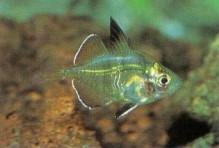 Indian glassfishes spawn quite readily provided they have been well conditioned on a wide variety of foods. Rather than using a single pair, use several pairs in the same aquarium. Spawning can be triggered by sunlight falling on the aquarium, raising the temperature slightly, the addition of some fresh water and, if all this fails, separate the males and females for a few days. The former have a blue edge to the dorsal and anal fins. The female is more yellowish and, if we look closely at their (conveniently visible) internal organs, the front of her swim-bladder is rounded (pointed in the male).
Each spawning pass produces about half a dozen sticky eggs that adhere to the plants (Java moss is very good for this purpose); spawning continues until the pair have laid 200 or so eggs. Although the parents ignore both eggs and fry, it is wise to remove them just in case they feel peckish. The eggs hatch in 24 hours and the larvae are tiny.
The larvae festoon the plants until they become free swimming some three days later. Now the problems really start. Although they will take brine shrimp nauplii, they do not actively hunt for it but merely snap at it as it passes by. The addition of an air-operated sponge filter, which will keep the food moving about, helps, but feeding them on a single food is not adequate; just as the adults need variety, so do the fry. It is a case of try anything small enough, feed little and often, and then just hope you have got it right.
A word of warning. Glass-fishes have been imported with arcs of fluorescent colour in their bodies, and sold to unsuspecting hobbyists as "disco fishes". These fishes have been injected with a coloured dye. This action causes distress and damage to the fishes and is a potential cause of infection. This practice is frowned upon by most hobbyists and reputable traders and should be discouraged by not buying such specimens. Not only species of Chanda have been treated this way, but the Glass catfish, Kryptopterus bicirrhus, has also suffered.