Miscellaneous Freshwater Fishes
Bichirs and Reedfishes
In the tropical waters of Africa we find a very interesting family of fishes, the Polypteridae (Bichirs, Reedfishes, or Lobe-finned pike). They have elongated, snake-like bodies which are covered with enamelled, diamond-shaped (ganoid) scales. Their swimbladder is modified to allow them to breath from the atmosphere and thus survive in oxygen-deficient waters. In the aquarium they will surface at regular intervals to take in gulps of air, regardless of whether the water is well oxygenated or not. If they are prevented from reaching the surface they will die.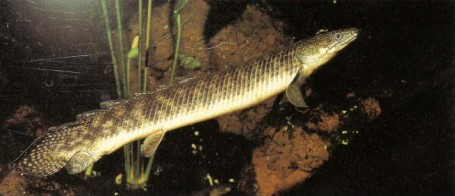 They are carnivores and prey on anything that will fit into their mouths, from fishes to worms, insect larvae, and frogs. In the aquarium they will take dead foods such as pieces of fish or meat. Shrimps or prawns can be broken up and fed with some of the shell on.
There are two genera: Erpetoichthys (reedfishes or snakefishes), which has a single species Erpetoichthys calabaricus, and Polypterus (bichirs) with several species. Both may be kept with other fishes provided their companions are large enough not to be considered prey. They are excellent escape artists, especially the reedfish, which will wriggle out of the smallest gaps, even those where external filter pipes enter the tank. They can be deterred by trapping a piece of net curtain between the cover glass and the tank so that it covers this small gap and the pipe. If necessary, tape the net to the outside of the aquarium to hold it in place. Should your fish be found on the carpet in a semidesiccated condition, do not give up hope. One of us found her reedfish covered with dog hairs and rather stiff on the floor one morning. With nothing to lose she returned it to the aquarium. Four hours later the fish was swimming about – still covered in dog hairs and its finnage looking somewhat ragged – but it was alive. What's more important, it recovered completely from its little outing.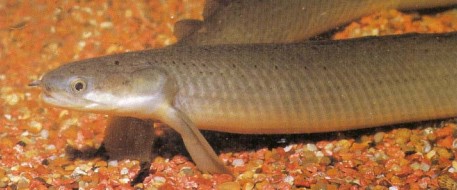 Erpetoichthys calabaricus (reedfish) is a peaceful fish, even with its own kind, but it should not be kept with anything small enough to be considered food. It grows quite long and slim, reaching a maximum of 40 cm (16 in). These fishes prefer their water to be soft and slightly acid and a normal community aquarium of appropriate-sized fishes is ideal for them.
The bichirs can be quarrelsome when kept together, especially if there are not enough hiding places in the aquarium, but their aggression is not usually directed towards other species. They are tolerant of most water conditions provided extremes of pH and hardness are avoided. Some species seen regularly in the hobby are Polypterus ornatipinnis (ornate bichir) which can grow to 45 cm (18 in), Polypterus delhezi (armoured bichir) 35 cm (14 in), and Polypterus senegalensis (Senegal bichir or Cuvier's bichir) and Polypterus palmas (marbled bichir) both 30 cm (12 in).
Some species have been bred in captivity. During spawning the male spreads out his anal fin so that it is slightly cupped and places it beneath the vent of the female. The eggs and sperm are expelled into the cupped fin. Some species, for example Polypterus ornatipinnis, lay their eggs among plants, while others, such as Polypterus palmas, let them fall to the bottom. Hatching takes four to five days but the fry are not free swimming until a few days later. They will take newly hatched brine shrimp.