Platies and Swordtails
Platies and swordtails are almost as fecund as guppies. As in the guppy, a female can produce several broods from a single impregnation, and again, like the guppy, they have been manipulated by commercial breeders to produce variations in colour and finnage.
Platies like harder water and they will cope with the conditions of a newly set up aquarium, so they can be one of the first fishes that are used to mature the system after the nitrite peak has been passed. They like plants, both as cover and as food, but prefer to graze on soft green algae. This fondness for algae can be used to our advantage as they will help overcome the algal bloom that often occurs in a new aquarium.
Despite this fondness for plant matter, these fishes too are true omnivores and require regular feeds of a good quality flake food as the basis of their diet, plus live or frozen foods if they are to achieve their full potential.
There are a number of different wild species of platy but only two are generally found in retail outlets. These have been extensively hybridized together, and with the common swordtail, to produce a number of colour forms and fin types. Once a fish has been hybridized with another species, the scientific name ceases to apply to the descendants no matter what they look like. Aquarists, however, still use the scientific names of the fishes that these cultivated forms resemble. The most common types available are listed below.
In the Xiphophorus maculatus type we get such varieties as red, blue, comet, and wagtail (this last has to be a hybrid because it requires the combination of the comet gene from this species of platy with a swordtail gene from the common swordtail); and from
Xiphophorus variatus come the sunset, marigold, tiger, and tuxedo varieties, among others. All these varieties cross easily so you often find that you have a colour that doesn't really conform to any named type, but if you like it, that's fine.
Xiphophorus hdleri (cultivated swordtails) are like large versions of platies. The males may be identified by their gonopodia and also, as they mature, by their sword, an extension of the lower rays of the caudal fin. It is a common myth that swordtails undergo a sex reversal in later life, with females developing a gonopodium and sword. This myth stems from the fact that many swordtail males take much longer to "sex out" than others of the same size, and thus appear to be females – until the sword and gonopodium eventually develop. Occasionally old females will cease to breed and develop a gonopodium and sword just like a male. These fishes, however, are unable to father fry and still do not truly change sex.
Xiphophorus helleri has, like the platy and guppy, been exploited by the trade, and several fancy fin forms are commonly available. These include strange tail (sometimes called double-sword) and the high-fin also called Simpson and topsail). These come in a multitude color varieties, including red, black, tuxedo, albino, and red-eyed red. They need a fairly large aquarium as they are very active fishes, especially if several males arc kept together, because they will be continually posturing to each other and displaying to females. Thickets of plants are useful, not only to provide sanctuary for the female who wishes to give birth or retreat from the attention of a male, but also for the other fishes in the aquarium to get out of the way if they want to. During these bouts of frantic activity the fishes may jump, so do ensure that you have a tight cover on the aquarium.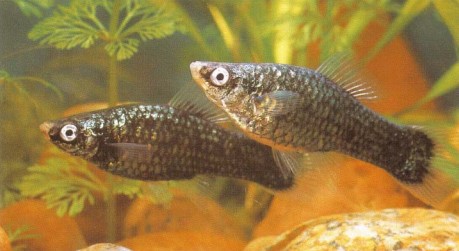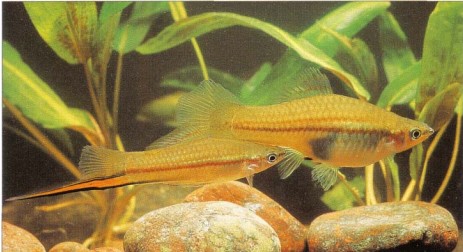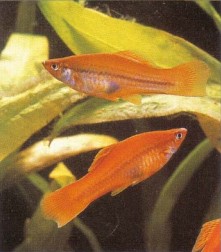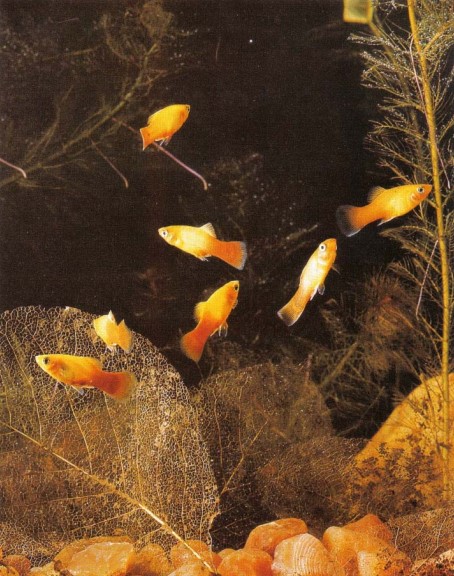 Hard water is a must to maintain these creatures for any length of time, but do not add salt to it (this also applies to guppies and platies). In soft water the fishes often seem not to develop properly. Other than that, they are very easy to keep and breed. One word of warning on the breeding side: a fully grown female can be 10 cm (4 in) or more in length and is much too large for the plastic breeding traps sold for livebearing fishes. If confined to one of these contraptions she may become so stressed that she damages herself trying to jump out, or may fret and even die. Far better to use a  specially converted aquarium using the same principle.