Guppies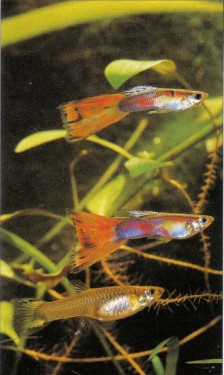 Wild guppies are small fishes; the males have splashes of colour on their bodies and the females are a dull grey/brown with a dark triangular "gravid spot" near their vent. These wild forms bear little resemblance to the man-made guppies with which we are familiar today. Indeed, one could be forgiven for thinking that the latter are an entirely different fish.
Their fecundity and swift maturation has made them ideal candidates for the breeder, especially the commercial breeder, and many colour forms have been produced. Not content with line breeding for colour, the males have also been bred to enhance body size and finnage shape and size. More recently attention has been paid to the females, and these formerly somewhat drab creatures are now available with colourful tails, and even with colour starting to spread onto the body.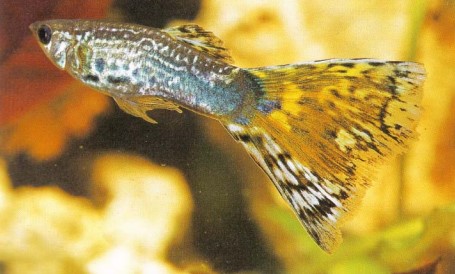 Unfortunately, a problem which is encountered from time to time with some of these highly coloured females is that the colour has been artificially induced by the use of hormones. A side effect of this is to make them sterile. In the aquarium, the commercially bred guppy requires a wellplanted aquarium with companions that will not bully it or nip at its flowing fins. Several males kept together may tear at each others' fins, so try to keep both sexes – it gives them something else to think about! They are not too fussy about water conditions provided it is not too soft, and as for their dietary requirements, anything they can fit in their mouths will do. Guppies are true omnivores which are capable of eating anything which comes their way. They have a long gut and no discernible stomach which means they can eat only small amounts at one sitting, but will be looking for their next meal within the next half hour. To appease this almost continuous hunger they are often seen "nipping" at plants but, although this can be annoying, they rarely do any real damage, preferring to take algae off the leaves rather than tear the actual leaves. Even so, tender new shoots sometimes disappear. Feeding some lettuce or peas will  often help solve the problem, as will a multitude of small feeds throughout the day. Various live foods are also avidly consumed, including their own young.
In the aquarium females will drop their young at monthly intervals and provided there is shelter in the form of plenty of fine-leaved plants that reach up to the surface, or a layer of Riccia, some of the fry will survive. Alternatively, females can be moved into special breeding traps or tanks to give birth.
If you want to maintain the colour strains or finnage forms you will need to set up special breeding aquaria where you can monitor the fishes and check which ones you wish to breed with which. If all forms are kept together you will end up with a horrible mish-mash of fin shape and colour, because they will readily interbreed.