Killifishes for the Community Aquarium
Despite their reputation for being difficult, it is possible to keep some killifishes in a community aquarium, and here three species spring readily to mind: Aplocheilus lineatus (Sparkling panchax) Pachypanchax playfairi (Playfair's panchax), and Oryzias latipes (rice fish or medaka). These are surfacedwelling species, so they make a useful addition to the aquarium in that they occupy an area of the tank that is usually ignored when buying fishes.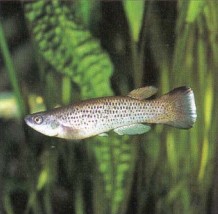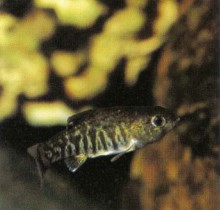 Aplocheilus lineatus (Sparkling panchax) really live up to their name: the iridescent yellow spots on the scales shimmer in sunlight. These are true surface dwellers; they have long, straight backs with the dorsal fin set well back. Males are larger and more colourful than females, but the chief distinction between them is the six to eight vertical bars on the posterior half of the female's body. Predatory by nature, they feed almost exclusively on insect larvae and insects that fall on the water's surface. Whenever possible, and especially if trying to breed them, feed live foods, especially mosquito larvae which they love. Fortunately for the aquarist, if you do not have a good supply of live foods, they will also take flake and frozen foods which they catch as the food sinks. They don't, however, like to feed from the substrate. Being predatory, they will eat small fry so don't expect to find many young guppies or swordtails surviving in your aquarium if you choose to keep sparkling panchax.
A layer of floating plants will help discourage the sparkling panchax from jumping and will provide a spawning site. They tend to leap when feeding or if chased by other fishes, but the plants give them a retreat where they can hide instead of leaping about.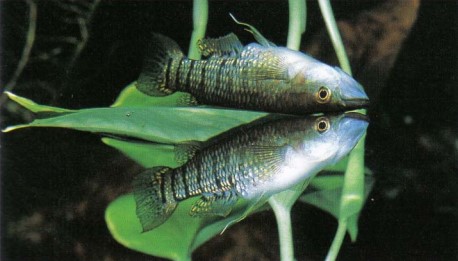 Although they will spawn on plants in the community aquarium, you can also put spawning mops in the tank and the fishes will usually lay some of their eggs on these. The mops can then be transferred to shallow containers for the eggs to hatch. If you are using Indian fern (Ceratopteris thalictroides) or Water lettuce (Pistia stratiotes) as floating cover, the fishes will spawn amongst the dangling plant roots. In this case, the plant can be removed but do replace it with another one. If you have the time, you can pick the eggs off the mops or plant roots. Hatching takes about two weeks, and when the fry hatch they are quite large and will accept such foods as newly hatched brine shrimp and powdered flake. A more natural alternative is to float rafts of mosquito eggs in the hatching containers; as the tiny mosquitoes hatch, the young fishes feed on them.
Do not keep the fry in their hatching containers too long or they will become stunted. Prepare a growing-on tank with water from the main aquarium and use a filtration system that will give a gentle flow. The water should be shallow but can be deepened as the fishes grow. You should see the young fishes in a small shoal, swimming in the water flow, and if you add some small floating plants such as Riccia these will give them somewhere to hide. Pachypanchax playfairi (Playfair's panchax) is found in the islands of Madagascar, Zanzibar, and the Seychelles. It is a pretty fish, whose dark body has bright iridescent spots. They are territorial and can be aggressive but, provided they are kept with similar-sized fishes (say 5-7.5 cm/2-3 in) in a well-planted aquarium they usually do no harm. They occupy the upper levels of the tank and like to lurk amongst the plants. Keep the aquarium tightly covered because they do jump.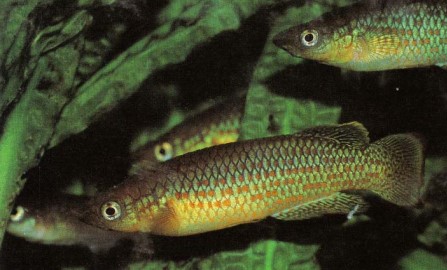 If happy in the aquarium, they will breed. The eggs are laid on plants and the adults are cannibalistic towards both their eggs and the resulting fry (they will eat smaller fishes of any kind), but with plenty of plant cover a few fry will survive. Alternatively, the fishes can be maintained in the community aquarium but then transferred to a specially set up tank, containing plenty of plants for breeding, should you wish to raise a lot more fry. When spawning is complete (5-7 days), remove the parents and leave the eggs to hatch. A good pair may produce up to 200 eggs which hatch in about 12-14 days. The fry will feed avidly on live foods so ensure you have the brine shrimp ready.
Oryzias latipes (Rice fishes) are lively shoaling fishes that need to be kept as a small shoal otherwise they will pine away. Small, 4 cm (1 1/2 in) at most, they make ideal community fishes as long as there are no larger fishes to bully them. Ensure that the tank is well planted and that you have a tightfitting cover glass as rice fishes may jump. Feeding them is no problem as they take commercially prepared flake and frozen foods, although they do seem to benefit from live foods, developing a really bright sheen all over the body. Males are larger than females, with a metallic blue sheen on the body and larger dorsal and anal fins. Their anal fin may have slightly extended rays giving the edge a ragged appearance. There is a gold form of this species as well as the normal wild form. Other species include Oryzias melanostigma and Oryzias cdebensis. These creatures have an interesting way of reproducing. First of all they internally fertilize the eggs a few hours before the latter are expelled by the mother (another "livebearing egglayer").
When the female finally produces a bunch of eggs, they remain attached to her by a thin thread until such time as she brushes against a plant, to which they then adhere. She actually looks as if she has a cluster of eggs stuck to her vent, and may carry them for a couple of days before finally attaching them to a plant. The fishes spawn regularly, with a bunch of eggs being produced on a weekly basis, but if the opportunity arises, they will eat them. So if you wish to raise them in any number they should be spawned in a separate aquarium and the eggs carefully removed from the female's vent as soon as you see them. They are then placed in one of the small containers mentioned above. Once the eggs hatch the fry can be reared in the same way as other killifishes.
Sometimes the eggs fail to hatch or the fry stop feeding. There is no obvious reason why this should be, as other aquarists have great success with them in a wide range of conditions from soft acid to hard alkaline water.