Cypriniformes
Rasboras
This group of fishes is one that is, by and large, overlooked by most aquarists, and yet there are a fair number of them in the trade. Inhabiting both still and running water, large shoals can be seen near the surface. They are found in southeast Asia and the IndoAustralian archipelago. In the main they are insectivores, but will take flake foods. Give them a varied diet, especially if you are going to attempt to breed them, and include small live foods or frozen Daphnia, and similar-sized items.
Rasboras can be divided into two groups by body shape; those which are long and slim, almost torpedo-shaped, and those which are deeper-bodied. Among the deeper-bodied group of rasboras are some of the best known: Rasbora heteromorpha (Harlequin), Rasbora hengeli, and Rasbora hengeli vaterijloris (Pearly Rasbora); while the slim-bodied species include Rasbora hengeli borapetensis (Red-tailed Rasbora), Rasbora hengeli pauciperforata (Red-striped Rasbora), Rasbora hengeli maculata (Pygmy Rasbora, Spotted Rasbora), and Rasbora hengeli trilineata (Scissortail Rasbora).
The majority of the rasboras can be kept in the community aquarium, but a few require a little more attention to water conditions and are really suited only to a species aquarium. One such is the tiny R. maculata which grows to 2.5 cm (1 in) at most. These little fishes require soft, acid water and copious amounts of small live foods if you are to maintain them for any length of time, and even more so if you hope to breed them.
Others more particular about water quality, especially when it comes to breeding, are R. vaterifloris, R. pauciperforata, and R. heteromorpha, which all require soft, acid conditions.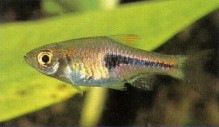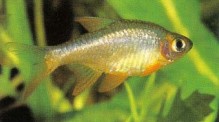 Breeding Rasboras
With the exception of Rasbora heteromorpha and Rasbora hengeli, pairs make spawning runs through fineleaved plants until they have produced all their eggs, which stick tightly to the plants. The parents can then be removed. It takes about 30 hours for the eggs to hatch and the tiny fry hang from the water plants. Only when they are free-swimming should very small foods be offered.
Both Rasbora heteromorpha and Rasbora hengeli place their eggs on the undersides of broad plant leaves – Cryptocorynes are favourites. These eggs also take up to 30 hours to hatch and the fry can then be raised on very fine live foods.
Pair compatibility may be a problem in some species. If your fishes fail to spawn, try giving them different partners. It is worth noting that some pairs will not breed until they have been together for a few days, Rasbora maculata being a classic case.