Ciclilids
GROUPS OF CICHLIDS
Other African Cichlids
Hemichromis (Jewel Cichlids) are monomorphic open-broodingsubstrate spawners, highly territorial, and with piscivorous tendencies. In the wild they occur ina variety of biotopes from westernforests to Egyptian oases, and dowell in fairly neutral water incaptivity. A single pair per tank(minimum 1 m/36 in, wellplanted) is the rule, and even thenthey may fight.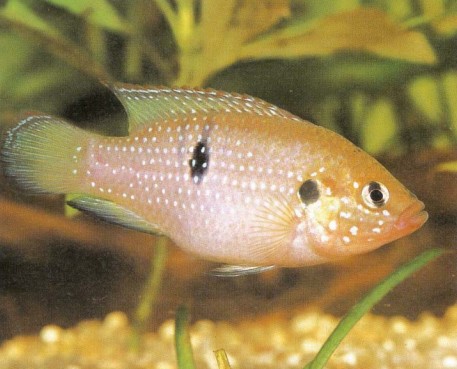 The "tilapias" consist of fourgenera: Tilapia, Oreochromis, Sarotherodon, and Danakilia (the last not yet imported). They are found throughout Africa and into the Middle East, occurring in various water chemistries, including brackish, and are noted for their tolerance regarding water chemistry and quality. They are medium to large fishes (20-35 cm/8-14 in) with strongly herbivorous habits and prodigious digging abilities, and a tendency to precocious breeding and the production of huge broods. Thus, while they are ideal for fish farming for food, they have limited popularity in the aquarium.
Tilapia are substrate brooders; large males of some species can be extremely belligerent, including towards females. Oreochromis are arena-brooding maternal mouthbrooders. Males, however, represent no threat to females and they are normally kept in pairs. Sarotherodon are mouth-brooders which pair and hold a  breeding territory, and depending on species either or both parents may brood.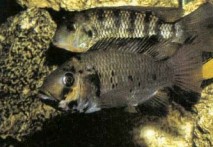 Fluviatile haplochromines include Astatotilapia burtoni, Pseudocrenilabrus multicolor (Egyptian mouthbrooder) and Pseudocrenilabrus philander, which are the only three species widely available. All are maternal mouthbrooders, fairly peaceful, and undemanding regarding diet, water chemistry and quality, providing a low pH (<6.5) is avoided. Pseudocrenilabrus can be kept in a general community — they will chase each other but not other fishes. A. burtoni can be kept with similar-sized lacustrine haplochromines (but not Mbuna). Madagascar cichlids are medium to large, and most closely related to Tilapia. All five genera – Paratilapia, Paretroplus, Oxylapia, Ptychochromis, and Ptychochromoides – are endemic to Madagascar and all are substrate spawners. All are endangered in the wild, but fortunately interest in the aquarium hobby has led to the collection of stock for captive breeding, and at least one species is now available in the aquarium trade. It must be stressed that anyone lucky enough to obtain any of these cichlids has a responsibility to provide optimal conditions and make every effort to breed them. They come from a variety of biotopes so research into specific requirements is essential.
Note: Members of the Asian cichlid genus Etroplus (chromides) are dealt with in the chapter on brackish water fishes.