Ciclilids
GROUPS OF CICHLIDS
Medium/large South American Cichlids
Most of these are found in the Amazon and Paraguay river systems, as well as rivers in the Guianas, with water chemistry generally soft, and pH ranging from extremely acid (pH<5.0) to slightly alkaline. Soft slightly acid water is a good starting point. Although several species have been acclimated to hard water, the correct conditions are normally required for breeding. Maintenance temperature is 26-27°C (78-80°F).
In these regions cichlids are not the dominant predators and are rarely found in open water (where they would be easy prey for other fishes, birds, and reptiles) ; instead they occupy the margins of permanent bodies of water – lakes, rivers, and streams – where they can shelter among overhanging vegetation, roots, and fallen trees. Some are found beneath floating islands of plant debris. Most prefer still or slow-moving water, and do not appreciate bright lighting.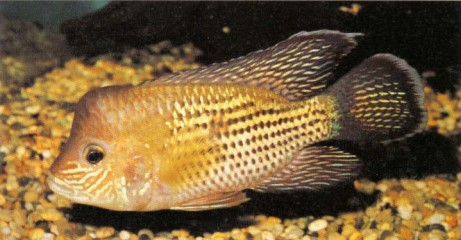 When the rains come the surrounding forest is flooded to a depth of many metres, offering an immense area of additional feeding and breeding territory. In consequence most species breed seasonally and may require a series of triggers (large water changes, increased food supply, and raised temperature) to induce breeding in captivity. During the dry season a comparative shortage of habitat means that many live in shoals, so territoriality is usually a problem only during breeding, and is then not excessive, as in the absence of any need to fight for breeding territory competitiveness has remained minimal. Sexual dimorphism is unusual, and females of many species will often "pair" in captivity in the absence of a male. Digging and bottom sifting are common (except in Symphysodon, Pterophyllum, and Mesonauta), and plants may be disturbed.
A number of species originate in the harder, more alkaline waters of north-western South America, where there is no significant inundation and breeding territory is often at a premium. Species from this region are sometimes more territorial; these are the only South American cichlids suitable for mixing with Central Americans, and then only with caution.
Cichlasoma, Aequidens, Bujurquina, and Krobia (the "acaras") are small to mediumsized (10-18 cm/4-7 in) omnivores. Bujurquina art primitive biparental mouthbrooders, the rest are substrate spawners, sometimes utilizing a cave. Some Aequidens come from the northwest and may be aggressive.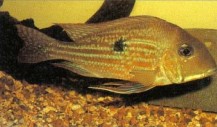 Geophagus, Satanoperca, Gymnogeophagus, Biotodoma, Acarichthys, Guianacara, and Retroculus, (the geophagines or "eartheaters") (10-30 cm/4-12 in) are a highly variable group with breeding strategies ranging from substrate spawning through biparental mouthbrooding to advanced arena-breeding maternal mouthbrooding. They are found throughout tropical South America. Most are bottom sifters and require a fine substrate. Retroculus inhabit fast-flowing water. Because of the diversity of the group, it will be necessary to research specific requirements.
Heros ("severums"), Hypselecara (chocolate cichlids), Mesonauta (festive cichlids), Hoplarchus (parrot cichlids, not to be confused with "blood red parrots" which are probably of hybrid origin), and Uaru (triangle cichlids), are medium to large (18-45 cm/7-18 in), rather peaceful Amazonian cichlids, often even when breeding provided the tank is large (over 180 cm/72 in). Hews and Mesonauta are often sold as general community fishes, but their ultimate size (20-30 cm/8-12 in and 18-20 cm/7-8 in respectively) will mean a rethink later on. Heros are partially vegetarian, and Uaru will denude a planted aquarium overnight, as well as digging enthusiastically (they are, however, great characters!). The others are omnivorous. All are openbrooding substrate spawners; Mesonauta spawn on the underside of floating vegetation/debris in the wild, and, uniquely, lead their fry from below rather than above. All but Uaru were formerly included in  the genus Cichlasoma.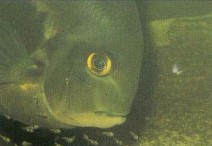 Astronotus ocellatus (oscars) are large (up to 38 cm/15 in), destructive, territorial, Amazonian open brooders, and are extremely popular because of their character. They are best kept singly or as pairs in a single-species tank in which everything but the gravel has been rendered immovable. (Minimum tank size 100 x 40 cm/36 x 15 in for a single fish, 120 x 40 cm/48 x 15 in for a pair.) They are totally unsexable (and females will "pair") so a group of fry should be grown on to obtain a pair. They are prone to become habituated to individual foods unless the diet is varied, and to serious digestive upsets if fed an unsuitable diet (for example large amounts of pellets). They are naturally piscivores, but also relish insects and earthworms.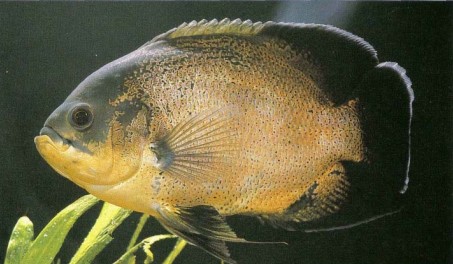 Pterophyllum (angels) are probably the most popular cichlids, and common members of the general community. They are leafspawning substrate spawners, peaceful, easy to keep, and nondestructive. They may, however, eat very small tankmates. They originate from the Amazon system, as do their close relatives Symphysodon (discus or pompadours), and both are commonly found sympatrically. Nevertheless a remarkable mythos has evolved regarding discus, implying that they are difficult fishes, something which is given the lie by their thriving in general communities when placed there by the aquarist ignorant of their "special requirements". In this one case we suggest you avoid homework in the first instance, and if you want to keep discus, simply provide a wellplanted Amazonian aquarium, smallish peaceful tankmates, and a varied diet including pond foods. Discus fry initially feed – exclusively on parental body mucus and cannot be raised away from their parents.
Crenicichla (pike cichlids) is a highly variable genus, which is increasing in popularity now that aquarists are realizing that piscivorous does not necessarily mean aggressive (though some species are). Size ranges from 7.5 to 60 cm (3 to 24 in), and habitat from rapids to slow-moving forest  streams and still lakes. All are predators, most lurking under a root or overhang until prey passes. Juveniles and small species eat invertebrates as well as fishes, but the aquarist must be prepared to feed live fishes to wild adults, at least initially. All are sexually dimorphic substrate spawners.
THEY MUST NEVER BE INCLUDED IN THE GENERAL COMMUNITY or with other fishes less than two-thirds their own size (including each other!); they are best avoided by beginners, and, given their diversity, must be individually researched.