Ciclilids
GROUPS OF CICHLIDS
East African Lake Cichlids
The water of the East African lakes is generally hard and alkaline, although actual conditions vary from lake to lake. Lake Victoria is only moderately hard with a neutral to slightly alkaline pH; water clarity is poor and quality unexceptional. Lake Malawi is moderately hard (8-10 dH) and alkaline (pH 7.5-8); Lake Tanganyika is harder (15-20 dH) and more alkaline (pH 8-8.5). The waters of these last two vast "inland seas" are extremely clear and pure, and surface turnover by waves produces a very high oxygen content. In captivity a temperature of 26-27°C (78-80°F) is appropriate.
All three lakes contain a number of biotopes, the chief being rocky shoreline, sandy shoreline with Vallisneria beds, muddy river estuaries, and open water. Pelagic species from the last of these are generally predatory, and not normally maintained in aquaria. Those from muddy bottoms are given a sandy substrate in the aquarium for reasons of cleanliness.
Generally speaking, it is not good practice to mix cichlids from different lakes unless one's knowledge and experience are such as to permit sensible temperament matching. Each lake contains a number of discrete groups of cichlids with morphological and behavioural similarities, plus numerous "individualists". Care'must likewise be exercised in mixing such groups.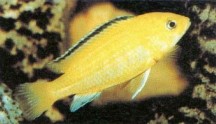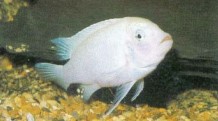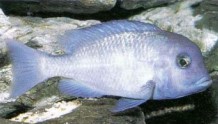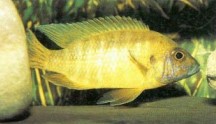 Virtually all Lake Malawi and Lake Victoria cichlids are maternal mouthbrooding haplochro-mines,while Lake Tanganyika cichlids are thought to be of tilapiine ancestry, and include both substrate spawners and mouthbrooders of various types. Breeding may be continuous or seasonal, depending on diet. For reasons of space we can cover only the main groups here.
The best-known group of Lake Malawi cichlids is the Mbuna, which are found in close association with areas of rocky shoreline, from which they rarely stray. The genera normally kept are Pseudotropheus, Labeotropheus, Melanochromis, Labidochromis, Petrotilapia, lodotropheus, and Cynotilapia (7.5-18 cm/3-7 in). They are highly competitive and should be kept in a large (absolute minimum 1 m/36 in) densely populated community with huge quantities of rockwork. Filtration and water-changing must be correspondingly efficient.
The natural diet consists largely of algae and the aquatic invertebrates living in it, plankton from the water column, and, in some species, more bizarre items such as the fins and scales of other cichlids. Diet and water chemistry/quality require careful attention to avoid the condition known as"Malawi bloat".
Breeding is spontaneous, the only major problem being premature death of females at the hands of over-attentive males; this can largely be avoided if the setup is as stipulated and two or more females per male are provided. Brooding females are best removed to a brooding tank soon after spawning.
Aulonocara (peacocks) (9-11cm/ 3V2-4V2 in) live on the periphery  of rocky areas and over open sand. Males are highly coloured, but females are drab olive. They have enlarged sensory pores on the head which enable them to detect invertebrates in the substrate by a form of sonar; they capture the prey by diving into the sand.
Their aquarium should contain some rockwork and a substrate of fine sand. They are inoffensive cichlids whose females are rarely at any risk from males, and should not be housed with the far more boisterous Mbuna who will intimidate them. It is also unwise to mix peacocks of similar appearance as you will be unable to identify the different females, and the males also seem to have difficulty – hybrids are not uncommon. Suitable tankmates are Lethrinops, which sift the substrate for food, and members of the Utaka group.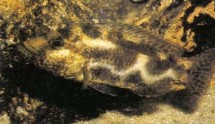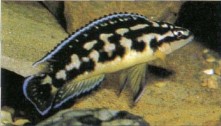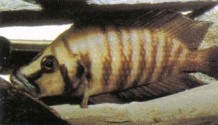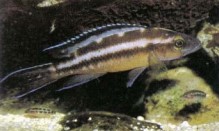 The latter consists of species of the genus Copadichromis (10-18 cm/4-7 in), like many other Malawi cichlids formerly included in the genera Haplochromis and Cyrtocara, both names being still commonly used. (Haplochromis is now properly restricted to Victorian cichlids, and Cyrtocara to a single Malawian, C.moorii.) Utaka are relatively peaceful zooplankton feeders and are found over sandy substrates.
Other popular haplochro-mines include Cyrtocara moorii (20 cm/8 in), a rather peaceful invertebratefeeder, commonly known as the blue dolphin; Dimidiochromis compressiceps (20 cm/8 in), a remarkable compressed cichlid which lurks in Vallisneria beds and preys mainly on small fishes and insects, although it is said to eat the eyes of other fishes (hence the common name of "eye-biter". It rarely shows this tendency in captivity where rations are normally good, and is in fact a rather timid fish); and Nimbochromis  (18-25 cm/7-10 in), cichlids with a blotched or spotted pattern which feed on small fishes and insects, and can be rather aggressive on occasion. These "haps" all require a large and fairly open set-up with some rockwork.
Lake Tanganyika offers a similar variety of biotopes, but here the chief occupants of the rocky zones are small (4-15 cm/lV2-6 in) cavespawning substrate brooders of the lamprologine genera Lamprologus, Lepidio-lamprologus, Neolamprologus, Altolamprologus, Chalinochromis, Julidochromis, and Telmatochromis. They are mainly invertebrate feeders which require a rocky set-up similar to that for Mbuna, but this should not consist entirely of tufa, which is too rough to provide a suitable spawning substrate. Territorial requirements are generally fairly small, but must be respected; for example, a 120 cm (48 in) aquarium will house only three or four pairs of 5-7.5 cm (2-3 in) fishes. Separate rock piles help to delimit territories. Alternatively, pairs can be given a tank of their own (60-100 cm/24- 36 in, depending on size). One cannot generalize regarding the temperament and habits of these fishes as one can with Mbuna, so any potential purchase must be individually researched. It is, however, unwise to house more than one pair of any species in a
single tank, or to house them with look-alike congeners.
Digging is normally minimal. Many species are what are termed "trickle spawners" producing frequent small broods. The fry from previous spawnings are allowed to remain in the breeding territory until they reach "competitive size" (usually just over 2.5 cm/1 in), and guard their younger siblings, often without parental assistance.
Shell dwellers are small lamprologines (chiefly Lamprologus and Neolamprologus} which use the empty shells of Neoihauma snails as shelter and breeding caves, and must always be provided with suitable shells (for example those of edible snails, obtainable from delicatessens). They are invertebrate/zooplank-ton feeders. Territorial requirements are normally small, and a pair (or small group for colonial species),can be accommodated in a 60 cm (24 in) tank or as a noncompeting addition to the rockdweller aquarium. Differentspecies have different habits and should always be researched.
Cyprichromis and Paracyprichromis (7.5-10 cm/3-4 in) are peaceful plankton-feeding maternal mouthbrooders which live andspawn in open water near rocks. A small shoal is ideal for tenanting the otherwise empty upper regions of the rock- or shell-dweller tank. Eretmodus, Spathodus, and Tanganicodus (goby cichlids) are small (7.5-10 cm/3-4 in), biparental mouthbrooders which inhabit the surf zone where waves break on rocky shores. They can be scrappy among themselves, but a pair can be kept in the rockdweller tank instead of (not as well as) one of the substrate-spawning species. Ophthalmotilapia, Cyathopharynx, and Cunningtonia (featherfins) are medium-size (15-20 cm/6-8 in) maternal mouthbrooders, in which males have egg dummies on the  tips of their much elongated pelvic fins. They feed on small particles of anything and inhabit the margins of rocky zones where they build crater nests of sand, sometimes on rocks. They are best kept as a single-species group consisting of a large male, one or more smaller males, and five or more females, in a large (minimum  150 cm/60 in) aquarium.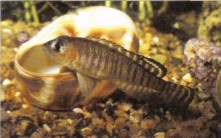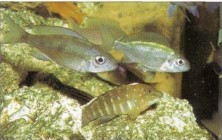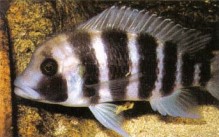 Tropheus and Petrochromis are maternal mouthbrooders and the Tanganyikan analogues of Mbuna, with similar habits and requirements. It is best not to keep them with the substratespawners, except in small numbers in very large tanks, as their boisterous activity can intimidate. Cyphotilapiafrontosa, another rockdwelling mouth-brooder, grows rather larger (25 cm/10 in) than most aquarists realize, and, although peaceful for its size, eats smaller fishes (for example small rock dwellers) given the opportunity.
Many Lake Victoria cichlid species have become extinct following the introduction of the predatory Lates niloticus (Nile perch), and many of the survivors are endangered. Only a few species are available to aquarists; some imported for the aquarium trade are undescribed and often lack biotope data, though surplus
stock from captive breeding programmes (for example in zoos) is generally better documented.
Most of the available species are Haplo-criromis, with Astatoreochromis also represented.
The aquarist lucky enough to obtain these cichlids has a responsibility to try to breed them, and there is some liaison between hobbyists and scientific institutions to this end. Each species must be researched where possible, otherwise maintenance and breeding are a matter of careful trial and error. Because water clarity in Lake Victoria tends to be poor, these cichlids can be very timid when exposed to aquarium conditions (clear water, bright lighting); this can sometimes be remedied by keeping them in single-species groups so that competition between males counters shyness. This may, however, be impossible with highly territorial species.