Characins
The characins are a large group of freshwater fishes found in South and Central America and Africa. They are characterized by the Weberian Apparatus (the linkage of bones between the swimbladder and the inner ear) that allows them to hear high frequency sounds. Although most characins have an adipose fin (a small fin on the back between the dorsal and caudal fins, the function of which is unknown) there are a few genera in which it is lacking, and just to confuse the issue even more, in one or two species, for example, some pencilfishes, some individuals have an adipose fin and others do not.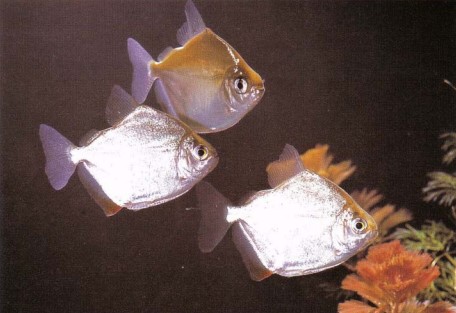 Characins are divided into 11 families, according to Eschmeyer (1990). Other authors recognize 14 to 15, but for our purposes it makes little difference, and there is no doubt that ichthyologists will go on debating the numbers of families for years to come. There are at present about 30 genera with some 200 or so species in Africa, and 250 genera with over 1000 species in Central and South America.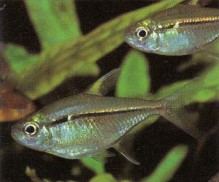 Their methods of feeding and diet vary greatly; there are the outand-out predators such as Hydrocynus goliath (African Tiger Fish, Wolf Tetra), and Phago sp. (Fin- or Tail-biters); herbivores such as Prochilodus and Distichodus; and insectivores, which include the majority of the species. Most of the characins we keep in our tanks are insectivores, which will feed quite readily on live, frozen, and flake foods. The predators, however, can cause a bit of a moral dilemma as some of them will accept only live fishes. So; do you feed them live fishes or do you starve the predator? The decision has to be yours. The rule is, if you can't feed it, don't try and keep it. Probably the most difficult characins to keep in captivity are members of the genus Phago. These are usually referred to as fin-biters or tail-biters, and this is precisely how they feed, by taking chunks out of the fins of other fishes.
Generally, characins are shoaling fishes (with a few exceptions) that live in clean, clear, running waters. In the aquarium they are sensitive to any deterioration in water quality. They also require water that has a high oxygen content and, again, will suffer if this requirement is not met.