Characins
The Distichodus
Distichodus species are well known as plant eaters, but this should not deter you from trying to keep them at one time or another. All seem happy in water conditions of about 10-20 dH, neutral to slightly acid, and a temperature of 23-2 7°C (73-81°F) is suitable.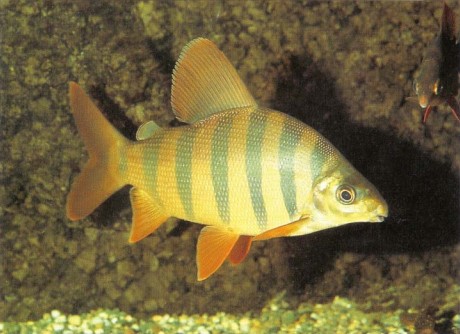 Feed them heavily with plant material, such as lettuce, peas, chickpeas, spinach, watercress, and courgette, and also flake and tablet foods. It is not unheard of for them to take live foods such as bloodworm, put in the tank to feed other occupants.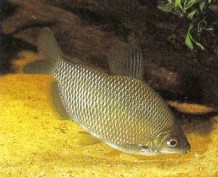 Several species are available to the hobbyist, two of them small. Distichodus decemmaculatus (Dwarf Distichodus) from the Central Zaire basin grows only to 6 cm (2V4 in) at most, but, unfortunately, is rarely imported. This is a great pity as it makes an excellent fish for a community aquarium, being small, peaceful, and quite attractive with its moss-green body and vertical black stripes. The other species available is Distichodus affinis, which grows to 12 cm (4 1/2 in) and is found in the lower Zaire basin. It is ideally suited as a companion fish for catfishes and some of the peaceful cichlids.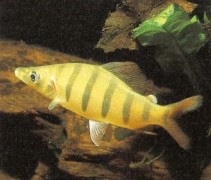 There are three species which are very similar, all with red fins with spots at the base of the dorsal: Distichodus affinis (12 cm/4 1/2 in), Distichodus noboli (8 cm/ 3 1/4 in), and Distichodus notospilus (15 cm/6 in). Distichodus affinis has rounded lobes to the caudal fin and the base of the anal fin is longer than the base of the dorsal fin. D. noboli also has rounded lobes to the caudal fin, but the anal fin has a shorter base than the dorsal. Distichodus notospilus is very similar to Distichodus noboli, but the tips of the caudal fin are pointed. Their ranges also differ: Distichodus affinis is found in the lower Zai're basin, Distichodus noboli in the upper Zaire, and Distichodus notospilus from Cameroon to Angola.
The larger members of the genus include Distichodus lusosso (40 cm/ 16 in), Distichodus sexfasciatus (25 cm/ 10 in), and Distichodus fasciolatus (30cm/ 12 in). These three require a large aquarium: 150cm (60 in) or more long and wide enough for the fishes to turn round with ease. They also require very efficient filtration. These fishes make excellent companions for the larger peaceful catfishes such as Auchenoglanis occidentalis (Giraffe catfish), large barbs, and/ or other large, peaceful characins.