Characins
Hatchetfishes
When you think about surfacedwelling fishes for the community aquarium, usually the first ones that spring to mind are the hatchetfishes of the family Gasteropelecidae. The two genera usually encountered by the aquarist are Gasteropekcus and Carnegiella. These are easily differentiated as Gasteropekcus is larger (up to 9 cm (3 1/2 in) in the case of Gasteropekcus maculatus) and has an adipose fin, whereas Carnegiella is smaller (4 cm ( 1 1/2 in) in the case of Carnegiella strigata) and lacks an adipose fin.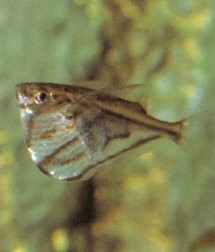 These fishes are characterized by their straight dorsal profile, deeply keeled bodies, and pectoral fins set high on the body, looking like wings. "Hatchets" jump, not only to catch insects but also to escape predators. They also "fly": A strong set of muscles attached to the hypoco-racoid bones (the deep "breastbone") enables them to flap their pectorals at great speed when they leave the water.
The two species most commonly available are Gasteropekcus maculatus (Spotted hatchetfish) and Carnegiella strigata (Marbled hatchetfish).
There are two sub-species of C. strigata, from different localities; Carnegiella strigata strigata is found around Iquitos in Peru, and Carnegiella strigat fasciata in Guyana. Of the two, the Guyanan fishes are the easier to keep.
Hatchets like a very good flow of highly oxygenated water and will hold station in a current strong enough to start breaking up the softer plants, so try to achieve a happy medium that satisfies the fishes but does not damage the plants. Always keep them in a shoal of at least five fishes: their reputation for being difficult to acclimatize to aquarium conditions is largely due to people trying to to keep single or at most two specimens – a recipe for disaster. Carnegiella strigata (Marbled hatchetfish), in particular, is prone to white spot. If at all possible, quarantine the fishes for a minimum of two weeks before putting them in the community aquarium. Check the fishes in your dealer's tank; a reputable trader will have quarantined his or her fishes and offer you only healthy stock.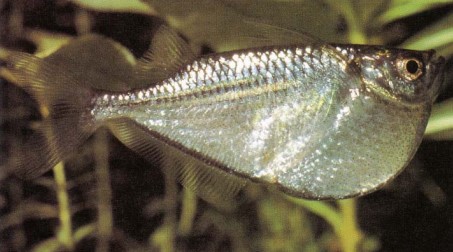 Unfortunately flake foods are not enough for hatchetfishes, and it is necessary to take a little time and effort to provide them with live and frozen alternatives. They love fruit flies and mosquitoes, including mosquito larvae, so try and offer a varied diet of this type. Their mouths are upturned, indicating that they are surface feeders; although they will take food as it sinks, they will not forage on the bottom.
C. strigata (Marbled hatchetfish) has been bred in captivity. This requires very soft, acid water. The eggs are deposited on the roots of floating plants but some will fall to the bottom. They hatch in 24-36 hours and the fry require very small live foods. Just keeping the parents healthy can be a challenge, so breeding them is even more so. Two other species are occasionally available, but these are far more delicate than C. strigata and G. maculatus. They are Carnegiella marthae (Black-winged hatchetfish), from Venezuela, where it is found in small woodland streams, and Carnegiella myersi, from the Peruvian Amazon and Bolivia.