Characins
African Tetras
Some of the genera we are concerned with here are Alestes, Brydnus, Micralestes, Phenacogrammus, Arnoldichthys, Ladigesia, and Lepidarchus. All require similar conditions in captivity and most make excellent community fishes for the larger aquarium. Always on the move, they need space to swim, so a long, well-planted aquarium is ideal. Create a current with a power filter to give the fishes something to swim against, but don't make it so strong that they are flattened against the opposite side of the aquarium.
Arnoldichthys spilopterus (African Red-eyed Tetra) grows to about 8 cm (3 1/4 in). A shoal should include both males and females. Males have more colour and are slimmer fishes; their anal fin is convex and has red, yellow, and black stripes. Females are deeperbodied and their anal fin is virtually straight with a black tip. They require a large aquarium with plenty of open swimming space. Regular partial water changes, along with plenty of meaty foods such as mosquito larvae and bloodworm (live or frozen), will help to bring mature specimens into breeding condition. A good pair of these tropical egg-scatterers can produce in excess of a thousand eggs. The fry grow rapidly if well fed and can be 5 cm (2 in) long at about two months old.
Another popular species is Phenacogrammus interruptus (Congo tetra). Fully grown males are a truly magnificent sight with their extended finnage and delicate hues; by contrast females have short fins. When young they cannot be sexed as all have similar coloration and similarly-shaped fins. It is best to purchase a shoal of youngsters and grow them on, providing copious amounts of live foods, especially mosquito larvae and bloodworm. If you cannot get live foods then frozen are a good substitute. This way you get good quality fishes at a more reasonable price than by buying adults that may be too old to breed anyway. Congo tetras are egg-scatterers, so if they spawn in the community aquarium most of the eggs will be eaten. They can, however, be spawned successfully using mesh and Java moss.
Other fishes you may like to consider, and which require the same sort of conditions are Brydnus longipinnis (Long-finned characin), Alestes nurse (Nurse tetra), and Micralestes acutidens.
Two delicate fishes that are also suitable for a community aquarium, provided the other inmates are small and the water is soft and slightly acid, are Ladigesia roloffi (Sierra Leone dwarf characin or jelly bean tetra) and Lepidarchus adonis (Adonis characin or jelly bean tetra – common names can be confusing). Both are small fishes, Lepidarchus roloffi attaining 4 cm at most and Lepidarchus adonis only 2 cm. The main criterion for keeping these fishes is water quality: the water must be mature but without nitrates. A plentiful supply of small live foods is also beneficial, but not essential. Make sure the aquarium is well covered as Lepidarchus roloffi jumps, especially when frightened. Some floating plants are beneficial as they seem to give the fishes a sense of security, making them less likely to jump.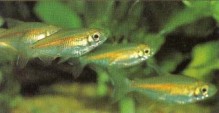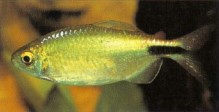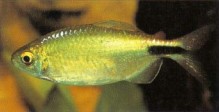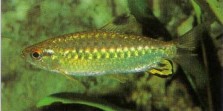 Both species can be bred given the soft acid conditions required for spawning. Lepidarchus adonis (Adonis characin) places its eggs amongst fine-leaved plants and they hatch in about 36 hours. Lepidarchus roloffi (Sierra Leone dwarf characin) spawns just above a peat substrate. Neither fish is prolific, and the fry of both are very small and therefore require extremely fine, almost powderfine, foods. Infusoria are good as a first food, followed by newly hatched brine shrimp.