Catfishes
Garfishes are arguably the most diverse of all fishes, in body form, lifestyle, size, and distribution. There are over 2000 different species, principally from tropical freshwaters, but also from temperate climes and marine waters. Indeed, catfishes are to be found in every continent and ocean with the exception of the poles. With such diversity, only generalizations can be given in this brief introduction, but this same variety can also be the catalyst for a deeper interest on the part of the aquarist in this group of fishes.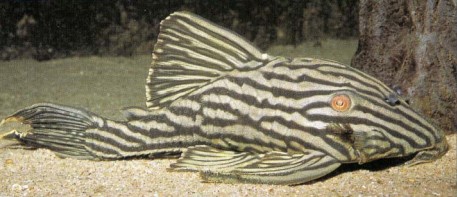 Often catfishes are seen as quirky or a little unusual, more often than not due to their strange  body shape, and are frequently accused of being poorly coloured. Mother Nature did not design her catfishes as ostentatious commercial items. They were designed to survive, and in that she was successful.
Most catfishes are benthic, that is, they are found principally at the bottom of the water column. Here the water flow is at its slowest (the fastest currents are usually at the water's surface) but turbulence is greater. This is due to the drag of the water over the substrate, compounded by sunken debris such as fallen trees and rocks. While this environment may seem a little inhospitable, it does offer a variety of foods, and fewer predators are to be found.
In these murky turbulent aters the catfish has to protect itself from environmental factors. Scales would easily be dislodged 33 a fish is buffeted against debris, leading to infection and possible death, therefore no catfishes have scales. Instead, they are covered either in thick skin with a copious covering of mucus, or with bony plates.
Catfishes invariably have stout pectoral and dorsal fin spines. In many species these fin spines can be locked. A characteristic that provides several advantages: it offers stability as the catfish rests its pectoral fins on the substrate; locked spines enable the catfish to wedge itself into a crevice or hollow; and with the fin spines fully erect it presents a predator with a bigger and more protected prey. The spines can also spell problems for an unwary aquarist, creating a hazard both to a net, as they become entangled, and to a handler's hands. Do not underestimate the sharpness of many catfish spines. Not only can the tip be sharp, but the edges are often serrated, compounding any wound inflicted.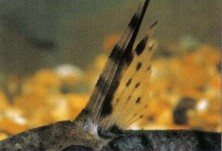 The mechanisms used to lock these spines are ingenious, highly engineered structures. The dorsal spine has a small locking bone just in front of its base. Once the spine is erect and this locking pin is in place, only voluntary action by the catfish will unlock it. The pectoral spines on many species are even more complex, with the fin spine articulating on a ball joint which is so close fitting that by twisting the spine the ball seizes in its surrounding socket.
Those species whose bodies are covered in bony plates do not have the flexibility of movement required to permit prolonged swimming. Their actions when seen in the aquarium seem ungainly and laboured. This is most apparent in many of the South American loricariid catfishes, for example Farlowella sp. (twig catfishes, aptly named for their resemblance to twigs). These herbivores spend most of their time grazing on algae, and their body form allows them to blend into their natural forest creek biotope, away from the eyes of lurking predators.