Catfishes
Loricariids: The Suckermouthed Catfishes
The loricariids, from South America, are a most disparate family of catfishes, in both shape and size. All exhibit an underslung sucker mouth and most are herbivorous. The mouth is used to attach themselves to solid objects to avoid being carried away in the current, as they are particularly poor swimmers. The body is encased in body plates that develop from skin folds in the early fry stage, which in later life make swimming a difficult and laborious chore.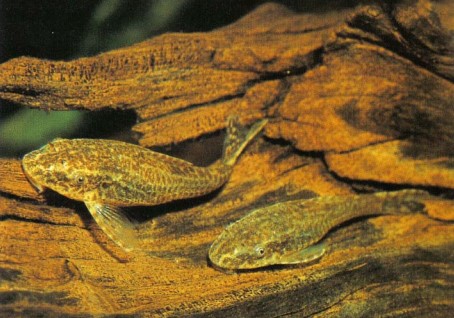 Smaller varieties of loricariid make excellent show fishes in the community aquarium. The graceful, slender Farlowella (Twig Catfish) and Rindoricaria (Whiptailed Cats) are particular favourites, and always readily available. Ancistrus, too, are fine additions and prosper well in the planted aquarium. Also highly recommended are the Otocinclus and Parotocindus catfishes which rarely exceed 3 cm (1/4 in).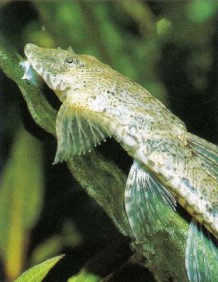 Many species of Hypostomus can grow to in excess of 30 cm (12 in). Although these peaceful herbivores are too large and cumbersome to be housed in the planted community aquarium, they are ideal catfishes for keeping with larger Central and South American cichlids. Some of the larger Hypostomus are known to aestivate (a form of "hibernation") in the absence of water; as their natural water supplies evaporate in the dry season, they burrow into holes in a riverbank, cocooned in damp mud, awaiting the return of the rains.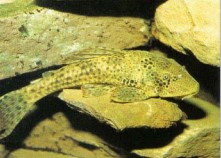 Intermediate between these two size ranges are Panaque and Sturisoma, the former being too boisterous for the community tank, and the latter, although growing to around 20 cm (8 in), having the elegance to grace any planted aquarium.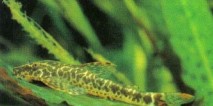 Feeding Loricariids
Care for all loricariids, particularly the smaller and intermediate size species, is similar. The majority are herbivorous, and are useful in ridding the tank of green algae. In return for removing the algae they replace it with abundant excreta, which can in turn be beneficial to plant growth. The amount of algae growth in most aquaria will not, however, be enough to supply all their dietary needs, and will require supplementing with commercially produced, vegetable-based flake foods. An alternative, and one much appreciated, is to feed them peas and lettuce.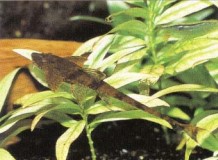 Frozen garden peas should be first placed in water hot enough to defrost them. Take each individual pea and pinch it between thumb and forefinger so that the two inner halves are separated from the outer skin. The inner parts are used and are quite a delicacy, relished by other species of fishes as well.
Another delicacy for loricariid catfishes is lettuce, particularly the outer leaves, which should first be washed and gently crushed in the hand to break down the cellulose, prior to placing in the aquarium. Plant the leaves in the substrate or weigh them down with a small rock attached with a rubber band, otherwise they will float out of reach of the suckermouthed catfishes. Lettuce will also distract the sucker-mouths from broad-leaved plants, which can be damaged by their constant rasping. When feeding lettuce, make sure you are not feeding varieties that have been treated with chemicals. Spinach can also be offered, but we have found that it breaks down fairly rapidly in water, leading to filter blockage and water pollution.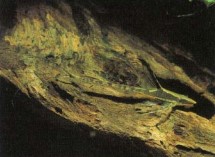 The addition of wood to the aquarium is most beneficial to this group of catfishes. Some species rasp the wood, creating their own hollows into which to retreat, therefore any wood used must be unvarnished to avoid poisoning the fishes. Wood is almost essential if keeping Farlowdla, Sturisoma, and Rineloricaria, all of whom spend most of the day resting on it in the mid-water level.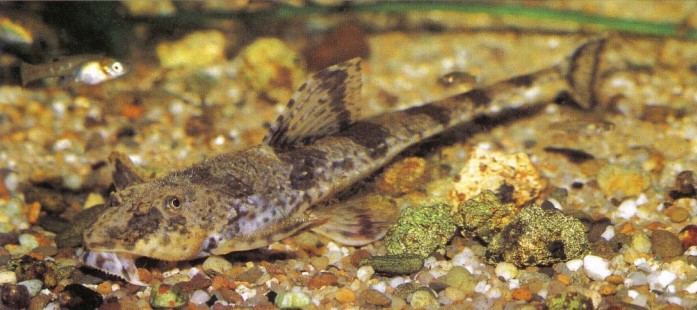 Breeding Loricariids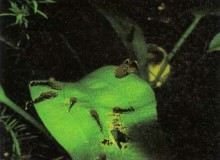 A number of the smaller species can be bred in captivity. A good starting point is the Ancistrus. The aptly named bristlenosed catfishes can be readily sexed as adults: Males have a display of tentaclelike growths on top of and around the snout, hence their common name. Females also have similar but smaller growths confined to the edge of the snout. Ancistrus also have interopercular spines on the side of the head, near the base of the pectoral fin spine. These are particularly large in males and are erectile. They are used in territorial disputes between adults. Adults can be mildly territorial amongst themselves, and the number kept, especially for breeding purposes, should be restricted to one pair. Breeding can be undertaken in the community tank, which is certainly easier than isolating them in specially prepared conditions. They will determine the spawning site, usually a hollow in the base of a piece of bogwood. If the hollow is not the right size it will be enlarged by rasping.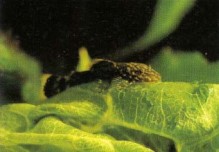 The amber-coloured eggs are attached to the walls of the hollow and guarded by the parents from predation by other fishes. After about three days the fry emerge. Their bright amber yolk sacs make them conspicuous to other fishes, so parental care is continued until the sac disappears and the fry have developed a mottled colour pattern to aid concealment. When they are ten days old the fry will venture into the wider world and the parents relinquish their protection. Often the first sign of any breeding activity is when the ten-day-old fry emerge into the tank.
Lettuce leaves, as described above, make ideal fry food. One lettuce leaf can support about two dozen juveniles for a day.
Rindoricaria and related genera (whiptailed catfishes) are also fairly straight forward to both keep and breed. They have slender bodies and are often found attached to wood, rocks, and broad-leaved plants. The mouth structure and barbels on these catfishes vary from species to species, but essentially they all have large sucker mouths with patches of fine rasping teeth, usually with simple (unbranch-ed) barbels. Some species, such as Pseudohemiodon laticeps, a veritable giant of a whiptail, have a delicate array of branched barbels. Some whiptail catfishes, such as the male of another giant species, Loricariichthys, cany their eggs in a mass attached to their lips.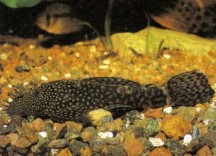 These last two species are only rarely imported; most of the species available grow to less than 15 cm (6 in) in length, and are well suited to life in the planted aquarium. In many ways their habits, requirements, and breeding are similar to those of Sturisoma (regal whiptails) and Farlowella. In all cases, clean water with a moderately fast flow is essential and can be provided by a power filter. Feeding is the same as for Ancistrus, that is, a principally vegetable diet.
Sex can be determined as males of certain species, particularly Sturisoma, but also some species of Rindoricaria and Farlowella, develop cheek bristles. In several Rindoricaria species sex can be determined by studying the pectoral fins: those with fins that incline downward along the back edge are female; while the male's pectoral fin slopes upward.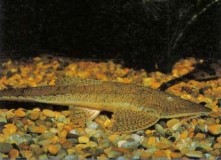 They select their own mates, often for life. Spawning activity starts with the male cleaning a suitable flat surface. This will often be the aquarium glass, usually at the back of the tank where there is less activity. Once the site is cleaned to the satisfaction of the male he entices the female to it. She lays the adhesive eggs in a mass on the clean breeding site,  and the male follows over the eggs in order to fertilize them. Generally it is the male who remains to guard the eggs, but in some species both parents may undertake the task. Infertile eggs, and eggs that accumulate dirt, are constantly removed by a parent to avoid contamination of the healthy eggs. They also fan the eggs with their ventral fins, and this gentle current of water helps wash away debris as well as oxygenating the eggs. When they have hatched, the fry, which look like miniature replicas of their parents, should be fed a vegetablebased diet, especially soft lettuce leaves.
Despite their small size, which makes them well suited to life in the furnished community tank, particularly one well planted, Otodndus and the similar Parotodndus are rarely, if ever, bred in captivity. As with the previous species, moderate water movement, with reasonably high levels of dissolved oxygen, is recommended.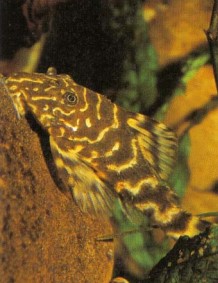 Other species of loricariid to look for are those of the genus Peckoltia, of similar shape to Andstrus, except that they lack the bristles on the snout. There are no reports of aquarium spawnings of these, but surely success will come with time. It is mainly a matter of discovering the trigger. Some species of Peckoltia exhibit particularly striking colours.
Similar to Peckoltia is Hypancistrus zebra. Only recently discovered, this catfish is very vivid in its livery of ivory white body with wide black bands. Unfortunately, the law of supply and demand often makes these fishes a little expensive, though usually as demand drops after the initial introduction in the trade, so too does the price.
Many new species of loricariids have been discovered in recent years, so many in fact that ichthyologists (scientists who study fishes) have a back-log of species to name and describe. These newly discovered fishes are given code numbers initially, just as a point of reference. For instance, Hypancistrus zebra was at first known simply as L46 before it was given its scientific description – a pretty ignoble name for such an attractive and impressive fish.