Catfishes
Doradids: The Talking Catfishes
Doradids are usually called talking catfishes due to the noise they can make, but they are not the only catfishes to employ noise as a form of communication. Doradids achieve this in two main ways. One method is to stridulate the pectoral fin joint by partially locking it while moving the fin spine. This movement need not be great to make a lot of noise. Another is the so-called "elastic spring mechanism", a muscle that links the anterior of the swimbladder to the rear of the skull. This muscle is rapidly contracted and relaxed causing the air-filled swim-bladder to resonate. The sounds are used in a variety of ways. They are often heard as the fish is being caught at the dealers, and again as it is transferred to your tank. Noise is also used to locate conspecifics in the vastness of their South American waters. Sound travels further in water than in air.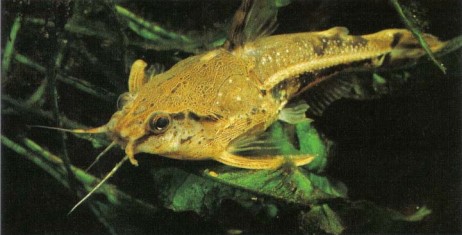 A particular characteristic of the Doradids is the single row of plates down each side, each supporting at least one backwardprojecting thorn. These are used for protection, and make handling a little difficult. The use of nets is not recommended as the fish becomes entangled, and the net then has to be carefully cut free.
They are best moved by hand, but even this is not without problems, the main one being the serrated pectoral spine, which can easily trap unwary fingers between it and the thorned plates on the body — a lesson once learnt, never forgotten. The trick is to grasp the caudal peduncle in one hand while supporting the body with the flattened palm of the other (ensuring stray fingers are well away from the "pinch zone"). This method works well with the larger Doradids (some, for instance Megalodoras irwini, reach more than 60 cm (24 in)), as well as the smaller species.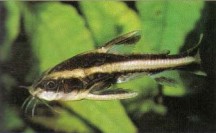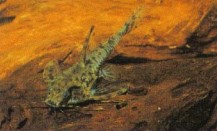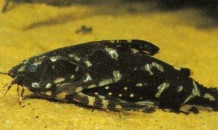 There are about 80 different doradids of various sizes, some too big for all but large display aquaria. There are, however, a selection of small doradids suitable for some home aquaria. Few have been bred in captivity. Possibly the most common species encountered is Amblydoras hancocki (Hancock's talking catfish), a relatively small (about 10 cm/4 in) doradid that is peaceful, though it should not be trusted with fry-sized fishes. It is principally an insectivore, with a preference for chironomid larvae (bloodworm) and Tubifex, but accepts commercially produced pelleted foods.
They are best kept in small groups of three or four, and spend most of the daytime hours  hidden, so provide wood or rockwork, preferably the former, with lots of nooks and crannies in which they can hide. Another good addition to the tank is waterlogged dead beech and oak leaves. With this litter overlying
the substrate Amblydoras will be seen more often during the day, burrowing under the leaves in search of food.


None of the doradids are active predators, but many grow large and may eat smaller tank-mates. The relatively small Platydoras costatus (white-lined dorad) can grow to 15 cm (6 in) and will eat small fishes if given the opportunity. Agamyxis pectinifrons (spotted dorad), if allowed to, will gorge itself to such an extent that it appears to have swallowed a golf ball. Both these species are rarely seen during daylight hours. Megalodoras irwini and Pseudodoras niger are both giants, and are usually expensive, even as juveniles. As they grow large, a correspondingly large aquarium should be planned. Megalodoras irwini is often slow-growing, and can be slow to acclimatize. It may not eat for a week or so after being introduced to the tank, but seems none the worst for wear after fasting. Young specimens are reputed to eat snails, but pelleted food is accepted. Beware, M. irwini can grow to over 60 cm (24 in), and at this size demands on filtration can be high.

Pseudodoras niger can grow to 70 cm (28 inches) or longer, but even at this size they are "gentle giants". Obviously they are unsuited to the community tank, mainly because of the damage they would wreak on plants as they moved around. Small livebearers (mollies) have been kept in the same tank as 50 cm (20 in) specimens with impunity. They are best kept in twos or threes rather than in isolation. They will happily accept pelleted foods. Although they take quite a long time to grow, the wait is more than compensated for by their longevity.