Brackish Water Fishes
The Asian Chromides
Two species of cichlid are found almost exclusively in brackish water: Etroplus suratensis (Green chromide, 45 cm (18 in)) and Etroplus maculatus (Orange chromide, 10 cm (4 in)). Both occur in coastal regions of southern India and Sri Lanka, chiefly in brackish estuaries and lagoons. The salinity of both types of habitat is variable, depending on the state of the tide and the fresh water input, which varies with the seasons.
Both species are found in close association with each other and with beds of Halophila (Sea-grass) , which provides them with shelter and spawning sites. E. maculatus lays its eggs on the narrow leaves of the plants, no easy task when the latter are waving to and fro in the current, so to ensure accuracy it uses its pelvic fins as guides, one each side of the leaf. The larger E. suratensis prefers to dig pits, exposing the roots of the seagrass and sometimes using them as a spawning substrate.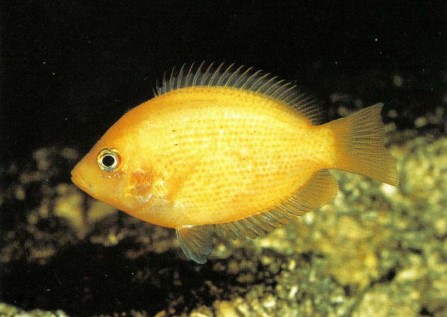 The green chromide is a peaceful herbivore which breeds seasonally; the orange, on the other hand, is an opportunistic feeder, eating, inter alia, parasites and necrotic skin which it cleans from its larger relative, and the latter's spawn! The relationship is, nevertheless, symbiotic as both benefit from it. E. maculatus will also cannibalize the eggs and fry of its own kind, but only those of other pairs – they are excellent parents, guarding their fry for weeks, even months. The orange chromide will breed continuously if its food supply is adequate. In nature it lives colonially; it requires a territory of at least 180 cm 2 (24 sq in) per pair if this is to be tried in captivity.
E. suratensis must have highly oxygenated brackish water and be housed in a large aquarium ( 1 2 0 x 4 5 x 4 5 cm (48 x 18 x 18 in) is the minimum for a pair). Far too many of these lovely fishes die in captivity as a result of ignorance of these basic requirements, and the reason this species is rarely bred is probably because few individuals survive to adult size. Plastic plants are ideal shelter – real ones are likely to be eaten, and few of those available will withstand the salinity necessary for the fishes.
E. maculatus can be kept in similar conditions, but will also thrive in hard alkaline fresh water; do remember that individuals that have been accustomed to brackish water must be acclimated slowly to different conditions. Like many cichlids they will utilize flowerpots for shelter, but plants (real or plastic), ideally those with long, straight narrow leaves (such as Vallisneria), should be provided as spawning substrates. A temperature of 2 7-28°C (80-82°F) will suit both species.
The green chromide must be offered predominantly vegetable foods, such as scalded lettuce and spinach, as well as vegetarian flake and pellets. Like most nominally vegetarian cichlids, it also enjoys live fare such as pond foods and earthworms.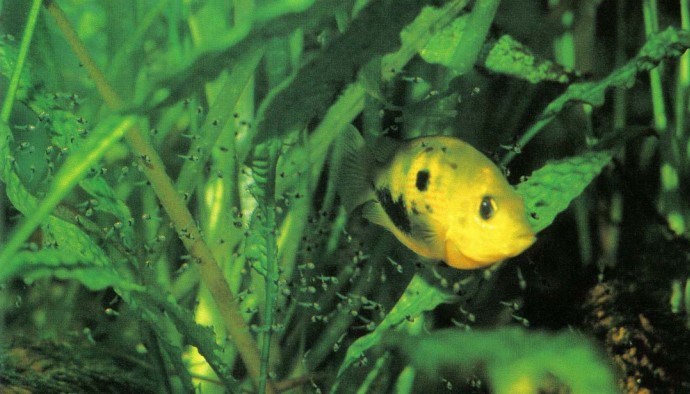 E. maculatus is, by contrast, an out-and-out carnivore, and should be given suitably sized live foods, cod roe, chopped shrimp/prawn, and suitable dried foods.
Although adult female E. maculatus develop white markings on the upper and lower edges of the tail when breeding (or thinking about it), juveniles and unpaired adults exhibit no visible sexual dimorphism. No reliable way of sexing green chromides is known. It is thus best to purchase half a dozen juveniles, growing them on together and letting them pair naturally.
Orange chromides are easy to breed, either in a species aquarium or in a community of small to medium hard or brackish water fishes. Although "scrappy" among themselves, and territorial towards other similarly-sized cichlids, they will not normally harass noncompetitors such as mollies, though it must be said that livebearer fry are relished as snacks! If the aquarium is sufficiently spacious, both chromides can be kept together, and the green can be housed with other brackish species such as scats and monos, but preferably in a deep (60 cm (24 in)) aquarium so as to allow vertical habitat segregation. Personally, however, we would prefer to "coddle" the greens a little, and allow them the privacy of their own tank. A "seasonal" increase in temperature and salinity may trigger breeding, as they spawn in the dry season in nature.
As in some South American cichlids (Sympkysodon sp. and Uaru sp.), the fry of both species feed on parental body mucus as well as micro-organisms. Failure of the first few broods in young adults may be due to failure to synchronize mucus production with hatching.