Brackish Water Fishes
Mudskippers
Mudskippers are notoriously difficult to maintain in captivity because of the demands they place on the aquarist. Species imported include Periophthalmus barbarus, Periophthalmus catonensis, and Periophthalmus kaelreukeri, but these names are often confused-and identification is uncertain. All have similar habits and can be found along the east African coast from the Red Sea to Madagascar and on into southeast Asia and Australia. In nature they are found in estuarine conditions such as those in mangrove swamps, a favourite habitat. Here, in the tidal zone, they dart about on the mud and clamber up onto the mangrove roots using the pectoral fins as "legs" and sinuous movements of the rear part of the body to push themselves forward. They often go undetected until they begin flicking their colourful dorsal fins up and down to signal to each other. If danger threatens, each fish will leap from its basking site back to the safety of the water with one flick of its tail end. As the waters recede the fishes dig pits in the mud. Bearing all this in mind, we have to try and create something similar to a mangrove swamp in the aquarium if we are going to stand even a remote chance of keeping these creatures alive and healthy for any length of time.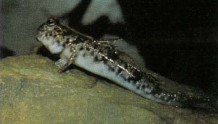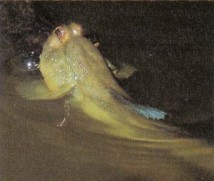 Public aquaria have managed this quite well, using large enclosures and employing wave machines so that water gently laps the shore. Tree roots are bedded into a soft sand substrate that slopes down into and continues below the water. A few pebbles scattered around help to give everything a natural appearance. Some salt-tolerant plants may be grown in the substrate, and mosses and Java fern attached to the tree roots. Or they may even cheat and use plastic plants, both terrestrial and aquatic. For most of us wave machines occur only in our dreams. So we will ignore this little luxury and see what else we can do.
The aquarium needs to be wide, and long, because it is easier to create a long shallow slope along the length of the tank rather than from front to back (this can be achieved but your substrate will have a much steeper gradient). The sand can be held in place by a series of terraces made from rounded pebbles. If you don't use these, the sand will just even itself out and defeat the object. Add some vine roots sited below the water but projecting out of it so you can attach terrestrial plants and the fishes can clamber out. Some people like to float a small piece of cork bark on the water so the fishes can clamber out onto this as well. If there are no places for them to crawl out of the water, they will, in desperation, stick on to the glass.
Partially fill the aquarium with brackish water to a depth of about 15 cm (6 in) and use an external power filter to help maintain good quality water. As with the aquarium for Anableps, the filter return pipe can be used to create a feature in the above-water part of the tank, for example water cascading over roots or rocks.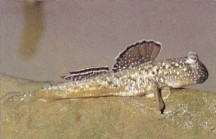 One of the most important points when keeping mudskippers is to maintain humidity and warmth in the section of the aquarium above the water. The air temperature here should equal the water temperature 25-30°C (77-86°F) otherwise the fishes may become chilled, so the cover glass must fit very well. The one drawback with this is that if the room is cold, condensation tends to form on the glass and it becomes difficult to view the interior of the tank.

When buying your mudskippers take the time to find good, healthy stock and make sure that they are feeding. As these fishes are territorial, they sometimes quarrel in the dealer's tanks, so check your purchases for damage. The stress of being caught, transported, and perhaps chilled slightly is enough for them to have to cope with, without the possible infections that may occur on nipped fins. Because of their territoriality, it is better to keep just three or four well rather than a lot that are constantly fighting. Also bear in mind that the little juveniles of 5-6 cm (2-2 1/4 in) grow into large adults of 12.5-15 cm (5-6 in).
These fishes can become very tame and will even feed from your hand – but beware of the teeth. It is better, if you value your fingers, to use a pair tweezers if you wish to "hand" feed. They will take just about anything meaty, but, especially when first imported, prefer live foods. Worms of all kinds are preferred, and crickets make mealtimes fun because you can watch the fishes stalk them. Flake and frozen foods can also be given. Take care not to overfeed as decaying flake and frozen foods can quickly pollute the substrate, especially in the above-water section. Likewise, do not overdo live worms or you may find yourself with a worm colony in the aquarium.