Brackish Water Fishes
Monos and Scats
Monodactylus argenteus (Monos) and Scatophagus argus (Scats) have been grouped together as they are both shoaling fishes which will live in harmony in a large brackish-water aquarium. Although they are usually sold as small specimens, the potential for Scatophagus argus is 30 cm (12 in) and for Monodactylus argenteus 25 cm (10 in). Both fishes have been recorded from fresh, brackish, and marine waters, so it is important to see what conditions your stock are being kept in at the time of purchase. Monos are found along the African coast and into Indonesia. Scats are found along the coasts of the Indian and Pacific Oceans, with Tahiti the easternmost limit of their range. Young Scatophagus argus (scats) are attractively marked. We suggest plastic plants and/or wood for decor as these omnivores have a great liking for plants. Remember to include vegetable matter in their diet.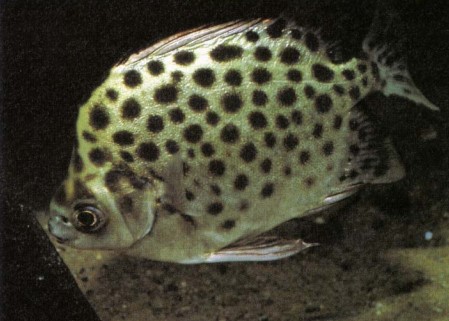 In captivity, these fishes need to be kept in groups and do very well in brackish aquaria provided they are given plenty of space. They love to swim so do not try to keep them in cramped conditions. Water quality is very important so ensure that your filtration system is working efficiently and, to supplement it, add a protein skimmer. It is important to keep nitrate levels to a minimum otherwise the scats in particular will suffer. Regular water changes, not just topping up to compensate for evaporation, are essential.
Scats love to eat plants, which rules out real greenery. Tank decor may consist of wood and rocks with some artificial plants for added colour. Bear in mind their love of plants when feeding the fishes. Monos are not as fond of plants but do benefit from some vegetable matter in their diet. Both species are omnivorous so provide a varied diet that includes items such as live foods, flake, lettuce, peas, oatmeal, frozen shrimps, bloodworm, and so on. The more varied the diet, the better the colour of the fishes. A word of caution here: in his book Aquarium Fishes (Volume 1), Hans Baensch notes that scats feeding on Java fern (often used for herbivores to feed on) died after eating it, whereas fishes that did not survived.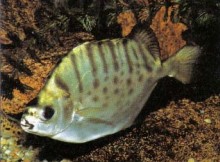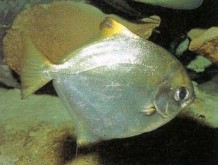 Young fishes are quite highly coloured. Monos show a lot of yellow in the dorsal, and distinct black bars on the silvery body, but unfortunately this intense * colouring fades as the fishes mature and they become a rather dull greyish/silver with only a few traces of the yellow and black. Scats also vary in coloration from juvenile to adult. The juveniles have a yellow background colour with distinct black spots. As they mature, the body becomes silvery-bronze, still with some black spots, and traces of red appear along the dorsal surface.