Brackish Water Fishes
Archer Fishes
No one can fail to be intrigued by a fish that shoots down its prey, and in public aquaria there is almost always a small crowd of people around the archer fish tank, all hoping that the fishes will perform.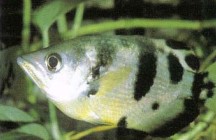 The "archer" usually offered for sale is Toxotes jaculator, a widespread species found from the Gulf of Aden, all around the Indian coast, into southeast Asia and even in northern Australia. It is yet another fish that will tolerate fresh, brackish, and marine conditions. The one thing they won't tolerate is cold: They like a water temperature of 25-28°C (77-82°F), and many captive specimens are lost because they are kept too cool.
Archers are ideally suited to a paludarium (an aquarium that has both underwater life and abovewater plants). The tank should be large enough to accommodate four to six fishes (they can reach 20 cm/8 in or so) and can be planted with Sagittaria and Java fern and decorated with wood, which can extend above the water's surface. Out of the water, above and to the back of the tank, grow some terrestrial plants which overhang the water, because it is on their foliage that insects will land and from which the fishes will attempt to shoot them down.
Keep fishes of approximately the same size together as it is quite common for larger specimens to intimidate smaller ones, preventing them from feeding or nipping at their fins. Injured fishes are vulnerable to fungal or bacterial infections and this situation needs to be avoided. Some people like to keep young scats and monos with their archers, but the problems start when the scats and monos grow too large and become too active for the archers' liking.
Feeding Archer Fishes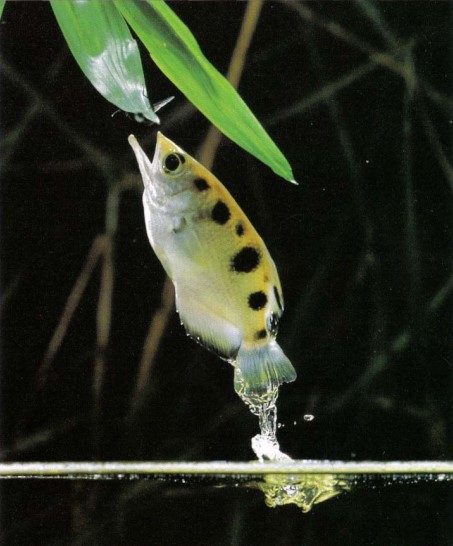 Feeding archers is simple. They like to take their food from the surface and will consume flake as well as live insects. Once acclimatized to aquarium life they will also accept frozen bloodworm and the like. However, the purpose of keeping these fishes is usually to observe their novel method of catching their prey. First you need a supply of prey items. Small crickets can be purchased at shops that deal in reptiles. Alternatively, you can use flies: purchase some uncoloured maggots from your local fishing tackle shop and place a few in a small straightsided dish (use ajar lid or similar) and place it among the plants. The maggots will pupate and subsequently hatch into flies, ready for your archer fishes to shoot down. (Store maggots in a bait box in the fridge to keep them for any length of time.) Add more maggots to the dish as the old ones hatch, to maintain a good supply of flies. The trouble is that the archer's aim is not that good, so it can take several attempts before it gets its fly. Remember to ensure that your paludarium is properly covered otherwise you will have a house full of bluebottles!
The furthest an archer can spit is about 150 cm (60 in), which means that the fishes can easily hit a fly anywhere in the paludarium. It also means that they could just as easily hit the lights – cold water on hot lights can mean that the lights "blow", so ensure that you protect them behind a sheet of glass.
There is another species of archer fish sometimes seen in the trade, Toxotes chatareus. It requires similar conditions and foods to Toxotes jaculator, but doesn't spit at its prey, instead taking it from the water surface. It differs too in body depth and colour: T.jaculator is silvery-white with dark blotches and the body is fairly deep, whereas T.chatareus is more coppery-coloured with black bars and a black blotch, and has a slimmer body.