Anabantids
The anabantids are a large group of fishes found in the tropical waters of Africa and Asia. They are best known for their ability to breathe atmospheric air. The organ that they use for this is known as the labyrinth (hence the common name labyrinth fishes) and is situated on either side of the head in the gill cavity directly above the gills. The fish takes in air from above the water surface and passes it into two chambers, each of which has a rosette-like structure which looks not unlike a sponge. This has a very good supply of blood vessels close to the surface of the structure, and therefore the fish is able to absorb oxygen from the air.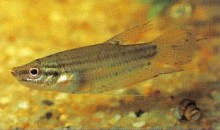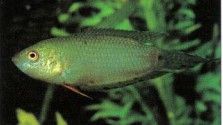 Not only does this air breathing capability allow labyrinths to survive in waters that are oxygen deficient, it allows some of them to travel across land. The most notable of these is Anabas testudineus (Climbing perch).
Labyrinth fish breeding strategies also reflect the low oxygen content of the water in which some species live. Some construct bubblenests to keep the eggs at the surface, others have floating eggs, and yet others hold their eggs in their mouths in a similar fashion to the mouthbrooding cichlids. Each method seeks to give the eggs the optimum conditions for development by keeping them in areas which are higher in oxygen or which will give them the greatest possible degree of protection.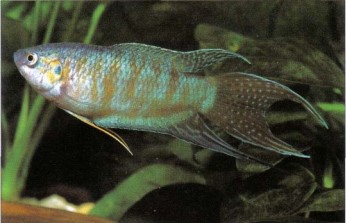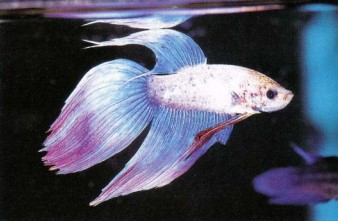 The labyrinths are generally divided into two groups by the hobby: gouramis and climbing perches. The only problem with this arbitrary division is that gouramis can range in size from the 2.5 cm (1 in) Trichopsis pumilus (Dwarf Croaking Gourami) to the huge Osphronemus goramy (Giant Gourami) which can attain lengths greater than 70 cm (28 in). This division also fails to take account of the various Macropodus (paradise fishes) and Betta (fighting fishes) species of which there are a growing number in the hobby.
Scientists, however, divide, labyrinths into four families: Anabantidae, containing the genera Anabas, Ctenopoma, and Sandelia; Belontiidae, containing Belontia, Betta, Colisa, Ctenops, Trichogaster, Malpulluta, Parosphronemus, Pseudosphronemus, Sphaerichthys, Trichopterus, and Trichopsis; Helostomatidae, with the single genus Helostoma; and Osphronemidae, also containing a single genus, Osphronemus.