Anabantids
The African Connection
The African anabantids belong to the genus Ctenopoma and although they are usually referred to by their generic name, they are also known as bush fishes or even climbing perch. To avoid such confusion here, we'll stick to Ctenopoma (Bush fish).
At first glance, you might be forgiven for thinking that these chunky fishes with protrusile mouths look more like cichlids than anabantids. In their natural habitat they may be found in weedy areas of forest streams, as well as quiet stretches of rivers, ponds, lakes, swamps, and irrigation ditches. Being carnivores, they hunt for live foods and will take anything from insect larvae to other fishes as the opportunity arises. This makes a normal community tank a no-go area as far as keeping them is concerned, but some may be housed with other fishes of similar size and temperament.
Take care when handling bush fishes, they have serrated edges to their gill covers and when intimidated may flare the latter. If this takes place when the fishes are sparring with each other there are no problems, the trouble starts if you are trying to catch them, as the serrations easily entangle in the net. If this happens, do not try to pull the fish from the net; put net and fish in the aquarium and the fish will usually release itself. If it doesn't then cut the net rather than risking injury to the fish.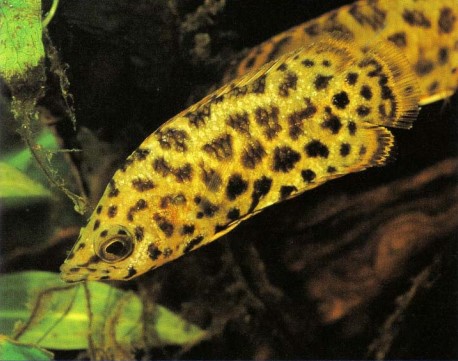 Most of the smaller species we come across in the hobby, such as Ctenopoma ansorgii (Ornate Ctenopoma), Ctenopoma fasciolatum (Banded Ctenopoma), and Ctenopoma oxyrhynchus (Mottled Ctenopoma), may be kept with other fishes too large to be eaten. They like a well-planted aquarium with soft, slightly acid water which must be warm: anything less than 24°C (75°F) is considered cold! Their method of feeding is to drift close to the prey and then lunge at it, so if you are keeping them with other fishes, it is important to make sure they are getting a chance to feed. If they are being kept away from the food, try feeding at both ends of the aquarium at the same time so that the more voracious feeders don't know which way to turn and the bush fishes have a chance. If the problem persists, then remove the bullies fishes.
The most common species in the trade is Ctenopoma kingsleyae. Some scientists now consider this to be a colour morph of Ctenopoma petherici so you may see it for sale under this name as well. Whatever its scientific name it is a beautiful grey fish. Each scale on the body is clearly defined and the fins are almost clear with white edges. These fishes grow quite large (to about 20 cm/8 in) so they are not suited to the average community aquarium, which is a pity, as they are easy to keep.
If you wish to try and breed bush fishes you will need to check on the individual species' breeding strategy. Some, for . example Ctenopoma fasciolatum, build bubblenests while others are termed non-brooders, producing large numbers of eggs that float to the surface. This is the reproductive method pracThe eggs of such species may be scooped out and hatched elsewhere. If hatching fry separately, use water from the main aquarium and keep the hatching aquarium clean. The fry are quite large and will take brine shrimp nauplii from day one.