Introduction to Pond Fish
Setting up the pond
Coldwater fish in home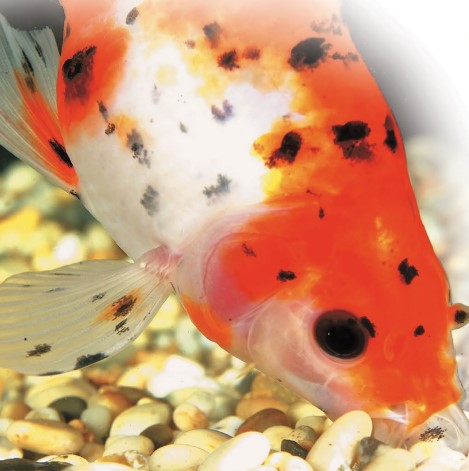 Many coldwater fish can be kept indoors in aquariums; indeed, some of the smaller, less colorful species are more visible there than in a pond. Even larger species, such as koi and sterlets, may be housed in a tank when small, but they must be moved outdoors when they outgrow their surroundings. Some coldwater fish cannot survive the winter in a pond, especially in temperate areas, and must be housed indoors until spring.
It is no coincidence that, numerically, goldfish (see pp.332–343) rank as the most popular pets in the world. Their care, whether indoors in aquarium surroundings or outdoors in a pond, is very straightforward. Not only are goldfish unfussy in their water chemistry requirements, but they will also live happily in unheated, dechlorinated tap water. Goldfish are generally not nervous or shy, especially once established in an aquarium, and it is usually possible to keep two or more together without difficulty. Different varieties can successfully be kept together in a single tank, but it is best to avoid mixing fancy varieties with goldfish with simple fins and tails; these attractive fish were bred for their looks rather than their swimming ability and may lose out to their more agile relatives in the daily competition to find food.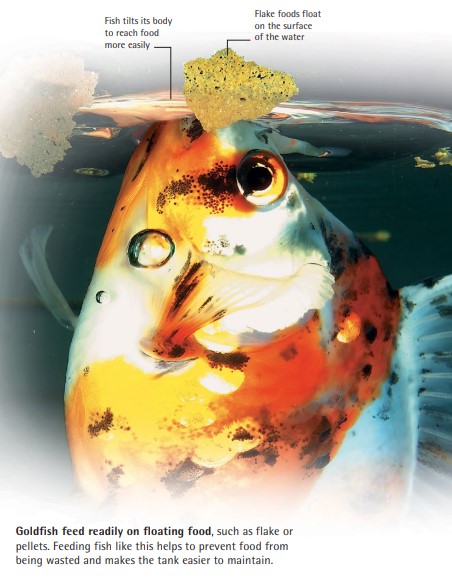 Although less commonly kept, small minnows and other similar-sized coldwater species will also thrive in planted aquariums indoors. Others, however, notably members of the sturgeon family, may not thrive at typical room temperature, especially when young; this is because they stop feeding at water temperatures of more than 68°F (20°C).
Seasonal accommodation
Some species of coldwater fish that are kept in a pond over the summer months must be moved indoors for the duration of the winter. This particularly applies to fancy goldfish varieties, which are not hardy enough to overwinter in cold, possibly freezing, water. Their corpulent body shape means that they are especially vulnerable to swim bladder problems linked with low water temperatures, which cause them to float at an abnormal angle in the water. Set up an aquarium in advance of the start of colder weather, so that the fish can be brought indoors before the temperature dips dangerously low. To transfer fish from the pond to a tank, simply net them out of the pond and transfer them to a suitable container, such as a clean plastic bowl. They can then be brought indoors and introduced into the aquarium.
Even hardy varieties of goldfish may benefit from spending their first winter in an aquarium. If left outdoors, the decline in temperature deters them from feeding and so slows their rate of growth. Moving them indoors also provides an opportunity to tame the young fish.
Goldfish that have been housed indoors during the winter months can be returned to their outdoor accommodation in the late spring, once the risk of cold weather has passed. Before transferring the fish, ensure that the temperature of the water in the pond is close to that of the aquarium, so as not to cause them undue stress.
An aquarium also provides an ideal environment to quarantine newly acquired fish, to ensure that they are healthy before releasing them into the pond. This is especially important for controlling parasites in a pond; these pests can be transferred into the pond on a new fish and may multiply unchecked and harm other pond occupants before their presence is identified. As a general guide, newcomers should be kept in an aquarium for a week or so, until it is clear that they are feeding well and appear to be generally healthy. Try to plan ahead if you are buying fish for a pond; set up the aquarium well in advance, and start the maturation of the filter by adding an existing fish, if possible. Larger coldwater fish, including bigger goldfish, will need a more powerful filtration system, such as a power filter, in addition to a simple undergravel filter.
Indoor ponds
An indoor pond can be an attractive feature in a conservatory or inside the house, and, especially in temperate areas, it has a number of advantages over a similar pool outdoors. Under cover and in heated surroundings, it is possible to grow a much wider range of aquatic plants, including lotuses and tropical water lilies (see pp.378–379). A colorful backdrop can be created using houseplants that would not be hardy outdoors. The potential range of fish that can be kept is much wider, too, especially when the water is heated. A number of tropical species can be housed in an indoor pond; shoals of small fish such as Neon Tetras (see p.99) can create a particularly striking display. Coldwater fish, such as koi, grow much faster in an indoor pond than they do outdoors.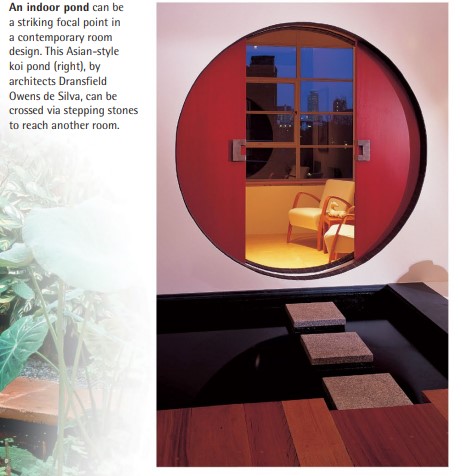 A typical Ogon, for example—one of the more rapidly growing varieties of koi—may grow to a length of 36 in (90 cm) by five years of age in this environment. Constructing an indoor pond is very similar to creating a pond outside (see pp.304–305), but its location in the home must be carefully considered (see box, below). Raised ponds are the most popular style indoors, especially if small fish are to be kept there, and broad edging provides an opportunity to sit and view the fish at close quarters. Always consider the safety of your design (see p.301), especially if young children are likely to visit.
It is important to have an efficient filtration system in an indoor pond, to maintain the quality of the water; partial water changes are also necessary, because, unlike an outdoor pond, it will not be periodically flushed through with rainwater. Evaporation will reduce the water level, so you will need to top off the pond regularly with fresh, dechlorinated water.
SETTING UP A COLDWATER AQUARIUM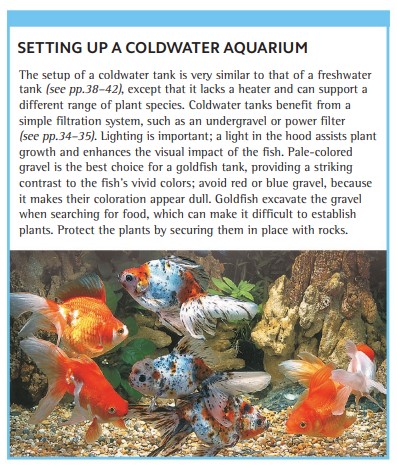 The setup of a coldwater tank is very similar to that of a freshwater tank, except that it lacks a heater and can support a different range of plant species. Coldwater tanks benefit from a simple filtration system, such as an undergravel or power filter (see pp.34–35). Lighting is important; a light in the hood assists plant growth and enhances the visual impact of the fish. Pale-colored gravel is the best choice for a goldfish tank, providing a striking contrast to the fish's vivid colors; avoid red or blue gravel, because it makes their coloration appear dull. Goldfish excavate the gravel when searching for food, which can make it difficult to establish plants. Protect the plants by securing them in place with rocks.
COLDWATER TANK CHOICES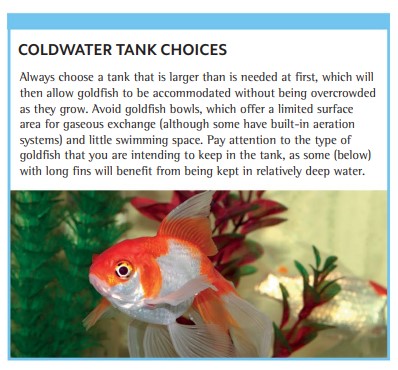 Always choose a tank that is larger than is needed at first, which will then allow goldfish to be accommodated without being overcrowded as they grow. Avoid goldfish bowls, which offer a limited surface area for gaseous exchange (although some have built-in aeration systems) and little swimming space. Pay attention to the type of goldfish that you are intending to keep in the tank, as some (below) with long fins will benefit from being kept in relatively deep water.
TANK MAINTENANCE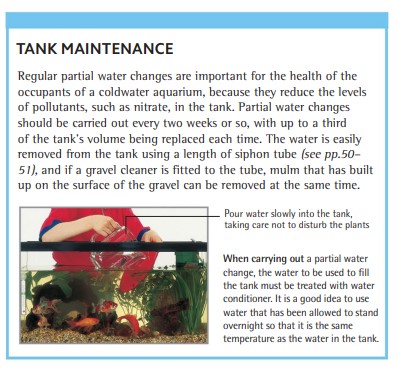 Regular partial water changes are important for the health of the occupants of a coldwater aquarium, because they reduce the levels of pollutants, such as nitrate, in the tank. Partial water changes should be carried out every two weeks or so, with up to a third of the tank's volume being replaced each time. The water is easily removed from the tank using a length of siphon tube (see pp.50– 51), and if a gravel cleaner is fitted to the tube, mulm that has built up on the surface of the gravel can be removed at the same time.
INDOOR POND CONSIDERATIONS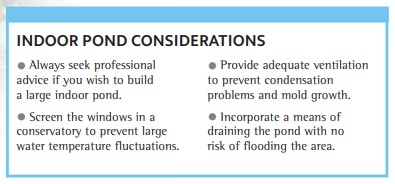 Always seek professional advice if you wish to build a large indoor pond.
Screen the windows in a conservatory to prevent large water temperature fluctuations.
Provide adequate ventilation to prevent condensation problems and mold growth.
Incorporate a means of draining the pond with no risk of flooding the area.

[Ebook] Encyclopedia of Aquarium & Pond Fish – David Alderton (Photo by Max Gibbs)