Introduction to Pond Fish
Maintenance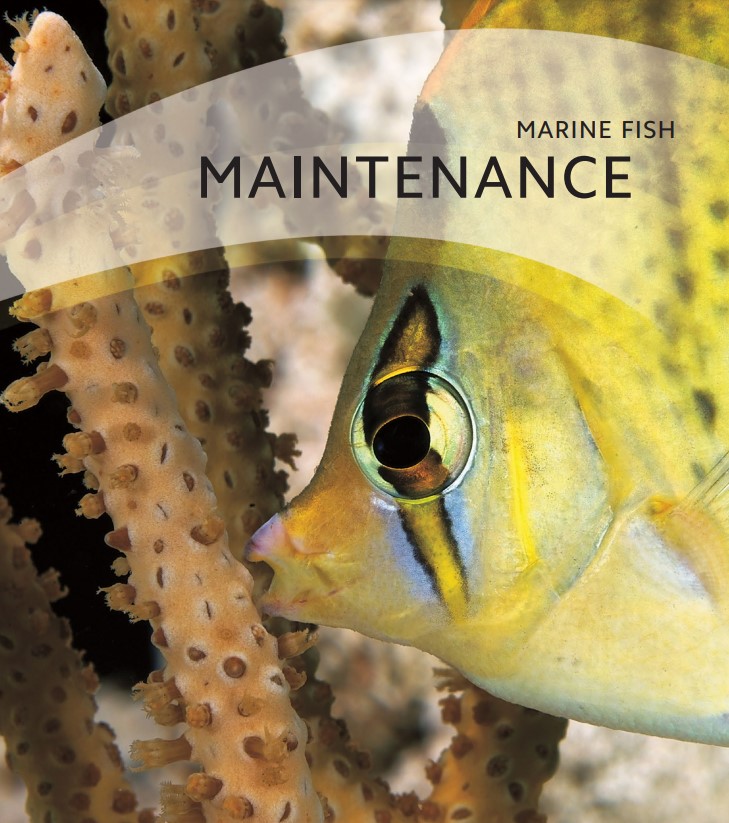 Food and feeding
Providing your fish with a balanced, healthy diet demands a little research. It is vital to establish not only the dietary preferences of each species but also the way in which it feeds. Some, for example, feed only on floating foods, while others will feed exclusively from the substrate. Today, there are commercially prepared marine foods that suit all feeding styles and meet the requirements of almost every species.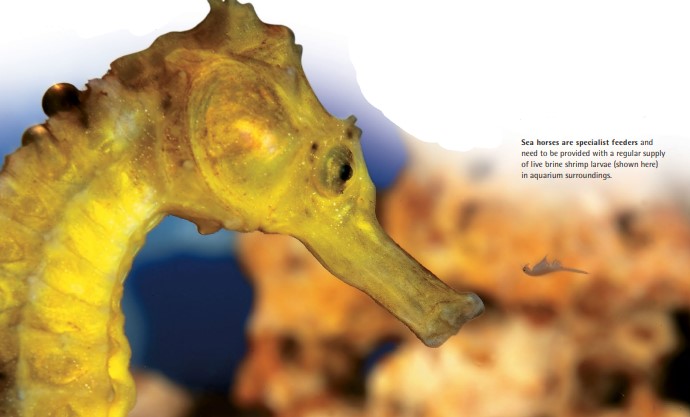 Marine fish naturally seek food at different levels in the water. In the surroundings of the coral reef, this prevents direct competition for food from other fish and allows each fish to occupy its own space without conflict. Some species are confident and will feed in open water or on the seabed. Others eat algae from the rocks or hide within crevasses waiting for an opportunity to emerge. Herbivorous fish spend much of their time browsing to meet their nutritional needs, while predatory species, such as eels, may not feed every day. These diverse feeding strategies are also evident in the aquarium and must be addressed if the fish are to thrive. Suppliers of aquarium fish are able to offer advice on the optimum feeding strategies for each species.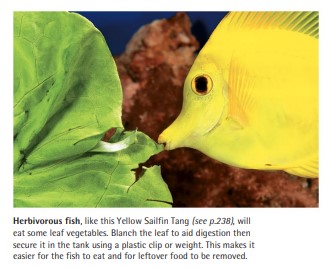 Sources of food
Some reef fish are opportunistic and eat a variety of foods in the wild. This is useful to the aquarist because these species can also be persuaded to eat a varied diet in the tank. However, their diet should be underpinned by a commercially prepared staple food, which will ensure that they get the correct mix of vitamins, minerals, proteins, and carbohydrates that is essential for good health. There are varieties of commercially prepared foods that float, sink, or even stick to the sides of the tank, to suit the feeding styles of different species. Store the food in sealed containers to keep it dry and fresh. It should not be used after the manufacturer's expiration date, after which the vitamin content declines rapidly. A range of freeze-dried, frozen, and vegetarian marine fish food is also available. Frozen foods, such as shellfish, are subjected to gamma irradiation, which makes them free from the pathogens that may be carried in fresh foods.
Feeding time provides an opportunity to monitor the wellbeing of the fish; if any loss of appetite is detected, it may be an early indicator of illness. It is important not to overfeed, because uneaten food may pollute the water and can poison the fish. Excess food should be removed from the tank as soon as the inhabitants are finished eating.
The new tank
Not all marine fish will feed readily after being moved to a new aquarium. If you are able to, observe your chosen fish feeding prior to purchase; if they feed readily, you can be reasonably confident that they will settle down and regain their appetite in a day or two, especially if provided with familiar food to encourage their appetites. If they ignore commercially prepared foods, try to disguise them in fresh foods. For predatory species, place small pellets in the mouths of frozen fish, such as lancefish, or insert them into the bodies of krill. Once the fish have gained an appetite for commercially prepared foods, they will take them independently. When choosing fish for a new tank, avoid vegetarian species, because at this early stage, there is little algal growth in the tank for them to browse. Acclimatization of such species is likely to be easier in a mature tank, once algal growth is established.
FEEDING INVERTEBRATE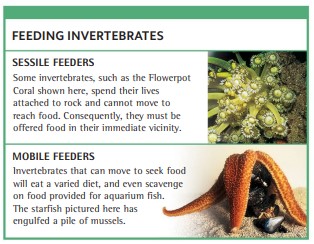 SESSILE FEEDERS: Some invertebrates, such as the Flowerpot Coral shown here, spend their lives attached to rock and cannot move to reach food. Consequently, they must be offered food in their immediate vicinity.
MOBILE FEEDERS: Invertebrates that can move to seek food will eat a varied diet, and even scavenge on food provided for aquarium fish. The starfish pictured here has engulfed a pile of mussels.
TYPES OF FOOD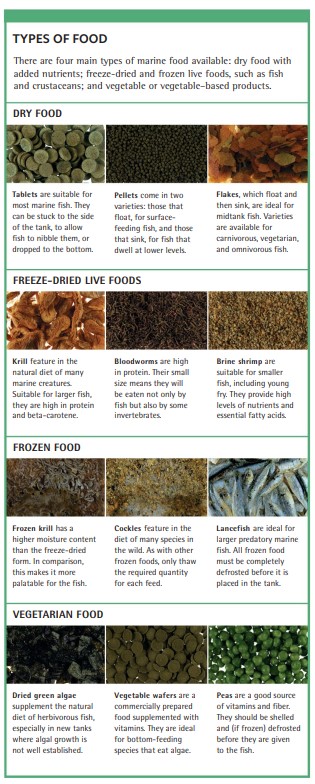 There are four main types of marine food available: dry food with added nutrients; freeze-dried and frozen live foods, such as fish and crustaceans; and vegetable or vegetable–based products.
DRY FOOD
Tablets are suitable for most marine fish. They can be stuck to the side of the tank, to allow fish to nibble them, or dropped to the bottom.
Pellets come in two varieties: those that float, for surfacefeeding fish, and those that sink, for fish that dwell at lower levels.
Flakes, which float and then sink, are ideal for midtank fish. Varieties are available for carnivorous, vegetarian, and omnivorous fish.
FREEZE-DRIED LIVE FOODS
Krill feature in the natural diet of many marine creatures. Suitable for larger fish, they are high in protein and beta-carotene.
Bloodworms are high in protein. Their small size means they will be eaten not only by fish but also by some invertebrates.
Brine shrimp are suitable for smaller fish, including young fry. They provide high levels of nutrients and essential fatty acids.
FROZEN FOOD
Frozen krill has a higher moisture content than the freeze-dried form. In comparison, this makes it more palatable for the fish.
Cockles feature in the diet of many species in the wild. As with other frozen foods, only thaw the required quantity for each feed.
Lancefish are ideal for larger predatory marine fish. All frozen food must be completely defrosted before it is placed in the tank.
VEGETARIAN FOOD
Dried green algae supplement the natural diet of herbivorous fish, especially in new tanks where algal growth is not well established.
Vegetable wafers are a commercially prepared food supplemented with vitamins. They are ideal for bottom-feeding species that eat algae.
Peas are a good source of vitamins and fiber. They should be shelled and (if frozen) defrosted before they are given to the fish.

[Ebook] Encyclopedia of Aquarium & Pond Fish – David Alderton (Photo by Max Gibbs)