Introduction to Marine Fish
Breeding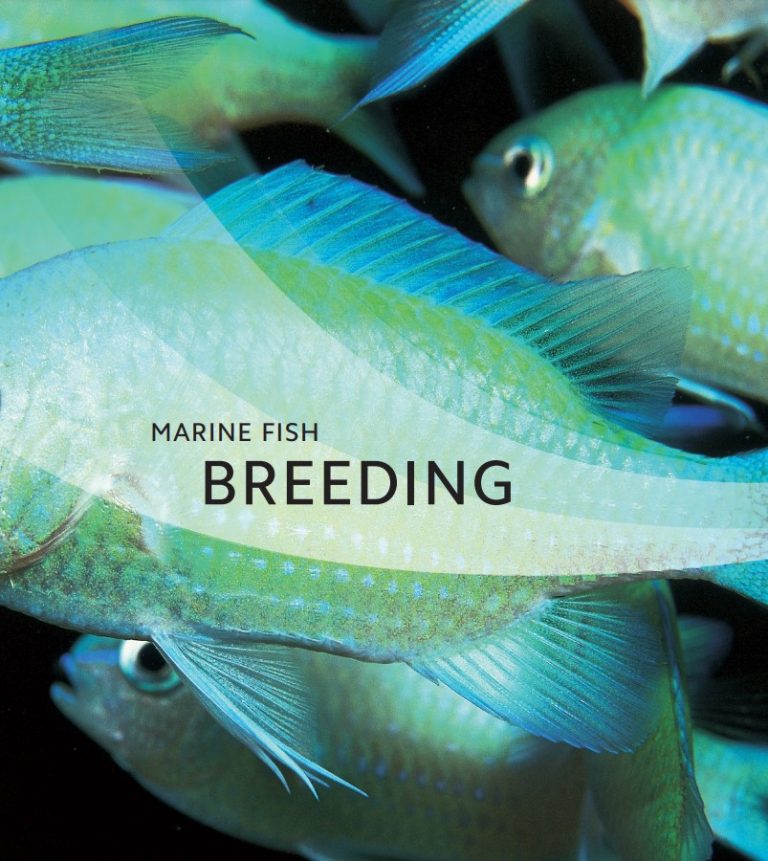 Reproduction and breeding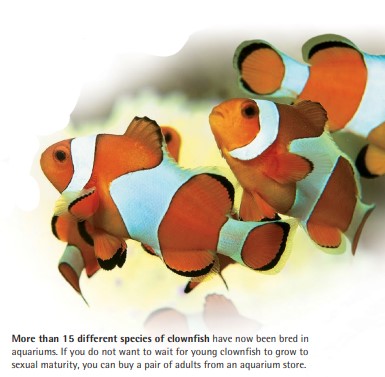 The breeding habits of tropical marine fish are not well documented because only a small number of species have reproduced in captivity. A few groups, however, such as clownfish, gobies, and sea horses, breed with relative ease. Others, such as angelfish, may spawn in aquariums, but their young are so poorly developed when they hatch that it is extremely difficult to raise them successfully.
Ensuring that you have at least one mixed-sex pair from which you can breed is problematic with marine fish, since in most species the males and females are visually alike. However, if the fish can be kept in a group, their behavior should give you some clues to the sex of the fish. Two similar-looking fish that fight are probably males involved in a territorial dispute. Conversely, two fish that get on amicably may well be a compatible male and female. Unusual swimming motions or postures could be signs of courtship, which will indicate that you have a pair in the tank. Slight physical differences sometimes become apparent toward spawning time, when females develop a noticeably plumper belly as they swell with eggs. In addition, the males' color often intensifies and their patterning becomes better defined at this time.
Some species can change sex, which actually helps rather than hinders the process of finding breeding pairs. All young clownfish, for example, are male, but if you have a small group—even just two—the dominant fish will change into a female and pair up with the next dominant male. The sex change goes the other way in hawkfish and some angelfish (see pp.252–255), with the dominant individual in an all-female group turning into a male.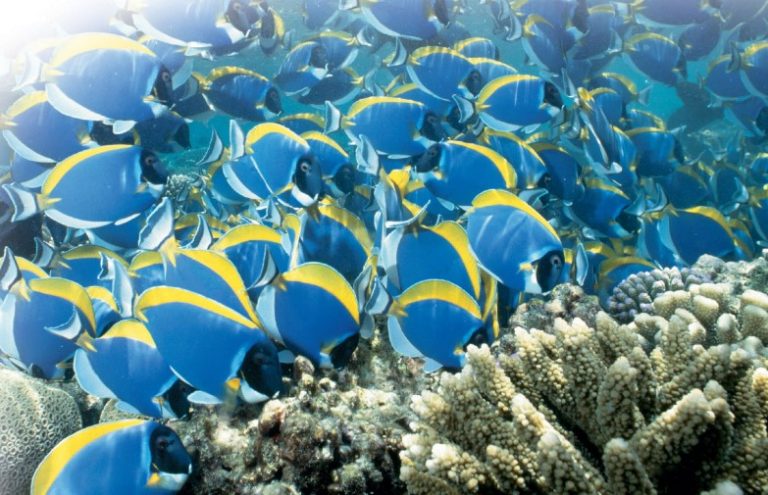 Regardless of the species, you will need to be patient if you want to breed from fish you acquire as juveniles. The onset of sexual maturity is generally determined by size, rather than by age. It can take three months for young gobies to reach breeding size, and with clownfish, you may be waiting for up to a year before they are sexually mature.
Spawning at sea
Marine fish have spawning habits broadly similar to those of freshwater species (see pp.64–66). Some marine fish form long-term or temporary pairs; others spawn in small groups or even in mass gatherings. Fertilization is usually external. Most tropical reef fish, such as angelfish and butterflyfish (see pp.256– 259), are egg-scatterers, releasing floating eggs into the open ocean to rise to the surface and be swept along with the current. The fry are not fully developed when they hatch, which is why they are often called larvae. Lacking fins, they cannot swim and simply drift in the surface waters, feeding on microscopic plant and animal life called plankton. Only when they are larger and fully formed do they swim back to the reef.
This is a risky breeding strategy, since a large proportion of eggs and fry perish. Females lay almost daily during the spawning period, producing hundreds of thousands of eggs to increase the chances that at least some of their offspring will survive.
Parental care in marine species
Some species, such as clownfish, gobies, and damselfish are egg-depositors. These fish lay their eggs close to the substrate or on the reef, attaching them to rocks or laying them in caves or shells. They produce far fewer eggs than egg-scatterers but ensure a higher survival rate by guarding the eggs until they hatch. The well-formed fry then swim to the surface, where they feed and develop before returning to the reef. Other species, including jawfish (see p.282), are mouthbrooders, collecting the eggs in their mouths and incubating them there. Mouth-brooding species often lay fewer than 50 eggs, simply because they cannot fit any more in their mouths. Sea horses and pipefish carry their eggs.
The female lays her eggs in the male's abdominal pouch, where they are fertilized. The fry hatch in the pouch and emerge as free-swimming young. A few marine species practice internal fertilization and give birth to live young.
Removal of eggs and fry
Eggs and fry make tasty meals for many tank occupants, fish and invertebrates alike, and generally stand a better chance of survival when they are moved to less hostile surroundings. This is not as simple as it sounds. Egg-scatterers spawn at night, so if you are not prepared for the event, most of the eggs may be devoured by the time you check the tank in the morning. If you manage to reach the eggs in time, scoop them out with a cup and transfer them to a hatching/rearing tank. Clownfish and other egg-depositors guard the spawning site, so there is no need to move the eggs, and the protective behavior of the adults is fascinating to watch. If you insist on moving clownfish eggs, avoid exposing them to the air, and do not dislodge them from the rock to which they are attached. The fry hatch tail-first, and if an egg is not firmly glued in place, the fry will be unable to wriggle free of its shell. With its gills still covered by the egg casing, the fish will suffocate.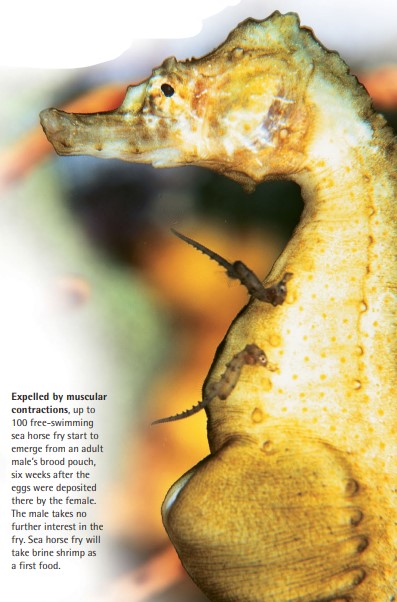 The eggs of clownfish and other egg-depositors typically hatch after dark. If you shine a light on the water's surface, the fry will flock to this spot, and you can collect them in a cup. (Do not use a net, which will damage their delicate fins and gills.) Transfer the fry to a pre-prepared rearing tank, with water conditions identical to those in the main tank. The tank floor should be bare, so that waste food can be removed easily. Place a guard on the heater to protect the fry. Good water flow is vital to oxygenate the water sufficiently and to circulate particles of food. A power filter is unsuitable, since it may trap fry; a sponge filter, supported by an airstone, will be sufficient.
Feeding regimens for young fish
Your breeding efforts will fail if you do not have enough food of the right size for the fry during their first few days. The young fish will be able to consume only tiny food items, which must be evenly distributed throughout the rearing tank at a relatively high density, since the fry are not able to swim far at this early stage in life. In the wild, newly hatched fish eat plankton. Catching plankton is feasible if you live near the sea, but you will need a special net with a mesh of approximately 50 microns. Although this may be appealing because it is a natural feeding option, harvesting plankton from the sea increases the risk of introducing disease into the aquarium.
More commonly, fry are fed on the larvae of marine organisms called rotifers, which you can culture at home. If this is not convenient, use frozen rotifers as an alternative, but always make sure that they are thawed before you add them to the tank. You should be able to see the fry feeding—the young fish will curl their bodies into an S-shape and then lunge at their quarry. As their gut starts to fill up with food, the underside of the body takes on a whitish hue.
A culture of brine shrimp will also need to be set up as a follow-up food. Introduce small amounts of brine shrimp to the diet of the young fish after the first three days or so. Brine shrimp eggs can be bought complete with a hatching kit. When the white stomachs of the fry turn reddish, you will know that they are eating brine shrimp rather than rotifers.
Other foods, including powdered marine flake, can be introduced as the fish grow larger, typically once they start to gain adult coloration. When the young are about 1 ⁄4 in (6 mm) long, they should be transferred to a tank with more effective filtration.
CONDITIONING IN AQUARIUMS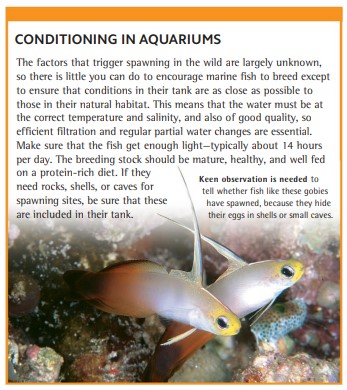 The factors that trigger spawning in the wild are largely unknown, so there is little you can do to encourage marine fish to breed except to ensure that conditions in their tank are as close as possible to those in their natural habitat. This means that the water must be at the correct temperature and salinity, and also of good quality, so efficient filtration and regular partial water changes are essential. Make sure that the fish get enough light—typically about 14 hours per day. The breeding stock should be mature, healthy, and well fed on a protein-rich diet. If they need rocks, shells, or caves for spawning sites, be sure that these are included in their tank.
INVERTEBRATE BREEDING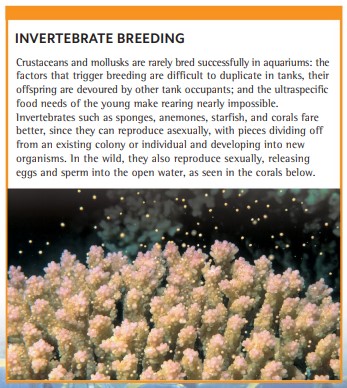 Crustaceans and mollusks are rarely bred successfully in aquariums: the factors that trigger breeding are difficult to duplicate in tanks, their offspring are devoured by other tank occupants; and the ultraspecific food needs of the young make rearing nearly impossible. Invertebrates such as sponges, anemones, starfish, and corals fare better, since they can reproduce asexually, with pieces dividing off from an existing colony or individual and developing into new organisms. In the wild, they also reproduce sexually, releasing eggs and sperm into the open water, as seen in the corals below.
REPRODUCTION IN CLOWNFISH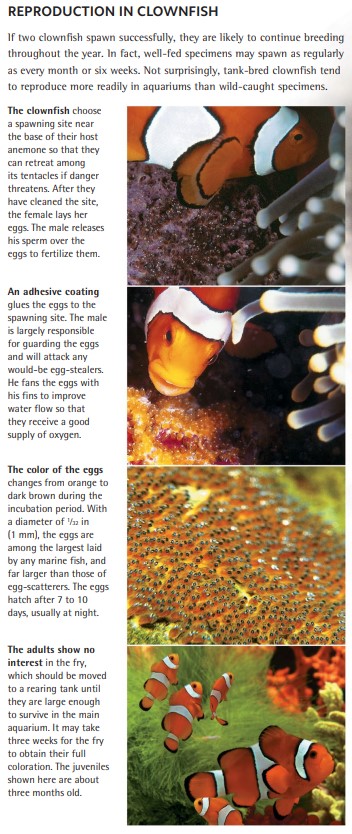 If two clownfish spawn successfully, they are likely to continue breeding throughout the year. In fact, well-fed specimens may spawn as regularly as every month or six weeks. Not surprisingly, tank-bred clownfish tend to reproduce more readily in aquariums than wild-caught specimens.
The clownfish choose a spawning site near the base of their host anemone so that they can retreat among its tentacles if danger threatens. After they have cleaned the site, the female lays her eggs. The male releases his sperm over the eggs to fertilize them.
An adhesive coating glues the eggs to the spawning site. The male is largely responsible for guarding the eggs and will attack any would-be egg-stealers. He fans the eggs with his fins to improve water flow so that they receive a good supply of oxygen.
The color of the eggs changes from orange to dark brown during the incubation period. With a diameter of 1 ⁄32 in (1 mm), the eggs are among the largest laid by any marine fish, and far larger than those of egg-scatterers. The eggs hatch after 7 to 10 days, usually at night.
The adults show no interest in the fry, which should be moved to a rearing tank until they are large enough to survive in the main aquarium. It may take three weeks for the fry to obtain their full coloration. The juveniles shown here are about three months old.
ROTIFERS FOR MARINE FRY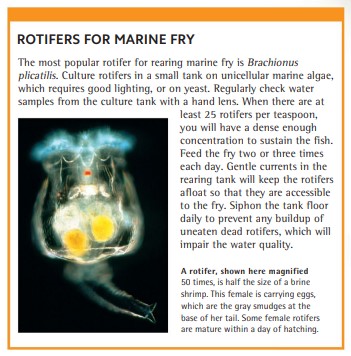 The most popular rotifer for rearing marine fry is Brachionus plicatilis. Culture rotifers in a small tank on unicellular marine algae, which requires good lighting, or on yeast. Regularly check water samples from the culture tank with a hand lens. When there are at least 25 rotifers per teaspoon, you will have a dense enough concentration to sustain the fish. Feed the fry two or three times each day. Gentle currents in the rearing tank will keep the rotifers afloat so that they are accessible to the fry. Siphon the tank floor daily to prevent any buildup of uneaten dead rotifers, which will impair the water quality.

[Ebook] Encyclopedia of Aquarium & Pond Fish – David Alderton (Photo by Max Gibbs)