Introduction to Freshwater Fish
Setting up the tank
Choosing the tank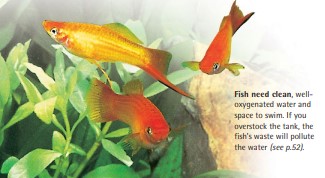 The tank is the most important piece of equipment you will buy, since it provides a home for your fish. Anyone starting out in fishkeeping faces a bewildering array of tanks to choose from, in a wide range of sizes and styles. Your budget and the space available in your home will influence your choice, but always make the welfare of the fish the prime consideration when buying a tank. Never select a tank simply because it looks good.
For fish, living space in an aquarium is at a premium, since the population density in the tank is much greater than in any natural aquatic habitat. Consequently, it is best to opt for the largest tank that you can afford and that space allows. Small tanks are initially cheaper to buy, but they are not necessarily any cheaper to run in the long term. What is more, you may find that your fish rapidly outgrow their accommodation.
Before purchasing your tank, it is worth thinking about the type and number of fish you want to keep and to find out their adult size. The key factor in assessing the correct stocking density of a tank is its surface area, because it is here, at the water–air interface, that gas exchange occurs. The greater the surface area, the more dissolved oxygen there will be in the water, and the more fish the tank will comfortably be able to support. It is usually recommended to allow about 12 sq. in (75 cm2 ) of surface area per 1 in (2.5 cm) of adult fish body length (excluding the caudal fin).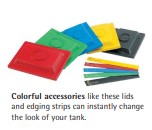 In addition to the surface area, you also need to consider the volume of the tank, since the aquarium needs to provide adequate swimming space for the fish. Allow about 1 gallon of water per inch of adult fish body length (equivalent to about 2 liters per centimeter). When making your calculations, remember to deduct 10 percent of the total tank volume to take account of rockwork and other decor.
Tanks and stands
A typical box-shaped tank is made from panels of glass held together by a special silicone sealant, free from chemicals that may harm fish. The silicone forms a strong, watertight bond and is also flexible, to prevent the panels from being pushed apart by the water pressure. Some aquariums have a protective frame of plastic or metal, although metal is best avoided, since it corrodes. Most tanks come with a hood that contains light fixtures and helps reduce evaporation from the water's surface.
Acrylic tanks are costlier than glass aquariums, but they are much stronger and lighter. Acrylic is also clearer than glass and a better insulator (so the tank loses less heat to the surroundings), but it scratches more easily and is harder to clean. "Plug-and-go" acrylic tanks can be bought with all the electrical equipment already in place, so you can simply add the substrate and decor, fill the tank, and turn on the power. Whether you choose glass or acrylic, the finished tank is likely to be heavy—a 20-gallon (90-liter) tank, for example, can weigh 285 lb (130 kg) when full. Domestic furniture may not be able to bear such loads, so consider buying a stand or cabinet that is designed to take the weight of a full tank.
Second-hand tanks
A more economical way of starting off is to buy a second-hand tank. Always check glass tanks carefully for signs of leakage, and look for any scratches on the inner surface of the glass. Such scratches may seem innocuous at the time of purchase, but they will be unsightly if they later become colonized by algae, and the algae will be virtually impossible to remove. Acrylic tanks need to be inspected closely for scratches, discoloration, and cracks. Electrical equipment, such as a heater or fluorescent tube, is best replaced, and the wiring should be checked by a professional electrician.
TYPES OF TANKS
Today, there are many alternatives to the traditional rectangular design, from tall towers to hexagonal tanks and aquariums with curved surfaces. Often the tank's supporting structure or a cabinet hides all the electrical equipment from view so that all you see is the fish, plants, and substrate.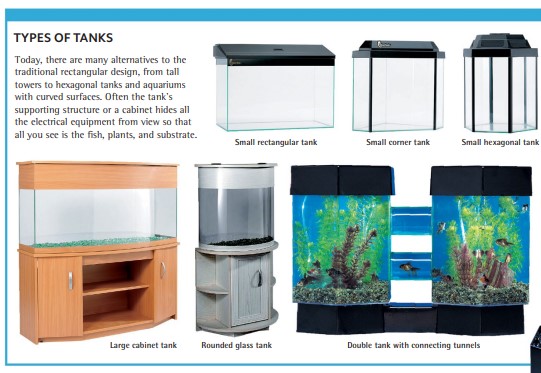 SITING THE TANK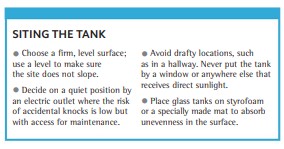 Choose a firm, level surface; use a level to make sure the site does not slope.
Decide on a quiet position by an electric outlet where the risk of accidental knocks is low but with access for maintenance.
Avoid drafty locations, such as in a hallway. Never put the tank by a window or anywhere else that receives direct sunlight.
Place glass tanks on styrofoam or a specially made mat to abs
BUYING AND TRANSPORTING A TANK
Staff at aquarium stores can advise you on the type of tank that will meet your needs. The tips below will enable you to do your own quality checks before purchasing and help you to get the tank home safely.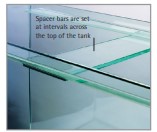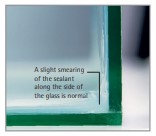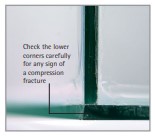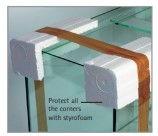 [Ebook] Encyclopedia of Aquarium & Pond Fish – David Alderton (Photo by Max Gibbs)