Introduction to Freshwater Fish
Setting up the tank
Lighting and heating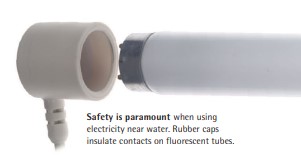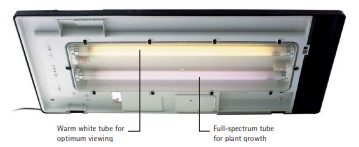 To create a thriving aquarium, the natural requirements of its inhabitants for light and heat must be matched by artificial means. In tropical regions, water temperatures are around 79°F (26°C), changing little from one day to the next, while lighting conditions vary according to environment and time of day. Modern technology allows the optimum conditions to be created with relative ease.
The need for light
Almost all animals are dependent on light, and aquarium fish are no exception. Many species rely on their sense of sight to feed and communicate or use daylight to set their internal clocks, which govern many behavioral and biological processes. Light is vital for the healthy growth of living plants in the tank, and good illumination is necessary for showing fish at their best.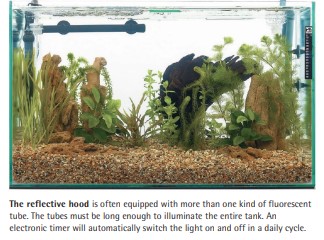 Ordinary tungsten bulbs, suspended over the water, can be used to illuminate a tank. However, they emit large amounts of heat (which causes rapid water evaporation), their light spectrum does not match that needed by plants, and they cast an unattractive yellow pallor over the tank. Today's aquarists are much more likely to use fluorescent tubes, which run cooler and can match the spectral qualities of natural light (see p.207). The tubes are typically housed in a reflector hood, placed on top of the tank. The light housing also plays a useful role as a lid, preventing the escape of heat, moisture, and sometimes even leaping fish, while keeping pets and children's hands out of the aquarium.
The amount of light needed in the tank depends largely on the plant species kept. In general, tanks with many substrate plants need stronger lighting than those with floating plants, and deeper tanks need more than shallow ones. For most tank setups, it is enough to leave the lights on for about 10 hours each day; too long a period of illumination will encourage the growth of algae—not only on the glass, but also on other tank plants, which may cause them to die. Fluorescent tubes should be replaced roughly every 12 months, even if they appear to be working. Light output falls and quality changes with the age of the tube, and although these changes may be imperceptible, they will stress the plants in the tank.
Heating the aquarium
A freshwater aquarium is usually heated to 76–79°F (24.5–26°C) using a thermostatic heater (see box, above). This is a special waterproof electrical heating element that incorporates a thermostat; the thermostat measures water temperature and switches off the heater when the desired level has been reached. The most efficient units are those that can be fully submerged in the water. A high-capacity tank may need two or even three heaters to maintain the target temperature throughout its whole volume, and more heaters may need to be added in the winter months. Even in a smaller tank, using two heaters is a sensible precaution; if one fails, the other will provide the necessary heat. The overall cost of heating the tank will remain the same as if one device were used.
PHOTOSYNTHESIS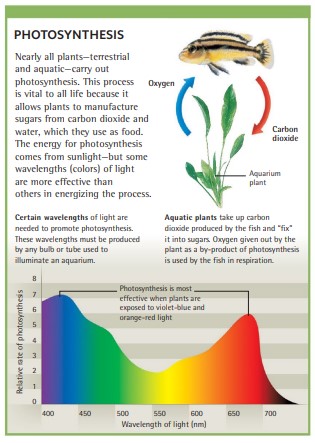 Nearly all plants—terrestrial and aquatic—carry out photosynthesis. This process is vital to all life because it allows plants to manufacture sugars from carbon dioxide and water, which they use as food. The energy for photosynthesis comes from sunlight—but some wavelengths (colors) of light are more effective than others in energizing the process.
Certain wavelengths of light are needed to promote photosynthesis. These wavelengths must be produced by any bulb or tube used to illuminate an aquarium.
Aquatic plants take up carbon dioxide produced by the fish and "fix" it into sugars. Oxygen given out by the plant as a by-product of photosynthesis is used by the fish in respiration.
CHOOSING A HEATER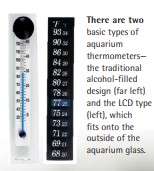 Thermostatic heaters are the most popular and reliable means of heating a tank. They are available in various lengths for aquariums of different depths and in different power (wattage) ratings. Allow about 100 watts for every 26 gallons (100 liters) of water, and choose a unit that can be fully submerged in your tank. Thermostatic heaters keep water temperature constant by switching the heating element on and off repeatedly. For this reason, they have a relatively short life span and should be replaced every two years or so.
Although good-quality heaters are reliable, it is wise to put a separate thermometer in the tank to pick up any irregularities in temperature. This should not be positioned directly above the heater. Thermostatic heaters are suitable for use with most fish, but some aggressive species with razor-sharp teeth, such as piranhas, can cut through electrical cables. For these fish, undergravel heating units, which are not accessible, are preferred.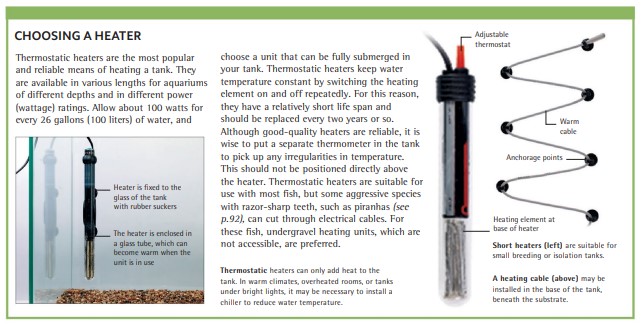 Thermostatic heaters can only add heat to the tank. In warm climates, overheated rooms, or tanks under bright lights, it may be necessary to install a chiller to reduce water temperature.
A heating cable may be installed in the base of the tank, beneath the substrate.
ELECTRICAL SAFETY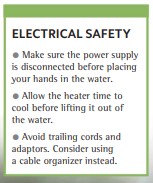 Make sure the power supply is disconnected before placing your hands in the water.
Allow the heater time to cool before lifting it out of the water.
Avoid trailing cords and adaptors. Consider using a cable organizer instead.