Introduction to Freshwater Fish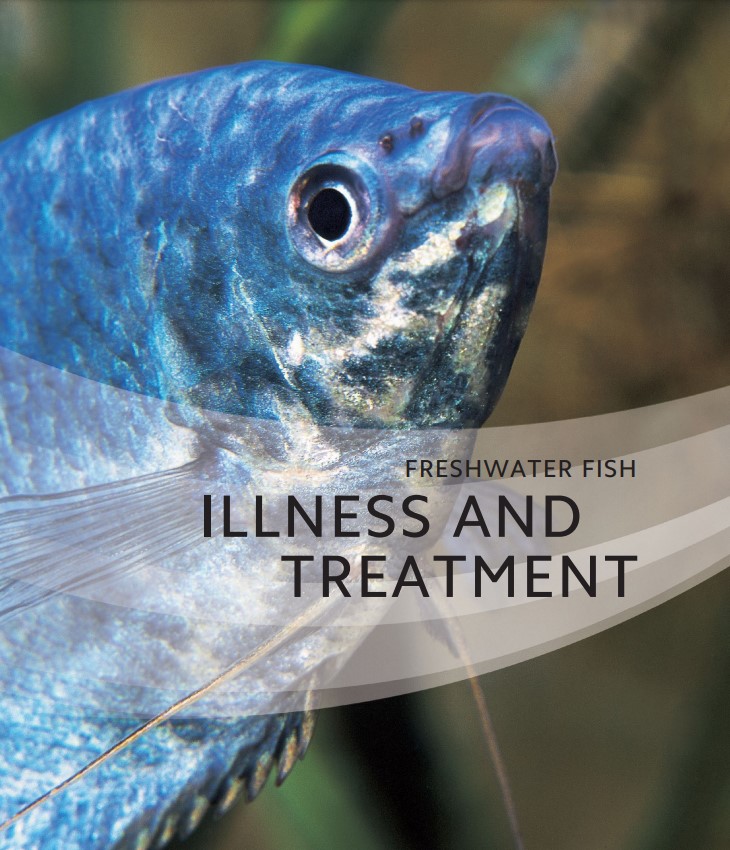 Illness and treatment
Health concerns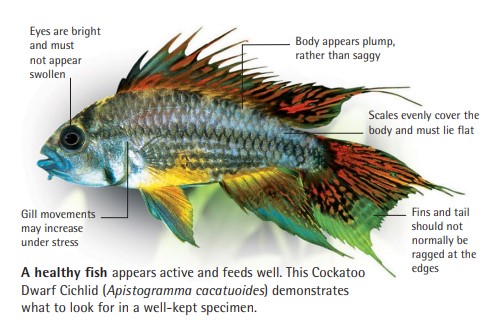 Fish are susceptible to a wide range of bacterial, viral, fungal, and parasitic diseases. The artificial conditions in the aquarium tend to concentrate the risk of disease and increase the speed at which illnesses spread, because fish health is strongly influenced by the quality of the environment. Early intervention can head off many of the most common conditions, but, as with humans, prevention is always better than cure.
Get to know your fish
Most common diseases of aquarium fish are treatable, provided they are identified in their early stages. Later in the course of a disease, obvious symptoms, such as major color changes or large parasites, will become apparent, but it may be too late for successful intervention. The best strategy for disease prevention is therefore close observation; knowing how your fish look, feed, swim, and interact with others allows you to spot subtle changes in appearance and behavior that may signal stress or the early stages of disease.
If you suspect that a fish may be ill, check the tables and attempt a diagnosis. If in doubt, consult an expert at your local aquarium store. Move the affected fish out of the main tank into a hospital tank (see opposite) for further observation and treatment. This will isolate the fish from its tankmates and prevent cross-infection. Always check the quality of water in the tank; dirty or unbalanced water may cause illness directly or put the fish under stress, thus predisposing it to attack by pathogens that may already be in the tank. Most healthy fish carry a natural burden of parasites, but environmental stress may lower the immune resistance of the fish and allow the parasites to multiply.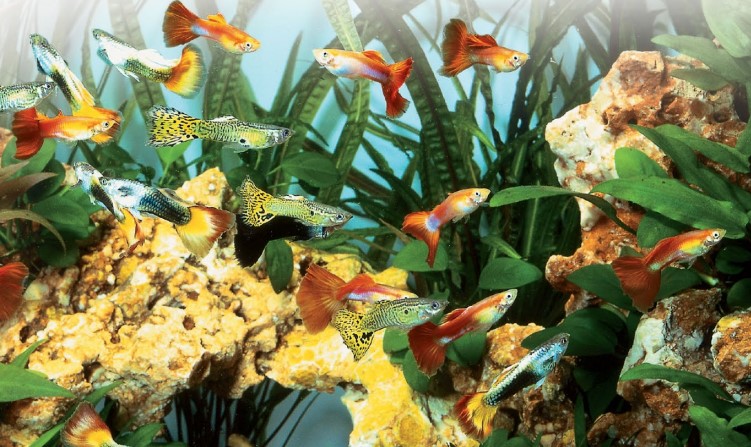 Risk factors
A fish housed alone is less likely to succumb to illness than one in a community aquarium because it is not subject to bullying by tankmates. This often causes minor injuries, such as damaged fins and scales, which may then become infected. Aggression usually increases at the beginning of the spawning period, so a close watch should be kept on fish at this time.
The greatest risks to health occur when fish are introduced to the aquarium. New acquisitions should be held in a simple isolation tank for two weeks before transfer to the main tank, by which time any serious health problems should have emerged. With new fish, it is often helpful to remove all the occupants from the tank, rearrange the tank decor, then introduce new fish together with the previous occupants. This strategy significantly reduces outbreaks of bullying.
Effective treatments
The effective commercial remedies now available treat the great majority of tropical fish conditions; a knowledgeable retailer should be able to guide you to the most suitable one. The treatment may be given in the home tank, in a strippeddown hospital tank, or in a small bath. Carefully follow the instructions given on the medication. Overdosing is likely to be harmful, especially for a fish already weakened by illness; similarly, do not stop the treatment earlier than advised if the fish seems to be recovering. Remember to dechlorinate any water used to make up treatment solutions and make sure it is at the same temperature as that in the main tank, in order to lessen the stress on the fish.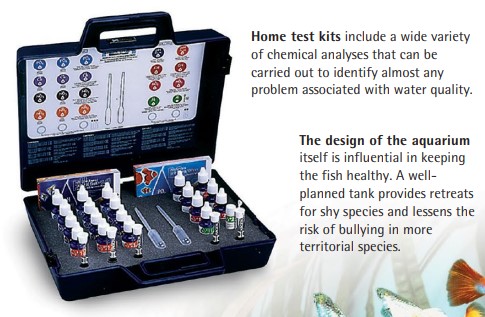 If an outbreak of unspecified disease occurs in an established group of fish (rather than in one individual that can be isolated from the group), regular partial water changes will always help, because they lessen the concentration of disease-causing organisms present.
Some illnesses simply defy treatment. If you need to kill a fish painlessly, carefully cut through the spinal cord behind the head with a sharp knife or take it to your veterinarian. Never be tempted to flush a fish—living or dead—down the drain.
WHITE SPOT
Protozoan parasitic infections, such as white spot (also known as "ich"), spread fast within the aquarium. The life cycles of the parasites are completed rapidly, and thousands more can be produced in a single cycle.
Tomites in the water find new fish to attack
White spots on the fish's body contain mature protozoan parasites
The spots rupture, releasing parasites into the water
Parasites form cysts
Cysts sink and attach to the aquarium floor
Each cyst can produce up to 1,000 tomites, which are the free-swimming form of the parasite
The cysts break open, releasing tomites into the aquarium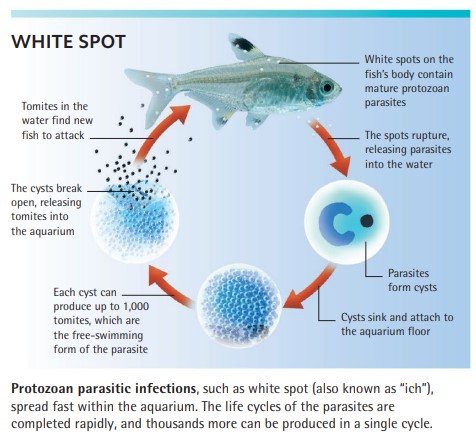 ISOLATION AND MEDICATION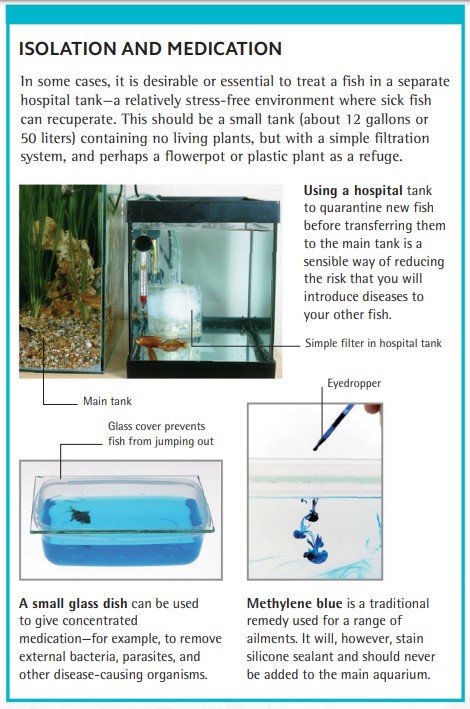 In some cases, it is desirable or essential to treat a fish in a separate hospital tank—a relatively stress-free environment where sick fish can recuperate. This should be a small tank (about 12 gallons or 50 liters) containing no living plants, but with a simple filtration system, and perhaps a flowerpot or plastic plant as a refuge.
Using a hospital tank to quarantine new fish before transferring them to the main tank is a sensible way of reducing the risk that you will introduce diseases to your other fish.
A small glass dish can be used to give concentrated medication—for example, to remove external bacteria, parasites, and other disease-causing organisms.
Methylene blue is a traditional remedy used for a range of ailments. It will, however, stain silicone sealant and should never be added to the main aquarium.
HUMAN HEALTH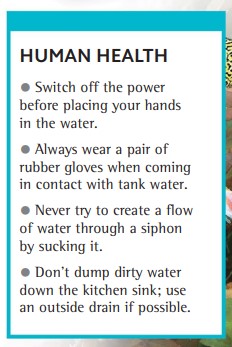 Switch off the power before placing your hands in the water.
Always wear a pair of rubber gloves when coming in contact with tank water.
Never try to create a flow of water through a siphon by sucking it.
Don't dump dirty water down the kitchen sink; use an outside drain if possible.
DIAGNOSIS OF COMMON PROBLEMS
It is not always easy to distinguish between the different ailments that can affect tropical fish, especially in their early stages. Diagnosis may be further complicated by the fact that more than one infective agent is often responsible for the visible symptoms. For example, when a fish develops white spot, bacteria and fungi may gain access to the body at the site where the parasites initially attacked, confusing the diagnostic picture.
The tables on the following pages will help you diagnose the most common conditions affecting freshwater species and point you toward appropriate treatments. First, in the table below, identify the part of the fish's body that appears to be affected. Next, find the signs of illness that most closely match those displayed by the fish. Note the number(s) associated with the relevant signs and refer to pages 57 and 58 for a fuller description of the possible conditions and their treatment.
EYES – SIGNS OF DISEASE

One or both eyes appear to be bulging abnormally from their sockets (5), (9), (12)
Bulging eye or eyes, accompanied by loss of appetite and color change (1)
One or both eyes have a cloudy appearance in the central pupillary area (1)
One or both eyes missing from their sockets, with no other obvious physical symptoms or behavioral abnormalities (1)
Area around the eyes becomes abnormally white (9)
Eyes develop a glazed appearance, and the fish has difficulty coordinating its movements (23)
SKIN – SIGNS OF DISEASE

Skin loses its color, becoming paler than normal, and the fish appears less active than usual (15), (19)
Growth resembling cotton fluff appears on an area of the body or on a fin (3), (7)
White, pus-filled pores develop near the head, becoming ulcerated. Whitish feces may hang from the body (14)
Skin has a more slimy appearance than normal (13), (16), (17), (18), (19)
Straggly pieces resembling cotton appear to trail down from the sides of the body (17)
Strangely shaped blemishes become evident on the sides of the body (6), (17)
FINS – SIGNS OF DISEASE

Fins develop an abnormally ragged appearance, especially evident in the caudal fin (2)
Red streaks start to develop in the fins, which appear to be congested with blood (2), (5)
Areas missing from the fins; especially evident in fish with unusually long fins (24)
White spots appear over the surface of the fins as well as on the body (13)
Fins are clamped down against the body, making it difficult for the fish to swim normally (21), (23)
Splits develop in the fins, vertically in the dorsal fin and more horizontally in the caudal fin (24)
COLOR – SIGNS OF DISEASE

Fish becomes paler in color and loses its appetite (15), (19)
Reddish areas become evident on various parts of the body, including the mouth, anal region, and bases of the fins (5), (6)
Body develops a yellowish-gray cast, which extends to the fins as well as the body (18)
Body color alters, with markings appearing less defined than normal (1), (13), (16), (17), (18), (19)
Pale areas develop on the head (14)
Eggs develop an abnormal cloudy, milky appearance, especially if infertile (8)
SHAPE – SIGNS OF DISEASE

Abdominal area swells significantly, to the extent that the fish has difficulty swimming (1), (12)
One or more unusual swellings appear anywhere on the surface of the fish's body (9), (16)
Fish undergoes a progressive loss of weight, in spite of the fact that it appears to have a healthy appetite (1)
Surface of the body erodes, forming ulcers (5), (6), (13), (14), (17), (18)
Fish's profile alters, with its belly area starting to bulge noticeably upward, indicating emaciation (1), (14)
BEHAVIOR – SIGNS OF DISEASE

Fish starts to spend longer than normal at the surface of the tank, sometimes hanging there at an abnormal angle (16), (20)
Gill movements become very apparent, causing the fish to appear as if it is gasping (16), (20)
Fish starts to rub itself against rockwork and other objects in the aquarium (13), (16), (17), (18), (19)
Loss of appetite, with the fish becoming less active, and lying on the floor of the aquarium (5), (6), (9), (10), (11)
One individual starts to be picked on by other fish in the tank and starts to hide away (1), (15)
Fish begins to swim at a strange angle in the tank, sometimes even upside down (4), (19)
BACTERIAL DISEASES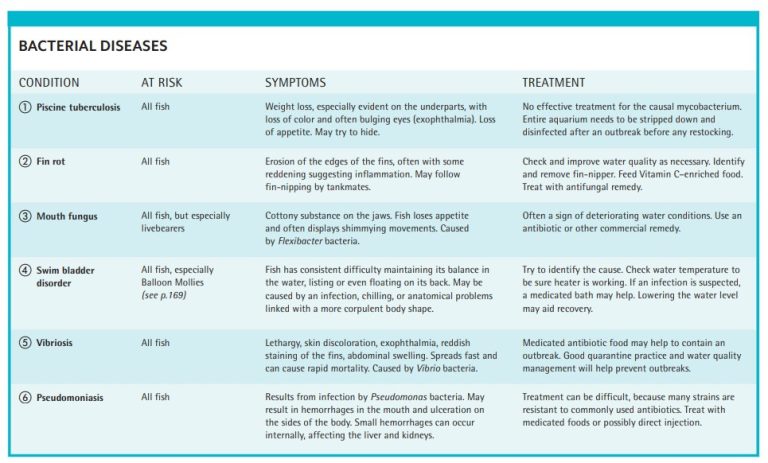 1 – Piscine tuberculosis – All fish – Weight loss, especially evident on the underparts, with loss of color and often bulging eyes (exophthalmia). Loss of appetite. May try to hide. – No effective treatment for the causal mycobacterium. Entire aquarium needs to be stripped down and disinfected after an outbreak before any restocking.
2 – Fin rot – All fish – Erosion of the edges of the fins, often with some reddening suggesting inflammation. May follow fin-nipping by tankmates. – Check and improve water quality as necessary. Identify and remove fin-nipper. Feed Vitamin C–enriched food. Treat with antifungal remedy
3 – Mouth fungus – All fish, but especially livebearers – Cottony substance on the jaws. Fish loses appetite and often displays shimmying movements. Caused by Flexibacter bacteria. – Often a sign of deteriorating water conditions. Use an antibiotic or other commercial remedy
4 – Swim bladder disorder – All fish, especially Balloon Mollies – Fish has consistent difficulty maintaining its balance in the water, listing or even floating on its back. May be caused by an infection, chilling, or anatomical problems linked with a more corpulent body shape. – Try to identify the cause. Check water temperature to be sure heater is working. If an infection is suspected, a medicated bath may help. Lowering the water level may aid recovery.
5 – Vibriosis – All fish – Lethargy, skin discoloration, exophthalmia, reddish staining of the fins, abdominal swelling. Spreads fast and can cause rapid mortality. Caused by Vibrio bacteria. – Medicated antibiotic food may help to contain an outbreak. Good quarantine practice and water quality management will help prevent outbreaks.
6 – Pseudomoniasis – All fish – Results from infection by Pseudomonas bacteria. May result in hemorrhages in the mouth and ulceration on the sides of the body. Small hemorrhages can occur internally, affecting the liver and kidneys. – Treatment can be difficult, because many strains are resistant to commonly used antibiotics. Treat with medicated foods or possibly direct injection.
FUNGAL AND VIRAL DISEASES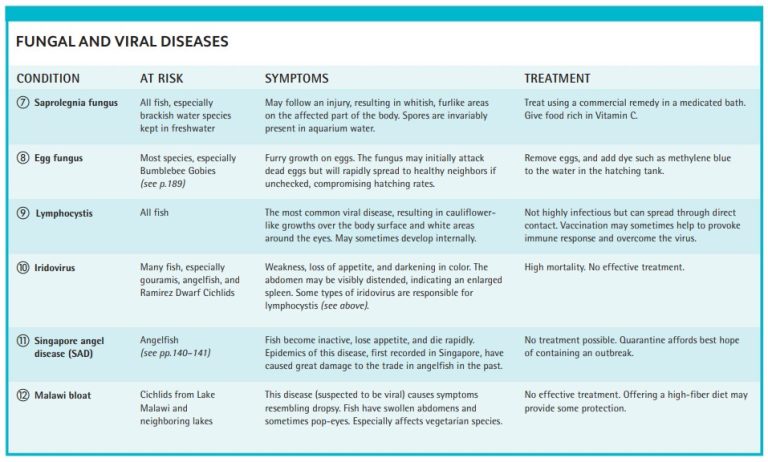 7 – Saprolegnia fungus – All fish, especially brackish water species kept in freshwater – May follow an injury, resulting in whitish, furlike areas on the affected part of the body. Spores are invariably present in aquarium water. – Treat using a commercial remedy in a medicated bath. Give food rich in Vitamin C.
8 – Egg fungus – Most species, especially Bumblebee Gobie – Furry growth on eggs. The fungus may initially attack dead eggs but will rapidly spread to healthy neighbors if unchecked, compromising hatching rates. – Remove eggs, and add dye such as methylene blue to the water in the hatching tank.
9 – Lymphocystis – All fish – The most common viral disease, resulting in cauliflowerlike growths over the body surface and white areas around the eyes. May sometimes develop internally – Not highly infectious but can spread through direct contact. Vaccination may sometimes help to provoke immune response and overcome the virus.
10 – Many fish, especially gouramis, angelfish, and Ramirez Dwarf Cichlids – Weakness, loss of appetite, and darkening in color. The High mortality. No effective treatment. abdomen may be visibly distended, indicating an enlarged spleen. Some types of iridovirus are responsible for lymphocystis (see above). – High mortality. No effective treatment.
11 – Singapore angel disease (SAD) – Angelfish – Fish become inactive, lose appetite, and die rapidly. Epidemics of this disease, first recorded in Singapore, have caused great damage to the trade in angelfish in the past. – No treatment possible. Quarantine affords best hope of containing an outbreak.
12 – Cichlids from Lake Malawi and neighboring lakes – This disease (suspected to be viral) causes symptoms resembling dropsy. Fish have swollen abdomens and sometimes pop-eyes. Especially affects vegetarian species. – No effective treatment. Offering a high-fiber diet may provide some protection.
PARASITES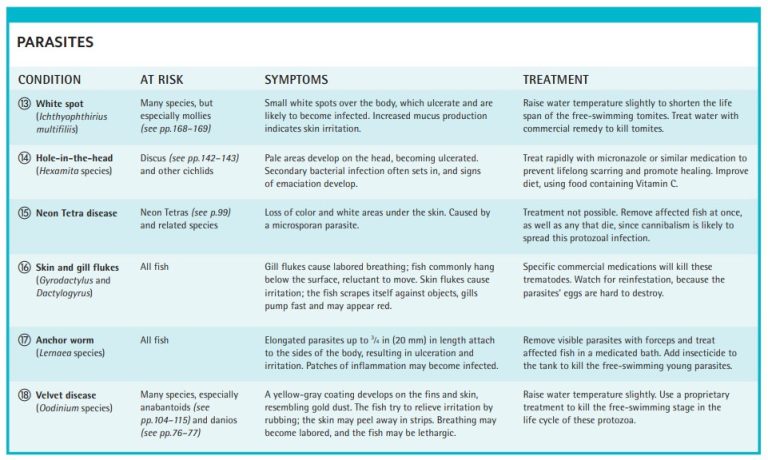 13 – White spot (Ichthyophthirius multifiliis) – Many species, but especially mollies – Small white spots over the body, which ulcerate and are likely to become infected. Increased mucus production indicates skin irritation. – Raise water temperature slightly to shorten the life span of the free-swimming tomites. Treat water with commercial remedy to kill tomites.
14 – Hole-in-the-head (Hexamita species) – Discus and other cichlids – Pale areas develop on the head, becoming ulcerated. Secondary bacterial infection often sets in, and signs of emaciation develop. – Treat rapidly with micronazole or similar medication to prevent lifelong scarring and promote healing. Improve diet, using food containing Vitamin C.
15 – Neon Tetra disease – Neon Tetras and related species – Loss of color and white areas under the skin. Caused by a microsporan parasite. – Treatment not possible. Remove affected fish at once, as well as any that die, since cannibalism is likely to spread this protozoal infection.
16 – Skin and gill flukes (Gyrodactylus and Dactylogyrus) – All fish – Gill flukes cause labored breathing; fish commonly hang below the surface, reluctant to move. Skin flukes cause irritation; the fish scrapes itself against objects, gills pump fast and may appear red. – Specific commercial medications will kill these trematodes. Watch for reinfestation, because the parasites' eggs are hard to destroy.
17 – Anchor worm (Lernaea species) – All fish – Elongated parasites up to 3/4 in (20 mm) in length attach to the sides of the body, resulting in ulceration and irritation. Patches of inflammation may become infected. – Remove visible parasites with forceps and treat affected fish in a medicated bath. Add insecticide to the tank to kill the free-swimming young parasites.
18 – Velvet disease (Oodinium species) – Many species, especially anabantoids and danios – A yellow-gray coating develops on the fins and skin, resembling gold dust. The fish try to relieve irritation by rubbing; the skin may peel away in strips. Breathing may become labored, and the fish may be lethargic. – Raise water temperature slightly. Use a proprietary treatment to kill the free-swimming stage in the life cycle of these protozoa.
ENVIRONMENTAL CONDITIONS AND INJURIES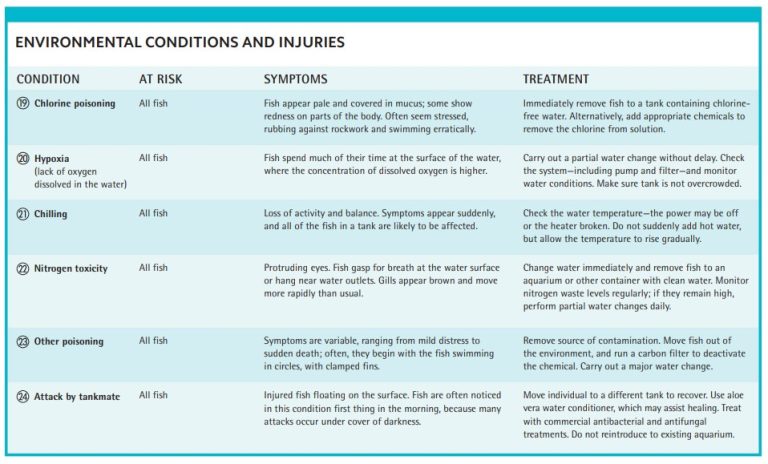 19 – Chlorine poisoning – All fish – Fish appear pale and covered in mucus; some show redness on parts of the body. Often seem stressed, rubbing against rockwork and swimming erratically. – Immediately remove fish to a tank containing chlorinefree water. Alternatively, add appropriate chemicals to remove the chlorine from solution.
20 – Hypoxia (lack of oxygen dissolved in the water) – All fish – Fish spend much of their time at the surface of the water, where the concentration of dissolved oxygen is higher. – Carry out a partial water change without delay. Check the system—including pump and filter—and monitor water conditions. Make sure tank is not overcrowded.
21 – Chilling – All fish – Loss of activity and balance. Symptoms appear suddenly, and all of the fish in a tank are likely to be affected. – Check the water temperature—the power may be off or the heater broken. Do not suddenly add hot water, but allow the temperature to rise gradually
22 – Nitrogen toxicity – All fish – Protruding eyes. Fish gasp for breath at the water surface or hang near water outlets. Gills appear brown and move more rapidly than usual. – Change water immediately and remove fish to an aquarium or other container with clean water. Monitor nitrogen waste levels regularly; if they remain high, perform partial water changes daily.
23 – Other poisoning – All fish – Symptoms are variable, ranging from mild distress to sudden death; often, they begin with the fish swimming in circles, with clamped fins. – Remove source of contamination. Move fish out of the environment, and run a carbon filter to deactivate the chemical. Carry out a major water change.
24 – Attack by tankmate – All fish – Injured fish floating on the surface. Fish are often noticed in this condition first thing in the morning, because many attacks occur under cover of darkness. – Move individual to a different tank to recover. Use aloe vera water conditioner, which may assist healing. Treat with commercial antibacterial and antifungal treatments. Do not reintroduce to existing aquarium.