Introduction to Freshwater Fish
Setting up the tank
Choosing plants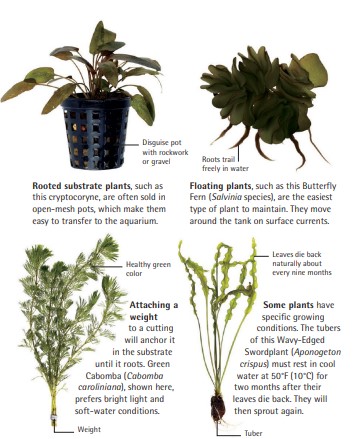 Plants play a key role in the aquarium, offering shade and shelter so that fish feel secure and providing food for herbivorous species. Thriving freshwater plants will restrict algal growth and help to improve the water conditions by absorbing nitrate and giving off oxygen. With hundreds of different colors, leaf shapes, and sizes available, there is endless scope for you to exercise your creative powers in the design of your aquarium.
It is best to devise a rough planting plan before making any purchases. The standard approach is to have one or two eyecatching central plants toward the back of the tank, with taller plants flanking these and extending around the sides. Low-growing foreground plants will give your aquascape a more natural look while still allowing you to appreciate the fish and the background flora. Floating plants add another tier of interest and create attractive dappled shadows below.
When choosing plants, make sure they have requirements similar to those of the fish that will live in the tank. For example, not all plants will thrive in the hard water needed by Rift Valley cichlids, nor in brackish surroundings. The behavior of the fish should also influence your choice. Include bushy plants for nervous fish that like to hide in thick vegetation and broadleaved plants for shade-loving bottom dwellers. Floating plants provide a refuge for fry and spawning sites for bubble nesters, such as gouramis. If the fish like to dig in the substrate, position substrate plants behind tank décor, where they are less likely to be uprooted.
Rooted substrate plants, such as this cryptocoryne, are often sold in open-mesh pots, which make them easy to transfer to the aquarium
Floating plants, such as this Butterfly Fern (Salvinia species), are the easiest type of plant to maintain. They move around the tank on surface currents.
Attaching a weight to a cutting will anchor it in the substrate until it roots. Green Cabomba (Cabomba caroliniana), shown here, prefers bright light and soft-water conditions.
Some plants have specific growing conditions. The tubers of this Wavy-Edged Swordplant (Aponogeton crispus) must rest in cool water at 50°F (10°C) for two months after their leaves die back. They will then sprout again.
Establishing new plants
After buying plants, return them to water as soon as possible; allowing the leaves to dry out, even for a short time, may fatally damage the plant. Leaves also become bruised by careless handling, so hold the plant by its base or container. Check leaves for snail eggs, which are laid in jellylike masses, and trim off affected parts, along with dead or dying leaves.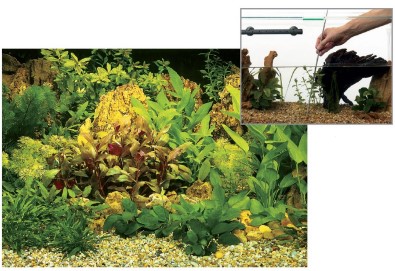 Floating plants usually make a trouble-free transition to new surroundings, but do not allow condensation from the hood to drip on them—this will cause the plants to blacken and rot. Rooted substrate plants also establish themselves quickly, but you should constrain their root growth with pots; otherwise, the undergravel filtration will be impaired. Some substrate plants are sold as bunches of cuttings, which need to be separated and planted individually to give them space to grow. Other plants are available as swollen stems, called rhizomes and tubers, that you partially bury in the substrate, leaving any shoots uncovered. Rhizomes can be cut into slices, each of which will root. Tubers cannot be divided like this, since they have only one growing point. If an established tuberous plant is moved elsewhere, some of its leaves may die back, but provided the water and lighting conditions in the tank are favorable, it should soon recover.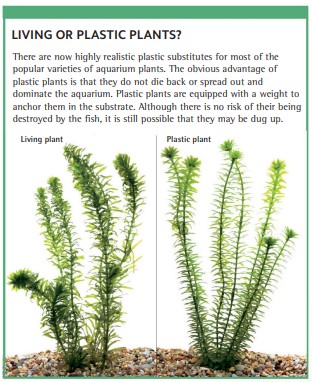 Care and maintenance
Plants need nutrients for growth. They obtain many of these nutrients from the water, but adding aquarium fertilizer will ensure that they stay healthy. Rich in potassium, phosphorus, iron, and other elements, this fertilizer is available as pellets, which can be buried beside a plant, or as a liquid that is added to the tank water. Another way to boost the growth of plants is to place them in pots of enriched aquarium soil and then sink the pots into the gravel. Never use regular plant potting mix or garden compost, which will poison the fish.
BUYING TIPS
Check plants for signs of damage, such as crushed stems or leaves.
Avoid yellowing plants, which may be suffering from nutrient deficiencies.
Plants that do not permanently grow under water are unsuitable, since they will soon begin to rot.
Choose plants with lighting needs similar to the fish's.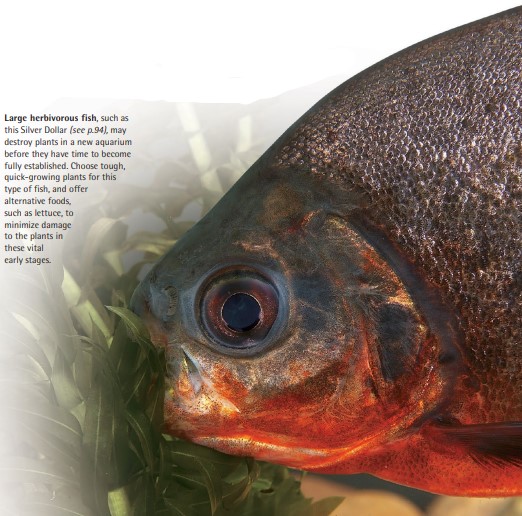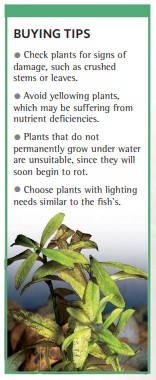 Plants, like fish, benefit from an efficient filtration system, especially fine-leaved varieties, which can become clogged with suspended material. In addition, the gentle currents created by a power filter help to keep the foliage moving, to ensure that no part of the plant is permanently shaded. When the plants are established, you will periodically need to cut back excessive growth or prune straggly plants to encourage new shoots and a better overall shape.