Introduction to Freshwater Fish
Setting up the tank
Brackish water
The conditions encountered by fish living in estuaries and mangroves, where fresh water and saltwater meet, can be recreated in a brackish water aquarium. The equipment required is much the same as for freshwater aquariums, but the substrate is usually sandy, so power filters are more appropriate than undergravel systems.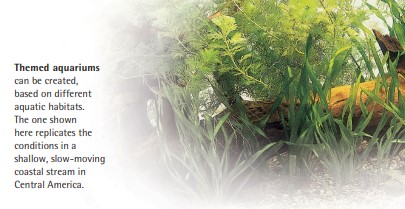 The water in a brackish aquarium requires a salinity level, expressed in terms of specific gravity (SG), of 1.002–1.007 (marine aquariums have a salinity of at least SG 1.020). To achieve this, dissolve the appropriate amount of marine salt in dechlorinated tap water, before filling the tank.
The movement of water within the tank caused by the filter and heater will ensure an even concentration throughout the aquarium. Salinity increases as water evaporates from the tank, so when topping off to replace lost water, use dechlorinated tap water rather than saltwater to keep the salinity within the desired range. For significant partial water changes carried out during routine maintenance, use salinated water.
It is important that the tank used for a brackish water aquarium is either all-glass or acrylic, with no metal surround. This is because saltwater rapidly corrodes metal, and any corrosion in the tank pollutes the water and can harm the fish.
CREATING A MANGROVE TANK
This fascinating habitat—part water, part land—requires young mangrove plants, which can be bought from aquatic nurseries. Pot the mangrove shoots to restrict their root growth. You may need to prune them when they start to spread across the tank. Use aquarium sand rather than gravel for the substrate, and keep the water level low to mimic the tidal shallows of a mangrove swamp. A thermostatic heater will not work with the low water level, so use a heating cable (see p.33) and a thermostat.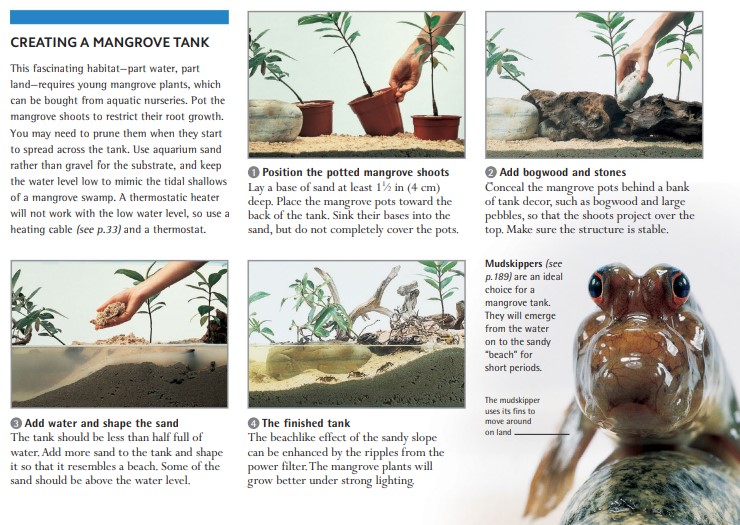 Position the potted mangrove shoots
Lay a base of sand at least 1 1/2 in (4 cm) deep. Place the mangrove pots toward the back of the tank. Sink their bases into the sand, but do not completely cover the pots.
Add bogwood and stones
Conceal the mangrove pots behind a bank of tank decor, such as bogwood and large pebbles, so that the shoots project over the top. Make sure the structure is stable.
Add water and shape the sand
The tank should be less than half full of water. Add more sand to the tank and shape it so that it resembles a beach. Some of the sand should be above the water level.
The finished tank
The beachlike effect of the sandy slope can be enhanced by the ripples from the power filter. The mangrove plants will grow better under strong lighting.