Introduction to FISHKEEPING
Diversity
Fish have colonized almost every aquatic environment on the planet. Blackfin Icefish inhabit the freezing depths of the Antarctic Ocean, while Desert Pupfish thrive at over 104°F (40°C) in pools in the Nevada Desert. The huge diversity of fish habitats worldwide has driven the evolution of the countless shapes, sizes, and colors that make fish so fascinating to keep.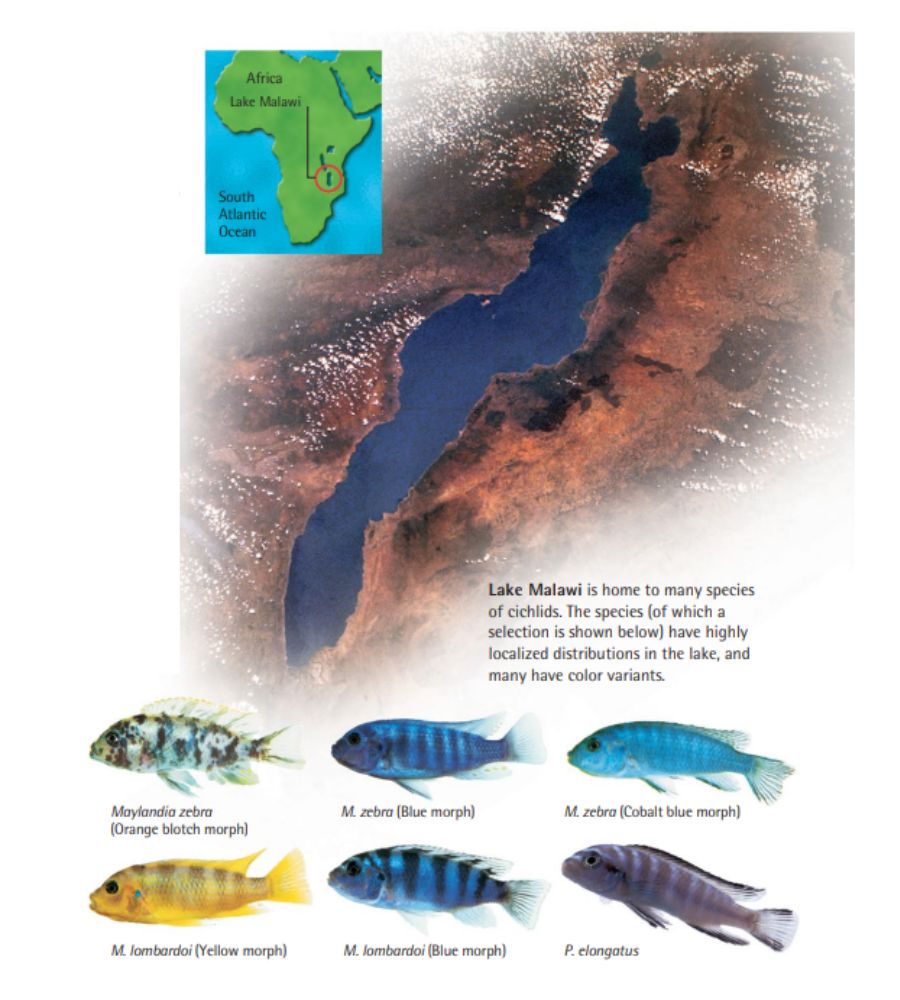 List of Cichlids on picture above:
Maylandia zebra (Orange blotch morph)
Maylandia zebra (Blue morph)
Maylandia zebra (Cobalt blue morph)
Maylandia lombardoi (Yellow morph)
Maylandia lombardoi (Blue morph)
P. elongatus
The observed diversity in the appearance of fish is the product of millions of years of evolution. Imperceptibly, the forces of natural selection have shaped every fish's external form, internal anatomy, and behavior to deal with the challenges of its own very particular environment; in the process, they have created thousands of living species of fish in the world's seas and fresh waters. Most species are created by geographical separation; this occurs when one population of fish becomes fragmented into two or more smaller groups. Natural selection works on each group in slightly different ways and changes them so that if members of both groups meet again, they are too different to interbreed. By definition, a new species has been created.

Lake Malawi is home to many species of cichlids. The species (of which a selection is shown below) have highly localized distributions in the lake, and many have color variants.Coral reefs are highly varied habitats —they have been called the tropical rain forests of the seas. They are areas of extremely high species diversity, for both fish and invertebrates.
Mangrove forests, where fresh- and saltwater habitats merge, are the natural home of a number of aquarium species, such as mudskippers and Archer Fish.
The Amazon is the world's largest river, measured by volume. Seasonal flooding of this vital fish habitat enriches the water with food and acts as a trigger for breeding.
Human activity has damaged or reduced many natural fish habitats. Some species, however, benefit from agriculture, spreading into drainage ditches and paddy fields.
Of the 25,000 living species of fish, about 60 percent are marine—a surprisingly low proportion given the extent of the world's oceans compared to its fresh waters. This is equivalent to one species for every 24,000 cubic miles (100,000 km3 ) of sea water, compared to one species for every 31 ⁄2 cubic miles (15 km3 ) of fresh water. The diversity of freshwater fish relative to the size of their habitat is due to the ease with which groups of fish can become separated and geographically isolated in rivers and pools, compared with the sea.
Geography and species formation
There is no better example of diversification and species formation than Lake Malawi in Africa's Great Rift Valley. Created about two million years ago by a geological fault, the 365-mile- (584-km-) long lake is today home to more than 1,600 species of cichlids—more than occur in all of the rest of Africa. It is thought that all these cichlids developed from just one or two ancestral species, which entered the lake at the time it was formed. The early lake cichlids adapted to the entire range of different habitats that they encountered in the lake. Some became predators; others plant eaters. Some became restricted to the shoreline; others occupied the depths of the lake. Some grew to large sizes; others diminished. They also diversified in their breeding habits, some species scattering their eggs, others displaying a long period of parental care. By dividing up the biological "niches" available in the lake, the cichlids were able to explode in number, without directly competing with one another for limited resources.
BODY SHAPES
Fish occur in a wide range of different shapes, which usually relate to their lifestyle. Surface-dwelling fish, for example, have flattened backs and upturned mouths so that they can grab floating food. Body shape may, however, change with age. The discus, for example, has a compact body when young; it attains its flattened shape only at several months of age.

A Spotted Moray Eel (Gymnothorax moringa) hides in its lair. The body shape of this hunter means it can hide away in caves or under rocks, from where it can ambush prey.
A discus slips through dense weed to escape a predator. Its tall, narrow shape is typical of species that live in slowmoving waters. Fast currents would make swimming difficult for this fish.
A Pipefish (Syngnathoides sp.) drifts in a bed of sea grass, perfectly camouflaged by its shape and color. It even holds its body at a slight angle to accurately mimic the sea grass.
Flatfish spend their lives on or near the substrate. They have asymmetrical bodies, with both eyes on the same side of the head. They are able to burrow into the substrate, hiding most of the body.