Directory of Marine Fish
Sponges and Anemones
These invertebrates are an integral part of the reef ecosystem. Anemones are soft-bodied creatures with flowing, stinging tentacles for catching prey. Sponges have a more rigid body structure and are filter-feeders. Both are sometimes known as sessile invertebrates because, like corals, they anchor themselves to the reef. Sponges build up their body casing from minerals, such as calcium and silica, combined with a jellylike substance called spongin. As a sponge grows, it is possible to take off pieces and establish these "cuttings" elsewhere. Anemones reproduce either sexually or asexually, depending on the species.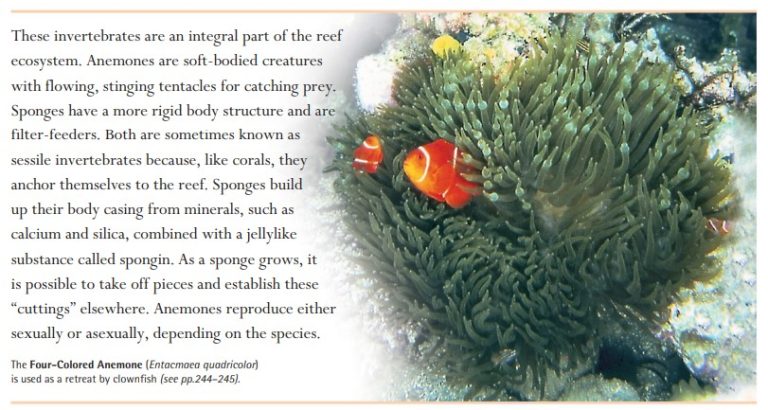 Cerianthus (Pachycerianthus species)
ORIGINS: The western Pacific, notably from Singapore north to the Philippines.
SIZE: 12 in (30 cm).
DIET: Meat-based foods. Drop food on the anemone once or twice a week.
WATER: Temperature 77–79°F (25–26°C); alkaline (pH 8.1–8.3) with SG 1.020–1.024.
This anemone constructs a protective tube from mucus and sand. During the day, the anemone retreats into the tube, anchored in the substrate. At night, it preys on crustaceans and slowswimming fish. In the aquarium, avoid housing it with creatures such as seahorses, which it will eat. Site it away from corals and other anemones, and take care not to touch its stinging tentacles.
Orange Cup Sponge (Axinella species)
ORIGINS: Widely distributed throughout the Indo-Pacific region, including off Sri Lanka and Indonesia.
SIZE: 6 in (15 cm).
DIET: Invertebrate food. Will also take puréed shrimp and mussels.
WATER: Temperature 77–79°F (25–26°C); alkaline (pH 8.1–8.3) with SG 1.020–1.024
Orange Cups will not thrive in silt, and their tank needs a relatively strong current to prevent debris from building up in the cup. Their shape also makes them vulnerable to being choked by algae. If the cup's rim is paler than the rest of the sponge, it has dried out at some point previously. This will prove fatal in the long run, so avoid such specimens.
Pink-Tipped Anemone (Condylactis gigantea)
ORIGINS: Ranges widely throughout the Caribbean and western Atlantic, reaching Bermuda and Brazil.
SIZE: 16 in (40 cm).
DIET: Meat-based foods. Typically requires feeding every two days or so.
WATER: Temperature 77–79°F (25–26°C); alkaline (pH 8.1–8.3) with SG 1.020–1.024.
These anemones vary naturally in color; those with purplish tentacles tend to be more popular than pale-tentacled specimens. Preferring bright light, they are ideal for a reef tank, where they will anchor themselves in rocky crevices. They fare well in dimmer light, too, so they can be included in a setup intended primarily for fish. Pale dots on the tentacles indicate the positions of stinging cells.
Elephant Ears (Rhodactis species)
ORIGINS: Distribution extends from the central part of the Indo-Pacific as far south as Australia.
SIZE: 8 in (20 cm).
DIET: May prey on brine shrimp. Will also consume some meat-based foods.
WATER: Temperature 77–79°F (25–26°C); alkaline (pH 8.1–8.3) with SG 1.020–1.024.
This flattened, disklike anemone has very short tentacles and resembles a coral. Unlike true stony corals, it lacks a hard body casing. Also, each anemone body is separate, while coral polyps are joined. Elephant Ears contains symbiotic bacteria that provide it with food when they photosynthesize. It needs strong light to thrive and benefits from water movement in the tank.
Red Tree Sponge (Amphimedon compressa)
ORIGINS: Widely distributed throughout the waters of the Caribbean.
SIZE: 8 in (20 cm).
DIET: Plankton or puréed food. Will need feeding every day or two.
WATER: Temperature 77–79°F (25–26°C); alkaline (pH 8.1–8.3) with SG 1.020–1.024.
Despite its name, the Red Tree Sponge is often pinkish rather than red. This paler hue is not a reflection of poor health, because this species varies naturally in coloration. What is likely to be a sign of ill-health, however, is the appearance of white patches on the body—the coloration should be uniform. Red Tree Sponges require dimly lit surroundings. They feed on microscopic plankton, so they must be placed in a current to ensure that food is wafted to them. Under no circumstances should these sponges be allowed to dry out when they are being moved, since this can prove fatal. It is also not advisable to introduce these or other sponges to a recently established reef aquarium, which is unlikely to contain enough natural food for them. When purchasing a Red Tree Sponge, especially a large specimen, check that there are no tiny crustaceans lurking among its branches.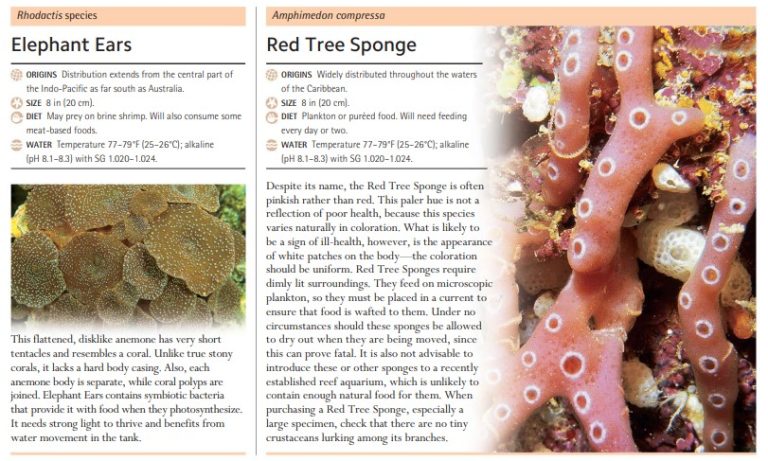 COLONIAL LIFE
Some anemones, such as these Yellow Indonesian Polyps (Parazoanthus sp.), live in colonies. They are vulnerable to predators, such as marine angelfish (see pp.252–255), when their tentacles are exposed (below right). If danger approaches, an anemone will pull its tentacles into its body (below left). One advantage of communal living is that when one anemone withdraws its tentacles, all its neighbors are instantly alerted to the threat. The length of the extended tentacles gives an insight into the health of the colony. Shortened tentacles suggest poor water quality, ill-health, or individuals that have recently inflicted a sting. All the anemones in a colony are likely to be clones of one another. They reproduce asexually, sending out runners that develop into new anemones, enabling the colony to grow in size.
Magnificent Anemone (Heteractis magnifica)
ORIGINS: Ranges throughout the Indo-Pacific region, from the Red Sea eastward as far as Samoa.
SIZE: 40 in (100 cm).
DIET: Meat-based foods. Avoid overfeeding, which will impair water quality.
WATER: Temperature 77–79°F (25–26°C); alkaline (pH 8.1–8.3) with SG 1.020–1.024.
The body of this anemone ranges from purplishpink to white and even avocado green, although much of it is hidden by the tentacles, which are typically over 3 in (7.5 cm) long. If the tentacles are largely retracted, the water quality is likely to have deteriorated. This anemone sometimes occurs in groups on the reef, often close to the surface.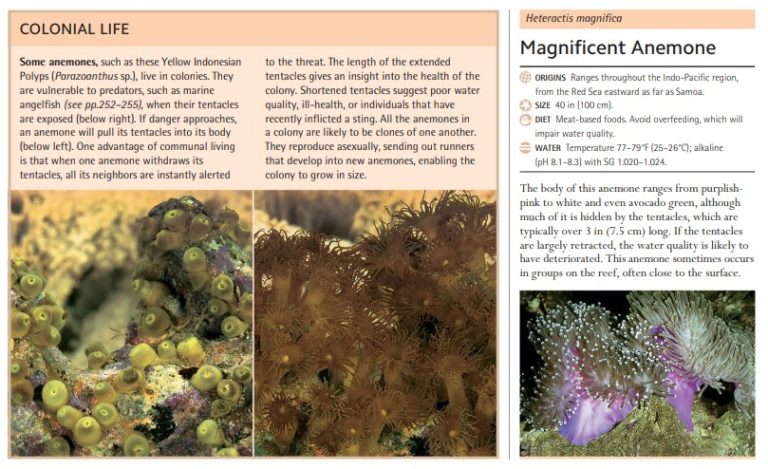 [Ebook] Encyclopedia of Aquarium & Pond Fish – David Alderton (Photo by Max Gibbs)