Directory of Marine Fish
Mollusks and Annelids
There are few more diverse invertebrate groups than the mollusks. Marine gastropod mollusks possess a protective shell and a "foot" for locomotion, just like the land snails. Bivalves, such as clams, have a two-part, hinged shell and a more sedentary lifestyle. The shell-less sea slugs can be difficult to maintain in aquariums, because their dietary requirements are so specific. Cephalopods, which include squid and octopuses, can also be problematic, since they require large tanks and are extremely sensitive to water conditions. Annelids, in contrast, are a group of segmented worms.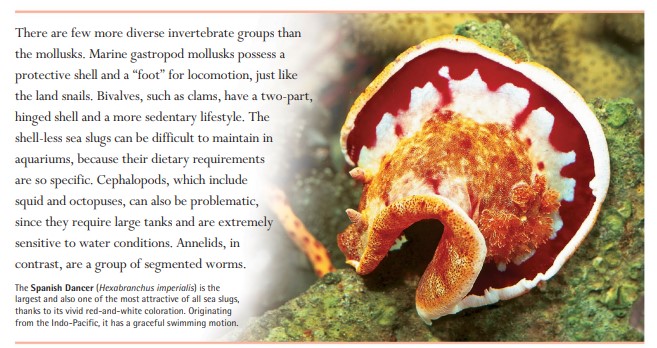 Flame Scallop (Limaria scabra)
ORIGINS: Widely distributed throughout the Caribbean region, and in parts of the western Atlantic.
SIZE: 2 1⁄2 in (6 cm) in diameter.
DIET: Filter-feeding. Provide a prepared food or a blend of puréed shellfish and seawater.
WATER: Temperature 77–79°F (25–26°C); alkaline (pH 8.1–8.3) with SG 1.020–1.024.
The true beauty of this scallop is only apparent when it opens its shell and exposes the scarlet-red interior and tentacles. (One closely related form has off-white tentacles.) Flame Scallops anchor themselves to rockwork, so place them near the front of the tank where they will be clearly visible. They may breed successfully in the tank, giving rise to small groups of young.
Crocus Clam (Tridacna crocea)
ORIGINS: Southeast Asia, originating from the coastal waters around Singapore and parts of Indonesia.
SIZE: 8 in (20 cm).
DIET: Filter-feeding and symbiosis. Needs fine particulate food and good lighting to maintain its internal algae.
WATER: Temperature 77–79°F (25–26°C); alkaline (pH 8.1–8.3) with SG 1.020–1.024.
Its stunning blue interior, emphasized by the external fluting, makes this small, slow-growing bivalve a popular choice for the invertebrate tank. High-intensity lighting is vital for the well-being of this clam. The blue coloring is produced by algae living in the mantle (the inner lining of the shell), and these microorganisms need bright light in order to be able to carry out photosynthesis, which provides the clam with most of its nutrients. A healthy clam will not only be well colored, but will also be able to close rapidly when touched gently with a finger. Crocus Clams obtain some of their food by filtering tiny creatures from seawater, which is drawn into the body via an opening called an inlet siphon. Prepared foods for filter-feeders enable Crocus Clams to feed well in aquariums.

Featherduster Worm (Sabellastarte magnifica)
ORIGINS: Occurs widely throughout the tropical western Atlantic and the Caribbean region.
SIZE: 4 in (10 cm).
DIET: Filter-feeding. Use prepared food, or a blend of puréed shellfish and seawater.
WATER: Temperature 77–79°F (25–26°C); alkaline (pH 8.1–8.3) with SG 1.020–1.024.
This annelid worm's body is housed in a protective tube anchored to rockwork. The feathery tentacles projecting from the top of the tube collect floating food particles. Featherduster Worms occur in a wide range of colors. Keeping them in groups will encourage breeding. After reproduction, adult Featherduster Worms shed their feeding tentacles to prevent them from taking their own larvae. The tentacles start to regrow about two weeks later.
Common Tropical Octopus (Octopus cyanea)
ORIGINS: Coral reefs off Asia and throughout the IndoPacific region, especially off Indonesia.
SIZE: 12 in (30 cm).
DIET: Fish and crustaceans, which must be fully thawed if frozen. Feed according to appetite each day.
WATER: Temperature 77–79°F (25–26°C); alkaline (pH 8.1–8.3) with SG 1.020–1.024.
This octopus should be housed singly, alongside coral and sponge species that it will not harm. The tank must be firmly covered, since it can escape through even a small gap in the hood. When introducing an octopus to new surroundings, leave it undisturbed and without lighting for a day or so, or it may eject its ink, with potentially fatal consequences in this restricted environment.
Queen Conch (Lobatus gigas)
ORIGINS: The Caribbean region, including the Florida coast and around the Bahamas.
SIZE: 10 in (25 cm).
DIET: Marine algae and scavenged waste matter. Place food within easy reach of the conch.
WATER: Temperature 77–79°F (25–26°C); alkaline (pH 8.1–8.3) with SG 1.020–1.024.
These slow-moving, spectacular-looking gastropods grow to a large size and require a suitably spacious aquarium. Fortunately, care of the Queen Conch is relatively straightforward, and feeding presents no particular difficulties. When threatened, this conch will simply withdraw into the safety of its heavy-weight shell, which is more than a match for most would-be predators. The shell, which has a light-colored exterior, is pinkish-white inside.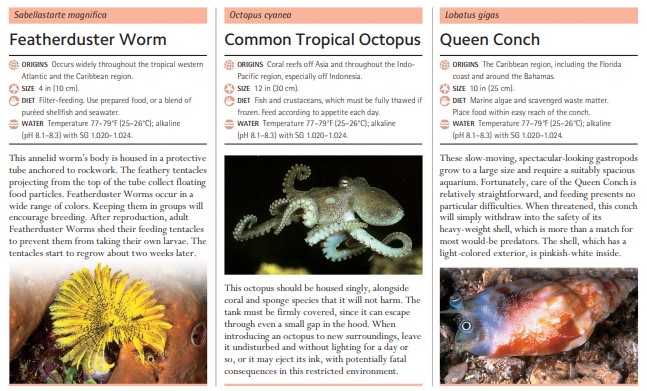 Tiger Cowrie (Cypraea tigris)
ORIGINS: From the Red Sea and the coast of East Africa eastward through the Indo-Pacific to Hawaii.
SIZE: 6 in (15 cm).
DIET: Caulerpa (a marine alga) and meat-based foods. Will tend to scavenge for food around the aquarium.
WATER: Temperature 77–79°F (25–26°C); alkaline (pH 8.1–8.3) with SG 1.020–1.024.
The smooth, oval shell of this gastropod is covered with dark spots. It is partially hidden by the mantle, which extends around its sides. These algal browsers are not difficult to keep and are easy to feed. However, their size means that they may damage the structure of the reef by dislodging corals and other sessile invertebrates, especially at night, when they are most active.
THE REEF'S VITAL BROWSER
Although they could not be said to be the most striking occupants of a reef tank, Turbo Snails (Haliotis varia) are certainly among the most significant. Often called Turban Snails because of their conical shape, these mollusks are useful because they browse almost exclusively on algae, keeping its growth in the aquarium under control. They perform a similar function on the reef, where unchecked algal growth could choke the surfaces of the corals and threaten their survival. Small Turbo Snails may be inadvertently introduced to the tank on live rock. They can largely be left to fend for themselves.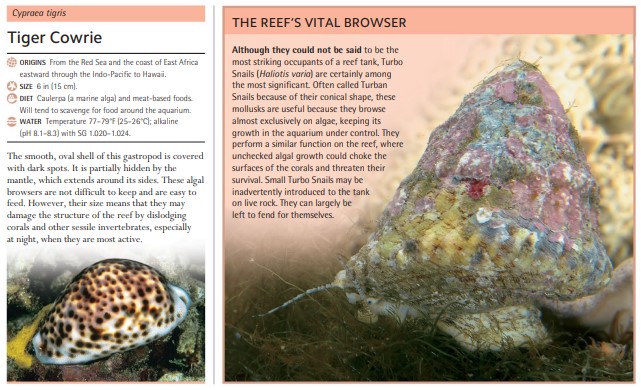 [Ebook] Encyclopedia of Aquarium & Pond Fish – David Alderton (Photo by Max Gibbs)