Directory of Freshwater Fish
Other Asian species
Some Asian species are far more popular in their home region than elsewhere in the world, often because of the myths and folklore that surround them. The Dragon Fish of Southeast Asia, for example, is believed to bestow good fortune on its keeper. Such unusual species are sporadically available from specialist dealers and may be worth seeking out for their novelty and beauty. These fish vary greatly in size and care requirements. Some, such as the Knight Goby, have close marine relatives and may benefit from slightly brackish water conditions.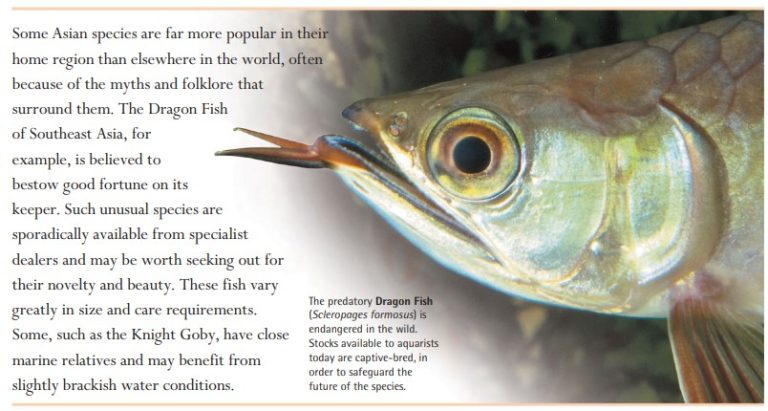 Purple-Striped Gudgeon (Mogurnda mogurnda)
ORIGINS: From Southeast Asia to New Guinea and northern and central parts of Australia.
SIZE: 7 in (17.5 cm).
DIET: Live foods and prepared foods.
WATER: Temperature 75–86°F (24–30°C); hard (50–100 mg/l) and neutral to alkaline (pH 7.0–7.2).
TEMPERAMENT: Territorial.
The striped patterning that characterizes the Purple-Striped Gudgeon is most apparent on the head and gill covers, while dark spots are scattered over the attractive sky-blue flanks. Visual distinctions between the sexes are slight, but female Purple-Striped Gudgeons grow noticeably larger than males.
A tank for these fish should incorporate a number of retreats in the form of rock caves or upturned flowerpots. Pairs should ideally be kept on their own for spawning purposes, since males become more territorial and aggressive at this time. A pair will spawn in a cave chosen by the male, with up to 200 eggs being laid. After driving away the female, the male will keep watch over the eggs. Hatching occurs within about two days, depending on the water temperature. The male loses interest in the fry once they are free-swimming and may eat the young if he is not removed. The fry can be reared on small live foods.
Medaka (Oryzias latipes)
ORIGINS: Asia, from China to Japan and South Korea; may also occur on some Indonesian islands.
SIZE: 1 1⁄2 in (4 cm).
DIET: Prepared diets and small live foods.
WATER: Temperature 68–79°F (20–26°C); hard (100–150 mg/l) and neutral (pH 7.0).
TEMPERAMENT: Placid and quite social.
The Medaka, which frequents the upper levels of the tank, exists in a number of color forms; the golden morph (below) is one of the most common. Females have shorter, more rounded anal fins and fewer reflective scales on the rear of the body. Immediately after spawning, a string of eggs resembling a bunch of grapes can be seen trailing from the female's vent. The eggs are soon deposited among fine-leaved vegetation.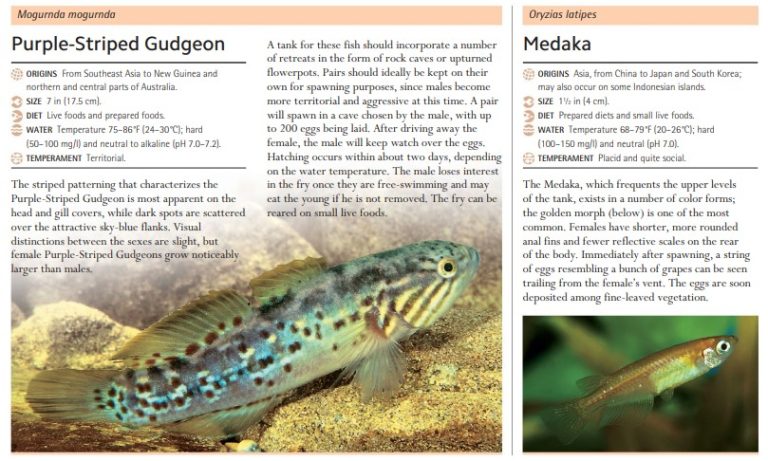 Knight Goby (Stigmatogobius sadanundio)
ORIGINS: Mainland Southeast Asia and Indonesian islands, including Java, Sumatra, and Borneo.
SIZE: 3 1⁄2 in (8.5 cm).
DIET: Live foods and algae.
WATER: Temperature 68–79°F (20–26°C); hard (100–150 mg/l) and neutral (pH 7.0)
TEMPERAMENT: Quite territorial.
The pale-silver body of the male Knight Goby is dotted with black spots that become more numerous toward the rear. The female has similar markings but is more yellow and has smaller fins. Knight Gobies may benefit from being kept in slightly brackish water conditions. They require an aquarium with plenty of cavelike retreats in which the fish can spawn. The male will guard the eggs, which are laid on the underside of the cave roof.
Eye-Spot Sleeper (Tateurndina ocellicauda)
ORIGINS: Southeast Asia, occurring in New Guinea, where it is restricted to eastern Papua.
SIZE: 3 in (7.5 cm).
DIET: Small live foods preferred.
WATER: Temperature 68–79°F (20–26°C); soft (50–100 mg/l) and acidic (pH 6.0–6.5).
TEMPERAMENT: Nonaggressive.
These striking gobies display red markings on a blue background and yellowish underparts. Females are more rotund than males and have more pronounced yellow banding along the edges of the dorsal and anal fins. A pair seeks out a spawning site, and the male guards the eggs until they hatch. Fry can be reared on brine shrimp once they are free-swimming.
Silver Needlefish (Xenentodon cancila)
ORIGINS: Asia, ranging from India and Sri Lanka east to Myanmar (Burma), Thailand, and Malaysia.
SIZE: 12 in (30 cm).
DIET: Live foods, typically fish.
WATER: Temperature 72–82°F (22–28°C); hard (150–200 mg/l) and neutral (pH 7.0).
TEMPERAMENT: Predatory.
These slender fish have a dark stripe along each side of the body. Although they are difficult to sex, males generally have a dark edge on their dorsal and anal fins. Silver Needlefish need to be kept in a group under relatively subdued lighting. The tank should include plants and plentiful open spaces for swimming. It must also be covered, to prevent the fish from jumping out. Silver Needlefish naturally prey on small fish, but in aquariums it may be possible to wean them onto larger invertebrates.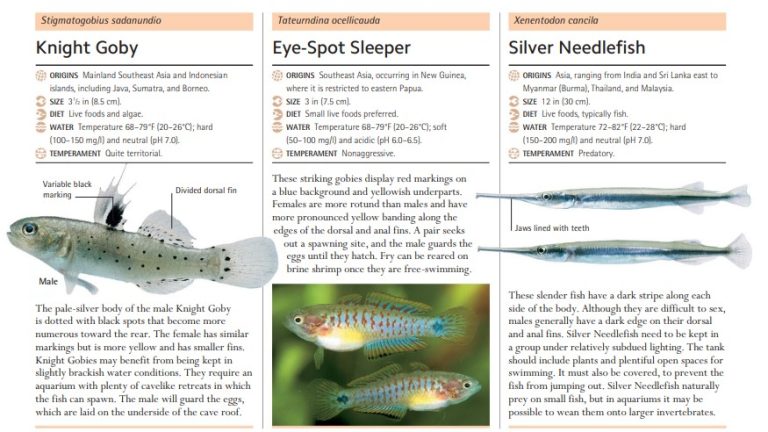 Archer Fish (Toxotes jaculatrix)
ORIGINS: A wide distribution, from the Middle East through southern parts of Asia to Australia.
SIZE: 10 in (25 cm).
DIET: Live foods.
WATER: Temperature 77–86°F (25–30°C); hard (100–150 mg/l) and neutral (pH 7.0).
TEMPERAMENT: Smaller individuals may be bullied.
The predatory Archer Fish has a silvery body and a yellowish tinge to the caudal fin. The sides of the body display black blotches, as do the fins. This reasonably social fish needs a deep, covered tank, and it may benefit from the addition of some marine salt to the water. Archer Fish have yet to be bred successfully in aquariums. This may be linked to the fact that the adults are believed to head out to sea to spawn on reefs.
SHARP-SHOOTING FISH
The hunting ability of the Archer Fish is remarkable. Rather than seeking food in the water, it patrols just below the surface, searching with its sharp eyes for invertebrates on overhanging vegetation. Using its powerful jaws, the Archer Fish sucks water into its mouth and carefully targets its intended quarry from below the water line. Then it raises its mouth up slightly, just breaking through the surface, and fires a powerful jet of water at the unsuspecting victim. If its aim is true, the creature is caught off guard and knocked into the water below, where the Archer Fish snaps it up. The water jet is a formidable hunting weapon, being effective over distances up to 5 ft (1.5 m).
Young Archer Fish begin to fire water jets at quite an early age, but it takes practice to perfect their shooting skills. The biggest problem to overcome is refraction, which causes an object to appear to be in a different position when seen from below the water line. The Archer Fish deals with this by careful positioning. It shoots from almost directly under its quarry and adopts an upright posture in the water, thereby reducing refraction to a minimum and significantly increasing its chances of hitting the target.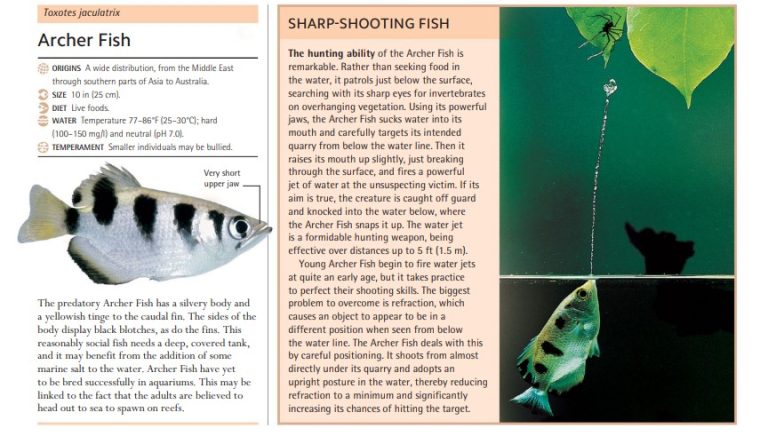 [Ebook] Encyclopedia of Aquarium & Pond Fish – David Alderton (Photo by Max Gibbs)