Directory of Freshwater Fish
Other American species
This varied selection of popular American species demonstrates the amazing adaptability of fish. For example, the Amazon Puffer, whose relatives are confined to marine and brackish waters, has changed its body chemistry to enable it to exploit salt-free environments. In other species, such as Knifefish, Ocellated Stingrays, and Violet Gobies, the body shape has altered to help the fish merge into the background or enable them to burrow in the substrate. The streamlined Arawana, which lurks much closer to the surface, has developed the ability to breathe atmospheric air directly, an adaptation that enables it to catch prey by leaping dramatically out of the water.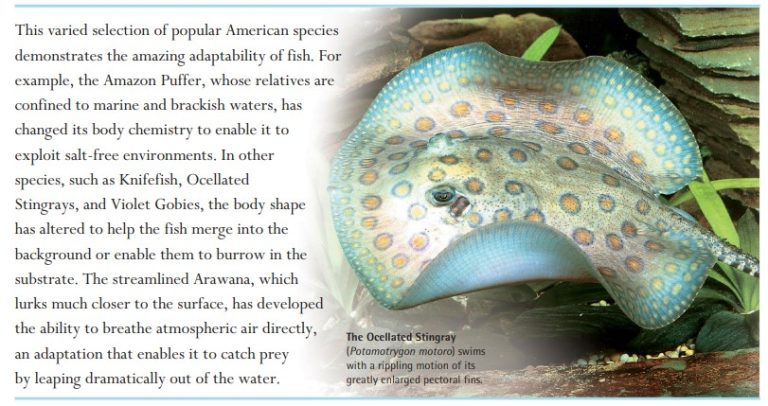 Amazon Puffer (Colomesus asellus)
ORIGINS: Ranges widely through tropical parts of South America, including Brazil.
SIZE: 10 in (25 cm).
DIET: Various live foods.
WATER: Temperature 73–79°F (23–26°C); hard (100–150 mg/l) and neutral (pH 7.0).
TEMPERAMENT: Active.
This puffer has a bright-yellow iris, a random pattern of gold and brownish-black on its upper body, and white undersides. Young individuals have a more burnished appearance, with less intense dark markings. Amazon Puffers are predatory, and any snails in their aquarium are likely to be eaten, since mollusks form part of their natural prey. These fish may also dig in the substrate for worms, so the tank should have a sandy base.
Violet Goby (Gobioides broussonnetii)
ORIGINS: Ranges from the southern United States down through Central America to Santa Catarina, Brazil.
SIZE: 24 in (60 cm).
DIET: Small live foods.
WATER: Temperature 73–77°F (23–25°C); hard (100–150 mg/l) and neutral (pH 7.0).
TEMPERAMENT: Territorial and aggressive.
The long, grayish body of this fish is tinged with violet and has a reflective sheen. The tank should have a thick layer of sand in which the fish can burrow, with rockwork and caves to provide extra hiding places. The Violet Goby must be kept alone. It may benefit from the addition of some marine salt to the water.
Arawana (Osteoglossum bicirrhosum)
ORIGINS: South America, occurring in the Amazon and western Orinoco regions, extending to Guyana.
SIZE: 40 in (100 cm).
DIET: Meat-based foods.
WATER: Temperature 75–86°F (24–30°C); soft (50–100 mg/l) and acidic (pH 6.0).
TEMPERAMENT: Predatory.
These striking fish have a distinctive outline when seen in profile. Their fins appear to merge around the rear end of their body; adult males have longer anal fins than females. The problem with these fish is that they grow very large, and unless they can be moved to an indoor pond (in temperate areas), it may be impossible to keep them. Arawanas are incredibly agile, able to jump out of the water to seize invertebrates on overhanging branches. They will also prey on fish.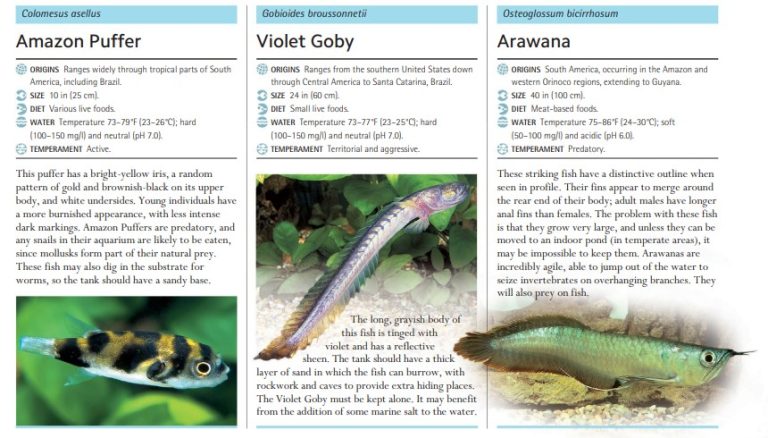 Black Ghost Knifefish (Apteronotus albifrons)
ORIGINS: South America, occurring in parts of Venezuela, Ecuador, Peru, Brazil, and Guyana.
SIZE: 20 in (50 cm).
DIET: Live foods.
WATER: Temperature 73–82°F (23–28°C); soft (50–100 mg/l) and acidic (pH 6.5).
TEMPERAMENT: Shy, sometimes aggressive.
The dense black body of this fish is punctuated by two contrasting white areas—one on the head, the other at the rear, often on the caudal peduncle. The Black Ghost Knifefish generates a weak electrical current that helps it to find its prey in murky water, acting rather like a form of radar. An aquarium for these fish should be shaded, with a dark substrate and a well-planted interior that offers the fish a range of hiding places.
STING IN THE TAIL
The arrangement of fins in rays, such as this Venezuelan stingray (Potamotrygon hystrix), is very different from that seen in other freshwater fish. The unusual pectoral fins, which extend all around the sides of the body, are responsible for the distinctive swimming motion. Stingrays lack a dorsal fin and derive no propulsive power from the caudal fin. However, the caudal fin does have a defensive function: it is equipped with a stinger in the form of a raised, venomous spine. The spine pierces an attacker's flesh, triggering a localized infection around the wound, while venom is pumped directly into the bloodstream. The effects of the venom on humans vary between the different stingray species, but they are always painful and in some people they can even be life-threatening.
These ancient relatives of sharks rely on their sting for protection against potential predators, including crocodilians and even jaguars, which sometimes hunt them in the shallows. Stingrays are also well camouflaged to help them avoid detection and can modify their coloration to a certain degree to blend in with the river bottom.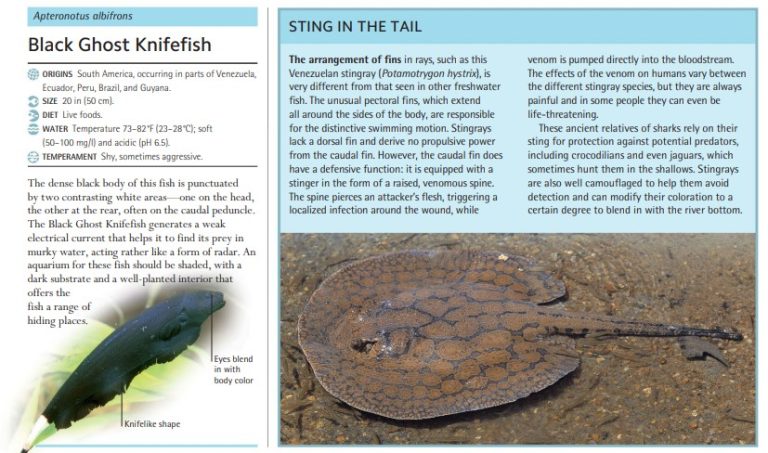 Glass Knifefish (Eigenmannia virescens)
ORIGINS: South America, from Colombia's Rio Magdalena south to the Plate River in Argentina.
SIZE: 13 1⁄2 in (35 cm).
DIET: Live foods.
WATER: Temperature 73–82°F (23–28°C); soft (50–100 mg/l) and acidic (pH 6.0).
TEMPERAMENT: Nervous yet social.
There is a significant difference in size between the sexes in this species, with females rarely growing larger than 8 in (20 cm). Both sexes have a long, narrow body shape with neither a caudal fin nor a dorsal fin. Glass Knifefish live in groups with a well-organized social structure, which helps to reduce conflict. The dominant male is usually the largest in the group. These Knifefish are most active after dark, although spawning usually occurs early in the morning, with up to 200 eggs being laid.
Ocellated Stingray (Potamotrygon motoro)
ORIGINS: South America, where it is restricted to the rivers of Paraguay.
SIZE: 12 in (30 cm).
DIET: Meat-based diets.
WATER: Temperature 73–82°F (23–28°C); soft (50–100 mg/l) and acidic (pH 6.0).
TEMPERAMENT: Fairly placid, but has a dangerous sting.
The spots on the body of this ray consist of a light center surrounded by a dark outer circle. Patterning is highly variable, perhaps to match the different habitats in which these fish occur. It is also affected by the level of lighting in the aquarium. There is a very real danger associated with keeping these fish—take great care to avoid contact with the stinger when servicing the tank. Always wear sturdy, unperforated gloves, and keep disturbance to an absolute minimum. Whenever possible, use tongs rather than your hands to carry out tank maintenance. In spite of their venomous sting, these fish are not inherently aggressive, and groups can be kept together in a large aquarium. The floor covering of the tank should be deep and sandy. This will enable the fish to burrow into the substrate, where they will lie with just their eyes exposed. Mating is unknown in aquariums, but in the wild it occurs in September and October, with the young rays being born about five months later.