Directory of Freshwater Fish
Livebearers
Swordtails
Swordtail (Xiphophorus hellerii)
ORIGINS: Central America, ranging down the Atlantic side from Mexico to northwestern Honduras.
SIZE: 4 in (10 cm).
DIET: Prepared foods and small live foods.
WATER: Temperature 70–77°F (21–25°C); hard (100–150 mg/l) and alkaline (pH 7.5).
TEMPERAMENT: Males are often quarrelsome.
In common with most domesticated livebearers, the Swordtail's color and pattern are very different from those of the wild type. Many of these fish have a hybrid ancestry, thanks to earlier crossings both with other types of swordtail and also with platies. Wild swordtails are usually quite plain-looking and greenish, blue, or reddish in coloration, while some display blotched patterning. Wild populations can vary significantly in appearance from place to place.
In aquarium surroundings, mature male swordtails are aggressive toward one another. It is relatively straightforward to identify the potential troublemakers, since only the males possess the impressive swordlike extension to the lower rays of the caudal fin. (The scientific name of these livebearers derives from xiphos, the Greek word for "sword.") Females, which are larger than males, sometimes develop the sword, too, as a result of hormonal changes. These individuals, however, are unable to reproduce as males.
Swordtails can prove to be quite prolific when breeding; larger females produce as many as 200 fry in a single brood and can repeat this feat every month or so. However, if the young are to survive, the female must be transferred to a breeding trap in a suitable nursery tank. Few livebearers are more notorious for hunting down and cannibalizing their offspring than swordtails. The young are relatively simple to rear on their own if provided with items such as fry foods and brine shrimp.
Black Calico Swordtail This form was developed in the laboratory. The black gene is linked to tumor formation.
Golden Comet Swordtail The black tail streaks are called the comet characteristic. Golden Swordtails tend to be less brightly colored than red forms. The broader body of the female can be seen in this pair.
Red Wag Lyre Swordtail The caudal fin has a sword on both its upper and lower rays, while its black coloration contrasts with the reddish color of the body. The lips are also black.
Pineapple Swordtail The appearance of this very popular form varies from yellow to intense red. The depth of the Pineapple Swordtail's coloration can be improved by color-feeding.
Green Swordtail (left) These fish are the ancestors of today's domesticated varieties, but their subdued coloration means they are not as widely kept. The patterning varies throughout their natural range.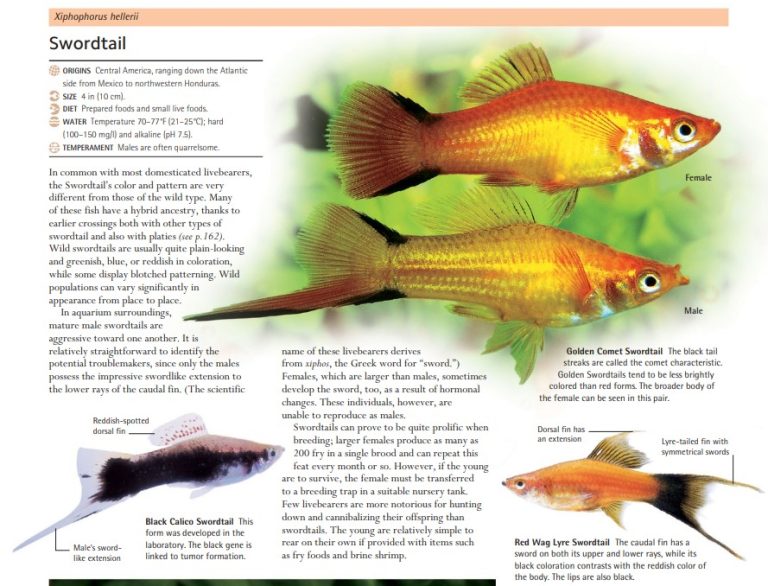 Sheephead Swordtail (Xiphophorus birchmanni)
ORIGINS: Central America, occurring in various waterways around Hidalgo, Veracruz, Mexico.
SIZE: 3 in (7.5 cm).
DIET: Prepared foods and small live foods.
WATER: Temperature 70–77°F (21–25°C); hard (100–150 mg/l) and alkaline (pH 7.5).
TEMPERAMENT: Males are often quarrelsome.
This swordtail species is unusual, because the male has no trace of a sword on his caudal fin. He can still be easily distinguished from the female by his gonopodium and larger dorsal fin. Well-oxygenated water is important for this species, which has only been available to hobbyists since about 1990. The broods are small, typically consisting of 10–35 fry
Montezuma Swordtail (Xiphophorus montezumae)
ORIGINS: Central America, restricted to eastern Mexico, in the states of Tamaulipas and San Luis Potosi.
SIZE: 3 in (7.5 cm).
DIET: Prepared foods and small live foods.
WATER: Temperature 70–77°F (21–25°C); hard (100–150 mg/l) and alkaline (pH 7.5).
TEMPERAMENT: Males are often quarrelsome
The key feature of the Montezuma Swordtail is the way in which the male's sword projects almost horizontally, rather than downward as in other swordtails. The length of the sword varies in fish from different populations, although wild-type stock is rarely available today. Males have a larger dorsal fin than females, although they are otherwise slightly smaller in size. Their broods average about 50 fry, with the interval between broods usually being about seven weeks, although seasonal factors may affect their breeding behavior. The Montezuma Swordtail is not especially brightly colored, although there can be individual exceptions. Typically, these fish are bluish-silver and display a pattern of dark spots on the flanks. The sword of the male is often greenish or yellow, with fairly prominent black edging. It is important not to keep these or other swordtails in the company of fin-nipping species, because their swords will inevitably be attacked. In addition, their aquarium needs to incorporate plenty of open swimming areas so that they do not damage their swords in confined spaces.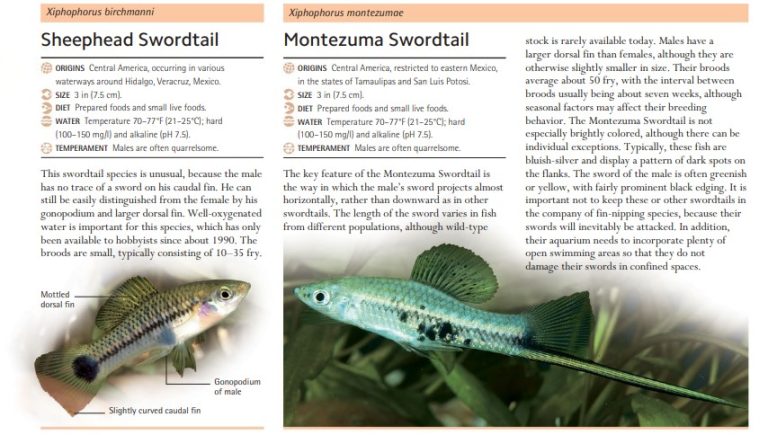 PREVENTING A SERIOUS DUEL
One way of reducing aggression between male swordtails is to house them in a mixed group. There is still likely to be intermittent squabbling, but the disputes will not be as fierce. The swordtails will also be less likely to bully other tank occupants. Avoid mixing swordtail species, because hybridization is likely and there will be conflict between the different males. Equally, they should not be kept alongside platies, with which swordtails will readily interbreed.